Arnold Schwarzenegger Only Agreed to 'Terminator 3' for a $29M Payday and Other Wild Demands
Arnold Schwarzenegger's well-known for proclaiming "I'll be back." Actually, the moment he said that line in 1984's The Terminator is arguably the foundation for the rest of his career. Ironically, Schwarzenegger initially wasn't a fan of that bit of dialogue. Many years later, he would again find himself hesitant to "be back" for Terminator 3: Rise of the Machines. But thanks to a wildly attractive contract, Schwarzenegger signed on.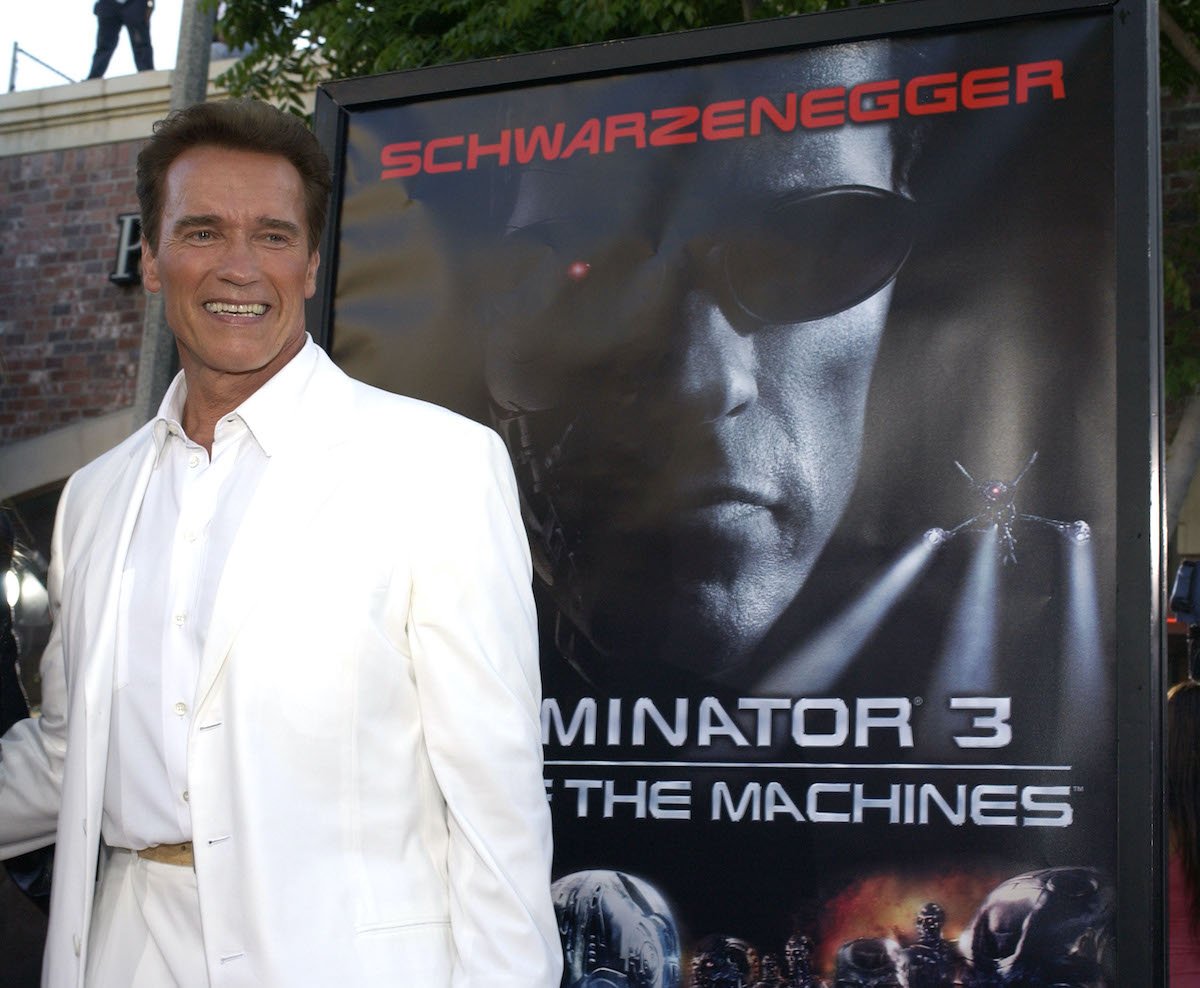 'The Terminator' made Arnold Schwarzenegger a star
The Terminator was the turning point that made Schwarzenegger a star. In fact, his late 1980s run was so strong that by the time the sequel came around, the actor was no longer the villain. Hits such as Commando, Predator, and Total Recall established him as an action hero. So Terminator 2: Judgment Day flipped his role to that of the machine defending John Connor (Edward Furlong) from the more deadly T-1000 (Robert Patrick).
Looking back, it's wild to think Schwarzenegger wanted to play Kyle Reese in that first film. Such casting likely would not have played to Schwarzenegger's strengths, and audiences might not have connected so strongly to the movie. As it was, the actor became an A-list star and the Terminator his signature role. And without James Cameron involved, it's easy to imagine he might be skeptical to return for a third film.
The actor returned for 'Terminator 3' for a sweet deal
Nonetheless, Terminator 3: Rise of the Machines began to come together in the early 2000s. But the movie rightfully couldn't happen without Schwarzenegger onboard. As Slate reported, the actor was persuaded to sign on thanks to the "pay or play" contract that guaranteed he would earn $29.25 million regardless of whether the movie was ever made. The 33-page document took 18 months to complete negotiations.
In addition to that record-breaking fee, Schwarzenegger would receive $1.6 million in "overage" for every week the movie went over its 19-week production schedule. And his contract includes perks such as "$1.5 million for private jets, a fully-equipped gym trailer, three-bedroom deluxe suites on locations, round-the-clock limousines, and personal bodyguards." Terminator 3: Rise of the Machines hit theaters on July 2, 2003.
Although Terminator 3 wasn't as beloved as its predecessors, it did turn out to be a box office hit. So Schwarzenegger's paycheck proved to largely be worth it at the time. After all, Terminator Salvation — the only installment in the franchise which doesn't feature the actor — earned even less money and received far worse reviews. Of course, that movie still wouldn't mark the end of the Terminator franchise.
Is the 'Terminator' franchise now officially dead?
After Terminator Salvation's underwhelming release, Schwarzenegger returned for each subsequent effort to relaunch the franchise. However, both 2015's Terminator: Genisys and 2019's Terminator: Dark Fate — the latter of which marked Cameron's return to the franchise — failed to meet expectations.
As a result, the Terminator franchise currently faces a dark fate of its own. The series currently has no plans for another movie. However, given the nostalgia-driven wave of projects rolling through Hollywood, it's likely only a matter of time before the franchise returns in some form. But when it does, it will likely be without Schwarzenegger.