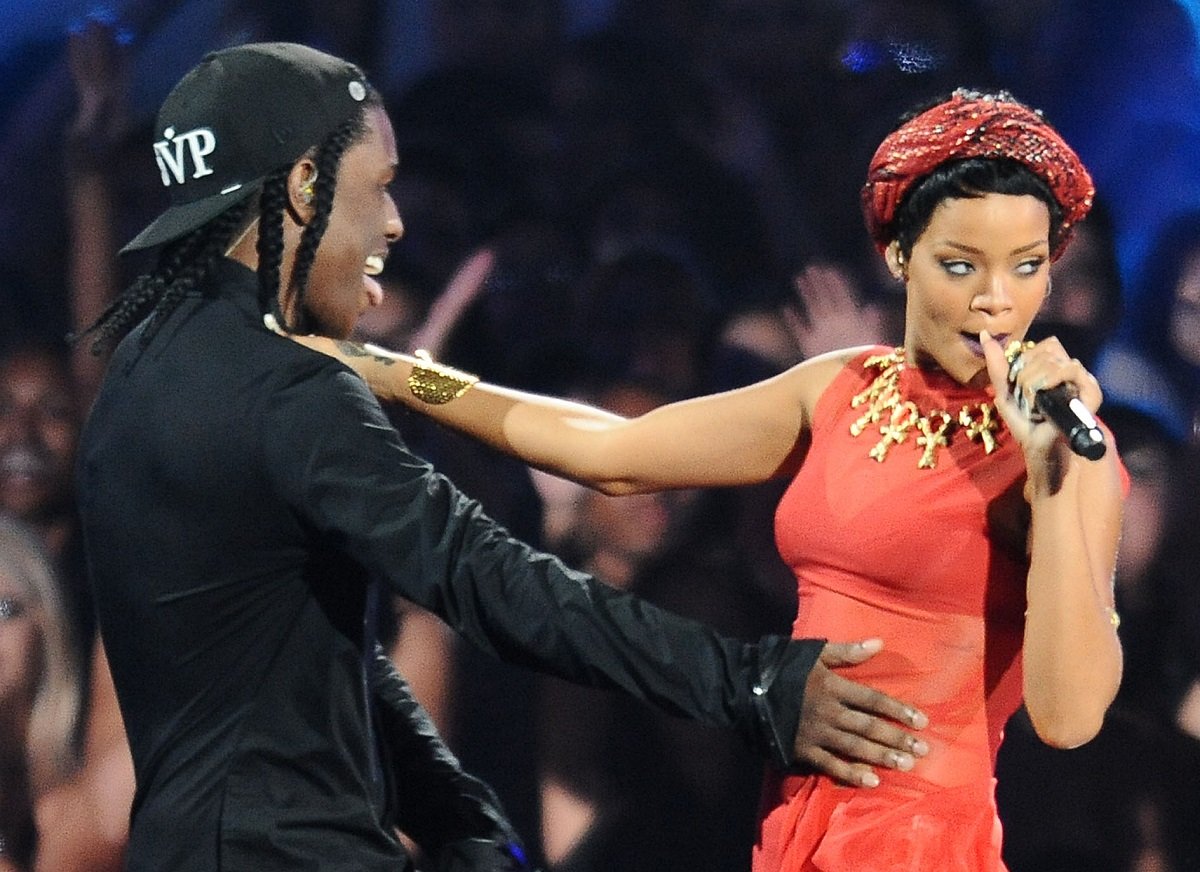 A$AP Rocky Publicly Kissed Rihanna Years Before They Started Dating
A$AP Rocky and Rihanna go way back. In fact, before they were a couple, he kissed her in front of a very large crowd.
It's easy to be cynical about celebrity relationships, but the love between Rihanna and A$AP Rocky feels impossible to fake. The two artists were in each other's orbit for years, collaborating on songs together, before going public as a couple a few years ago. Every event they attend becomes a bigger deal not just because they're both famous, but because they always show up in eye-catching outfits. The new parents don't speak to the press that often. But when they do, they both make it a point to express their happiness in this partnership. 
Rihanna and A$AP Rocky were friends before dating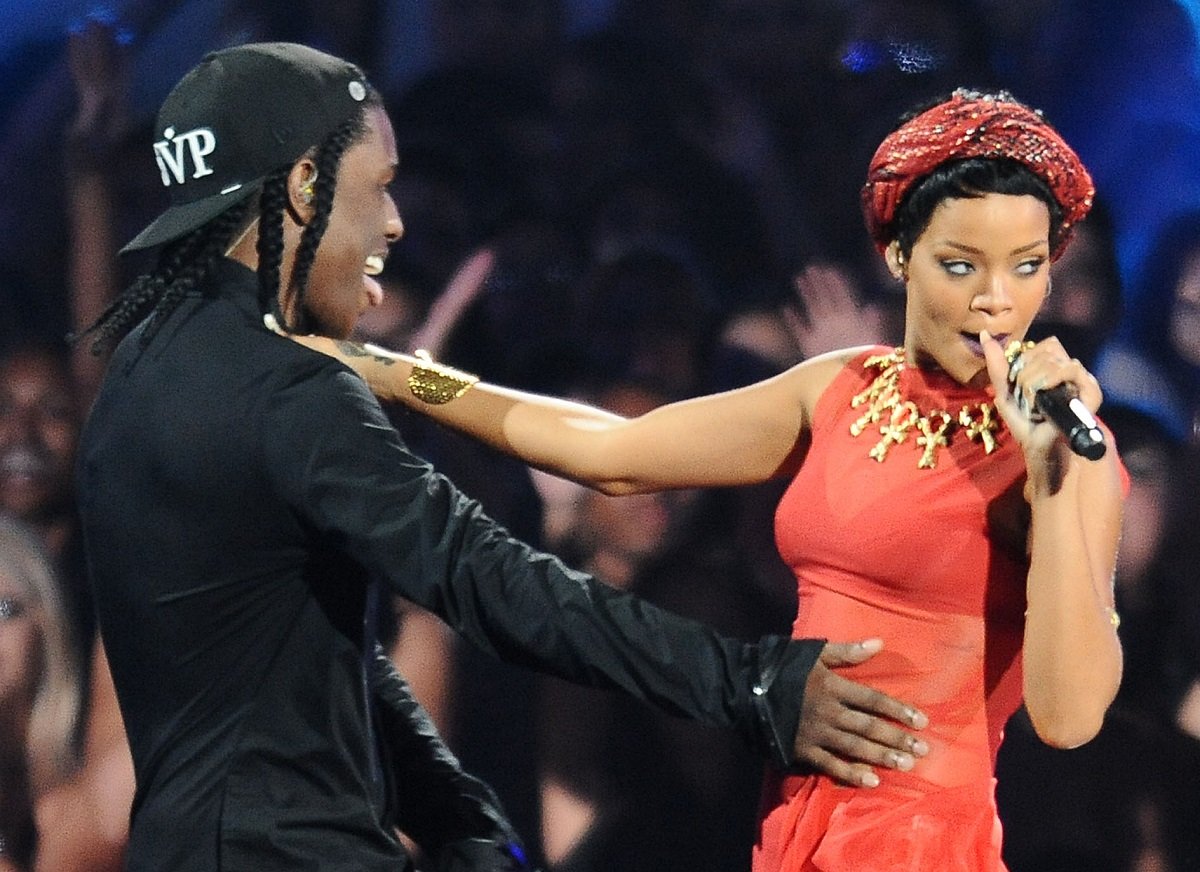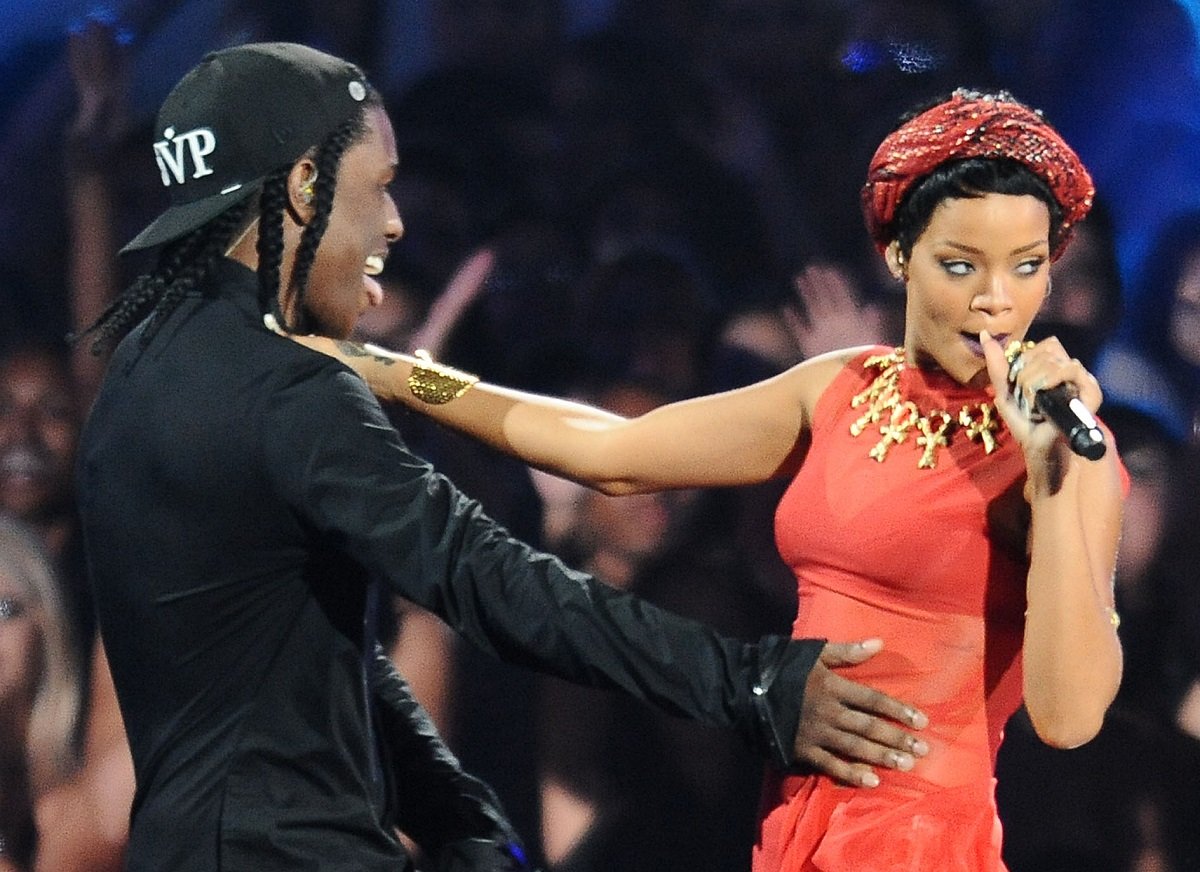 In 2012, Rocky was an emergent star in rap. His breakthrough mixtape, Live. Love. A$AP, showcased his unique style. The critical acclaim for his music put him on the radar of major labels. One of Rocky's first attempts at pop success was as the featured artist on a remix of Rihanna's "Cockiness (Love It)" in support of her Talk That Talk album.
The two performed the song together at the 2012 MTV Video Music Awards. While on stage, Rocky put his hand on her butt and feigned to kiss her. "That was not part of the rehearsal!" Rihanna told Vogue. Rocky's actions could've made even a working relationship untenable. But there was something about him that the singer and future billionaire appreciated. "My manager was like, Oh, God, she must like this guy a little bit. She never lets this s*** slide."
The remix wasn't a big hit on the charts. But they continued to work together. Rocky performed as a supporting act on Rihanna's Diamonds World Tour, and she co-starred in his music video for the song "Fashion Killa." Rocky and Rihanna dated other people for years, but these lyrics — "Versace, got a lot, but she may never wear it / But she save it so our babies will be flyer than their parents" — sound prophetic now that they're a couple with a child of their own. 
The stylish couple got together in a sweet way
Rihanna and Rocky began dating in 2020. And they no doubt bonded over things beyond music, like fashion and skincare. They spent an early part of the COVID-19 pandemic embarking on a cross-country trip across America. Throughout the vacation, Rihanna grilled barefoot while Rocky tied-dyed t-shirts he bought at gas stations. 
"There's no pretentious my-brand-your-brand bulls***, it's just us living," she said about the experience. "I just feel like I can do any part of life by his side."
Once the world began to open back up, they took their romance public. Rihanna and Rocky made waves at the 2022 Met Gala. Even their reveal of Rihanna's pregnancy in the streets of Harlem became a fashion statement. 
With Rihanna's ninth album a myth these days, Rocky became the first half of the couple to turn their love into music. His single, "D.M.B" is dedicated to Rihanna. It even hints they're engaged via messages on their gold grills. 
A$AP Rocky and Rihanna recently started a family
Taking things further, Rihanna brought Rocky to her native Barbados for the holidays in 2021. She was already smitten with the man at this point, but felt even better about their bond after he impressed her mother. When asked by Vogue about what she loves the most about Rocky, Rihanna cited their openness with each other. "Transparency with everything: how we're feeling, what our goals are, what our fears and insecurities are. The vulnerability to be able to say what you feel about each other."
 In a recent feature with Dazed, Rocky spoke with pride about the type of child he wants to raise with the woman he almost exclusively refers to as "my lady." "I will always remind my children to never lose their imagination, even as adults, no matter what," he said. "I hope to raise open-minded children. Not people who discriminate. And I'm not trying to describe a saint, but realistically, I just want a cool child with cool parents."