Ashley Graham Makes Home Birth Sound Easy But It's Not Always So Simple
Plus-size model Ashley Graham has long advocated a positive body image. Her and her husband Justin Ervin have furthered that mission by telling the story of how their first child was delivered at home in Brooklyn. 
Not everybody agrees that home birthing is an ideal option. If anything, the plan for how to give birth may be the ultimate expression of "Your mileage may vary." For Graham and Ervin, the experience couldn't have been better, as they detailed it on Graham's podcast, Pretty Big Deal.
Why Ashley Graham had her baby at home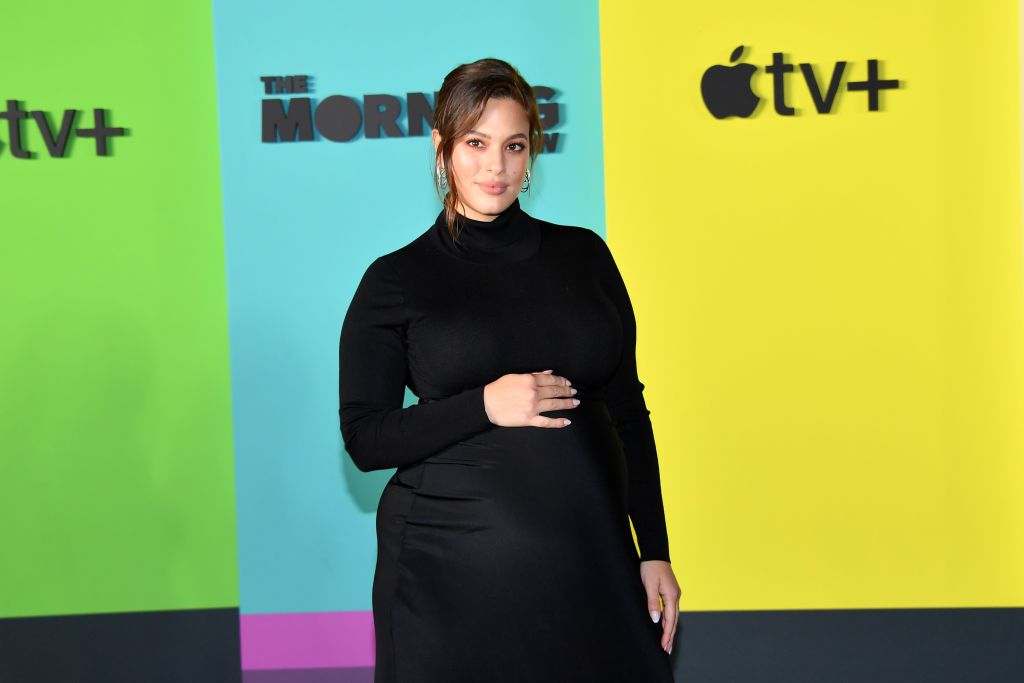 Graham, who has been modeling professionally since 2001, became the first size 16 model to appear on the Sports Illustrated swimsuit issue cover in 2016. This was seen as bringing plus-size acceptance into the mainstream; especially when the modeling world has often been criticized for promoting thinness to a dangerous, unnatural degree. For Graham, a home birth was a way to further that empowerment. 
"I have to say, now that I gave birth and I did it naturally and I felt everything, I feel like there's nothing I can't do," she said on the podcast. "There's nothing that could come my way where I say, 'Oh, that's too hard, I can't handle that.' I went through laboring for six hours naturally."
The experience was also powerful for her husband. While the old cliche of husbands nervously pacing the hallways and smoking in a hospital has long since vanished, Graham and Ervin weren't content just to have Ervin in the delivery room. "To go straight from the pool to the bed with our son and just hold him, what a bond," Ervin said.
What are the other pros of home birth?
Home birthing isn't just for celebrities looking to make a statement about their choice. Some people feel uneasy with hospitals under the best of circumstances. Often, they particularly don't want to partake in what they feel are dangerous drugs. While many women opt for a drug-free birth in the hospital, some want to do it at home.
The Mayo Clinic points out that the benefits include giving birth in a familiar environment surrounded by family. As any woman who has given birth in a hospital will tell you, having a baby is expensive. Home birthing cuts down on costs.
"If I would have had the birth at a hospital, I think my anxiety would have been through the roof," Graham said. "But because I was here, the lights were dim, it was a chill environment, I got to eat whatever food I wanted to, I got to be in bed, I could be in the pool."
What are the cons of home birth?
On the other hand, Graham arguably is making home birth sound easier than it actually is. Just as hospital birthing isn't for everyone, home birth isn't for everyone. In fact, there are certain situations where the Mayo Clinic doesn't recommend it.
For instance, if a woman is pregnant with multiple babies, that is not conducive to a home delivery; nor is a baby that is not positioned for a head-first delivery. If a mother has previously had a Cesarean section, home birthing is discouraged. Furthermore, if a woman intends to give birth at home, she must be prepared for a hospital transfer in case anything goes wrong. For example, labor not progressing as it should or the baby might show signs of distress. 
Comedian Patton Oswalt performed a routine about people advocating giving birth at home like the pioneers. He scoffed at that, saying "You know what they were dreaming about when they had their babies out there? Hospitals!"