Attention, 'Big Little Lies' Fans: Hulu's 'Nine Perfect Strangers' Is Going to Be Your Next Obsession
So far, there's no word on whether we're going to get a Big Little Lies Season 3. But in the meantime, Hulu has a new show that's sure to appeal to fans of the HBO drama about the complicated lives of five women living in picturesque Monterey, California. Nine Perfect Strangers is about a group of people staying at a posh wellness retreat run by a mysterious woman. It stars Nicole Kidman and Melissa McCarthy.
What is 'Nine Perfect Strangers' about?
The trailer for Nine Perfect Strangers is full of creepy atmosphere, though it doesn't reveal much about the show's central mystery.  
As Masha, The Undoing's Kidman is sending off some serious cult leader vibes. She's a health/wellness guru who runs a retreat called Tranquillum House. Masha "mixes and matches her guests like a cocktail," as one person says. "Supposedly, she completely changes people."
McCarthy plays Frances, a woman "apparently in need of some fixing," in her words. Michael Shannon, Luke Evans, Bobby Cannavale, and Regina Hall play some of the other guests at the resort who are all "trying to get on a path to a better way of living," according to Hulu's synopsis. Samara Weaving, Melvin Gregg, Asher Keddie, Grace Van Patten, Tiffany Boone, and Manny Jacinto also star.
Masha's methods of healing seem a bit unorthodox, to say the least. At one point in the trailer, we see the retreat's guests lying in their own graves. The journey to getting well will be "unpleasant," Kidman's character says. 
'Big Little Lies' author Liane Moriarty also wrote 'Nine Perfect Strangers'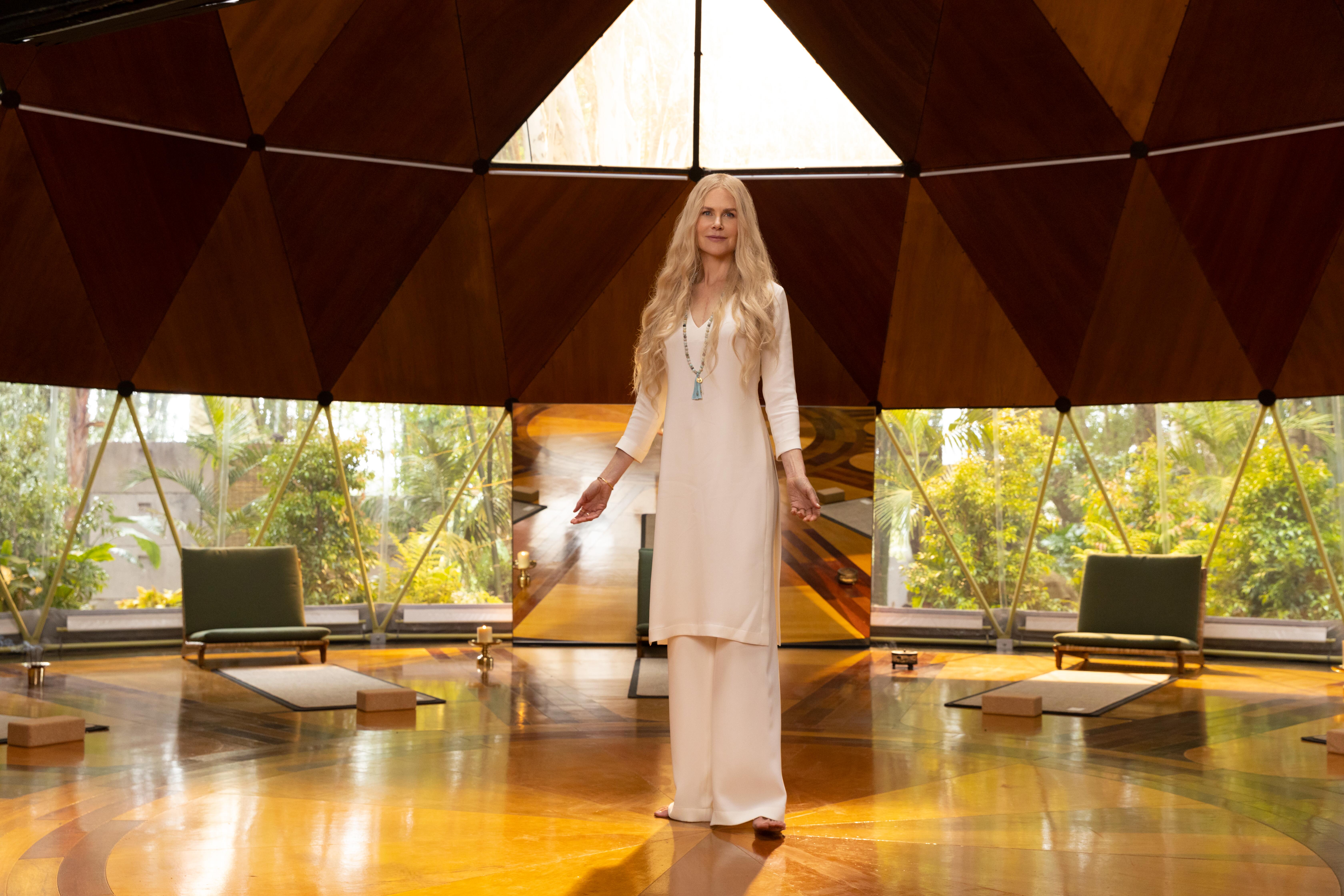 Kidman starred in Big Little Lies as Celeste, a woman in an abusive marriage to Perry (Alexander Skarsgård). She plays an equally prominent role in Nine Perfect Strangers, which is also based on a book by author Liane Moriarty, though her character is very different from Celeste. 
In the book, a group of strangers converges at a wellness resort headed by a Russian émigré named Masha. In an interview with CrimeReads, Moriarty explained why she set her eighth novel in a location that left her characters essentially trapped and under the control of a woman whose motives aren't entirely clear. 
"The remote location is useful because your characters can't go running next door for help," she said. "Secrets always drive any story and a charismatic leader can get away with taking the plot in crazy and unexpected directions."
'Nine Perfect Strangers' premieres August 18 
Nine Perfect Strangers, which was filmed in Byron Bay, Australia, premieres Wednesday, August 18 on Hulu. The show will have eight episodes, with new episodes streaming weekly.  
Check out Showbiz Cheat Sheet on Facebook!