August Alsina and Jada Pinkett-Smith: Here's When Rumors of Their Seemingly Now-Confirmed Relationship Were at Their Peak
Fans are buzzing after August Alsina has seemingly confirmed that he had a romantic relationship with Jada Pinkett Smith after years of rumors. In a new interview with one of The Breakfast Club's co-hosts, the music star gets really candid about the relationship and what he claims he talked about with Will Smith.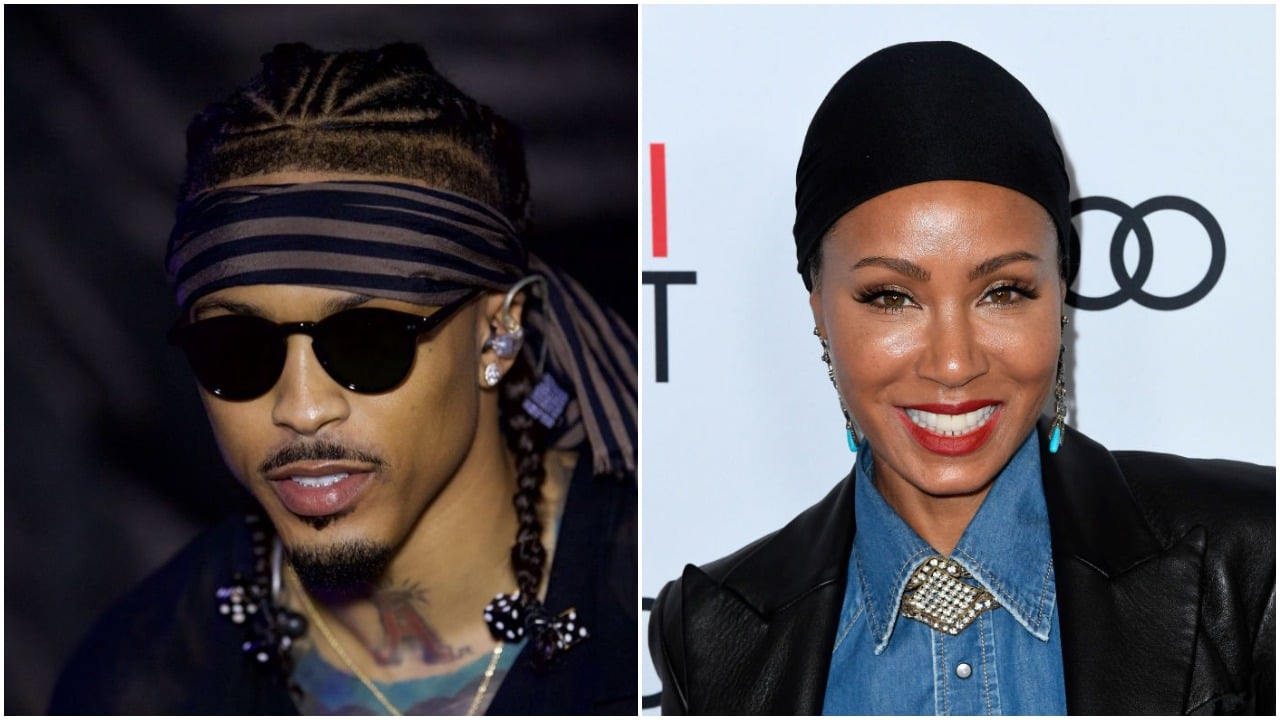 August Alsina's early success
Alsina was a major force in the R&B/hip-hop world in the mid-2010s. His breakout single, "I Luv This S**t," was a huge hit. It reached No. 48 on the Billboard Hot 100. One of the remixes to the song featured Trey Songz and Chris Brown.
The singer's debut, Testimony, was released in 2014 and it reached No. 2 on the Billboard Top 200. Several notable singles were on this album, including "Make it Home" and "No Love." Alsina was also featured on several hit songs, including DJ Khaled's "Hold You Down," which also featured Chris Brown, August Alsina, Future, and Jeremih. This Thing Called Life, his second album, was released in 2015 but did not see the same success.
Later years, family/health issues, and relationship with the Smiths
Despite this, he was on another hit DJ Khaled single in 2016, "Do You Mind," which also featured, Chris Brown, August Alsina, Future, Rick Ross, Nicki Minaj,, and Jeremih. But after this, most of the singer's success seemed to fade, and a lot of it had to do with health and family issues.
He revealed that he had liver disease in 2017. This came after he had other health scares over the past few years, including collapsing on stage in 2014 and being diagnosed with degenerative eye disease in 2015. Aside from this, after brother was killed, and his sister-in-law died after having cancer, he began taking care of his four nieces.
He opened up about having liver disease in an interview with Pinkett Smith in 2017. At the time, he said that he and Pinkett Smith were just really good friends and that he had a close relationship with her and Will Smith. He also revealed that Will helped him through a Percocet addiction. He first met the couple through their son, Jaden Smith. Though Alsina denied that he had a fling with Pinkett Smith, the rumors plagued them for years.
RELATED: Will Smith Revealed Why He Turned Down 'Men in Black' and Who Changed His Mind
Rumors really gained traction after this Instagram post
In 2018, the rumors really reached their peak once Alsina posted a lengthy birthday post for Pinkett Smith. A lot of fans pointed out how Alsina's post for her birthday was longer than her husband's. The rumors seemed to be at their peak after this was posted.
Alsina wrote in part, "I️ don't believe in luck. I️ believe in God's divine order. & you are an example of God's divinity in It's covering over my life. A beautifully complex individual you are.. I️ could spend a lifetime decoding you. Thank you for your laughter. Thank you for seeing my heart and character & not measuring me based upon what I️ come from. You see me for who I am & what I'm gonna be, even when I️ can't see ME. Thank you for challenging me on a daily basis. You're a little piece of heaven here on earth."
A lot of people thought that this captioned alluded to them having a relationship and that they were more than friends.
RELATED: What Happened to August Alsina? The R&B Singer Has Dealt With and Overcome Tragic Events in the Past Few Years
The singer has now elaborated more on their relationship
Now, several years later, Alsina seems to be in better health and just put out a new album, In a recent interview with Angela Yee, he talked more about his relationship with Pinkett Smith. In talking with Yee, Alsina seems to confirm the rumors that he and Pinkett Smith had a romantic relationship that was OK'd by Will. He said that he was only speaking about it now in order to clear his name.
"People can have whatever ideas that they like," he said. But what I'm not OK with is my character being in question. Contrary to what some people may believe, I'm not a troublemaker. I don't like drama. Drama actually makes me nauseous. I also don't think that it's ever important for people to know what I do, who I sleep with, who I date, right? But in this instance, there are so many people who are side-eyeing me … I've lost money, friendships, relationships behind it. And I think it's because people don't necessarily know the truth. But I've never done anything wrong. I love those people [the Smith family]…they are beautiful people."
"I actually sat down with Will and had a conversation. He gave me his blessing," he continued. "And I totally gave myself to that relationship for years of my life, and I truly and really, really, deeply loved and have a ton of love for her. I devoted myself to it. I gave my full self to it. So much so that I can die right now, and be OK knowing that I fully gave myself to somebody. Some people never get that in this lifetime."
Here's what fans have been saying
On social media, fans seem to have mixed feelings on the matter. Some people said that Alsina confirmed what everyone already knew. Other people questioned his intentions while others gave him support for being truthful.
"Everyone knew Will and Jada had a open relationship but to hear August Alsina say Will gave him his blessing to f**k his wife is wild," said one person.Someone else added, "August Alsina saying he'd be okay if he died because he was able to experience that love with Jada is wild. He's saying that while looking extremely hurt about the situation. Poor thing."
At the time of publishing, Pinkett-Smith has now addressed Alsina's revelations.