August Alsina Confirms Rumored Relationship With Jada Pinkett Smith, Says Will Smith Gave Him His 'Blessing'
Questions surrounding the nature of August Alsina's relationship with Jada Pinkett Smith have lingered for years. While the two have stated that they are merely friends, fans have always speculated that there was more between them — and apparently, they were right.
In a new interview, the "I Luv This Sh*t" singer confirmed their alleged relationship but denied it was an affair, noting that he received the OK from her husband, Will Smith.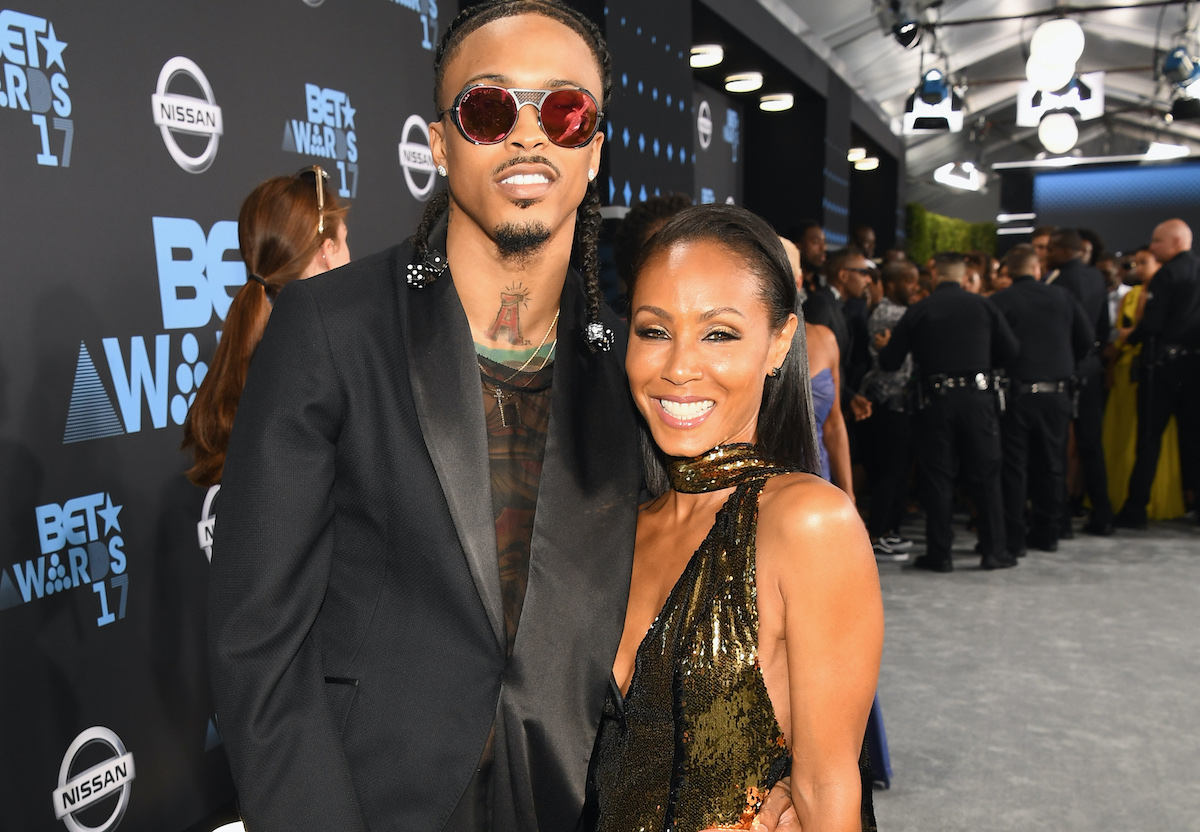 Background on August Alsina and Jada Pinkett Smith
August Alsina met in Pinkett Smith in 2015 after being introduced to the Set It Off actress by her son Jaden, whom she shares with Will. Over the next few years, they were repeatedly seen hanging out and even posing for pictures together. But August Alsina suggested that she was more like a mentor, noting that she helped him recover from drug addiction and tended to give him "life advice."
RELATED: What Happened to August Alsina? The R&B Singer Has Dealt With and Overcome Tragic Events in the Past Few Years
Still, their close-knit relationship continued to attract major side-eye from fans. August Alsina kicked the romance rumors into overdrive in September 2018 when he posted a tribute to Pinkett Smith for her 47th birthday that was more detailed and emotional than her own husband's.
He also fueled rumors in March 2019 when he released a song called "Nunya," where he sings about an estranged lover named Koren, which just so happens to be the actress's middle name. But he later denied it was about her.
August Alsina's latest comments about Jada Pinkett-Smith
August Alsina had been talking to Angela Yee of The Breakfast Club in an interview published on June 30 when she brought up his dating history. She was particularly interested in his relationship with Pinkett Smith and asked whether they were ever really seeing each other. Before diving into the nature of their relationship, he first clarified around the 16:30 mark that he was not a "troublemaker."
"I actually sat down with Will and had a conversation due to the transformation from their marriage to life partnership that they've spoken on several times and it not involving romanticism… He gave me his blessing," he explained, referencing a July 2018 interview where Will said he and his wife no longer call themselves married but refer to each other as "life partners."
Going on, August Alsina continued, "I totally gave myself to that relationship for years of my life and I truly and really, really, deeply loved and have a ton of love for her. I devoted myself to it. I gave my full self to it — so much so to the point that I can die right now and be OK with knowing that I truly gave myself to somebody and I really loved a person. I experienced that."
He admitted that the fling was hard to talk about but said he felt he had to clear his name after losing business over allegations that he was having an affair with Pinkett Smith.
RELATED: R&B Singer August Alsina Confronted About Alleged Relationship with Jada Pinkett Smith
Has Jada Pinkett Smith responded?
Pinkett Smith herself has yet to respond to August Alsina's remarks. But when asked how he felt about her silence over the years, the "No Love" singer said he didn't mind that she has never fully addressed their relationship.
"I never could even get into the thought of that because I'm only responsible for myself and I'm only responsible for what I do when I'm repressing things and it starts to affect me," he said. "I have to address it. I just always stayed silent because I never wanted to be the person to cause confusion because I love these people. I really, genuinely do."
"And I have literally never been in love in that kind of way — so much so that being intertwined in that way and walking away from it butchered me … it broke me down," he continued.
Even so, he suggested that he remains on good terms with the Smiths. But we're wondering how things will pan out once they catch wind of this interview…
How to get help: In the U.S., contact the Substance Abuse and Mental Health Services Administration helpline at 1-800-662-4357.