A Look Back at Austin Butler and Vanessa Hudgens' Seven-Year Romance
After fans initially thought Vanessa Hudgens and Zac Efron would last forever, she seemingly found true love with actor Austin Butler. The talented couple are successful actors, singers, and Broadway stars, with Butler beating out big names to win the coveted role of Elvis Presley in the upcoming movie. Hudgens and Butler have known each other for almost 15 years after meeting on the set of High School Musical. However, they have officially dated for seven years now. Keep reading to take a look back on Austin Butler and Vanessa Hudgen's romance.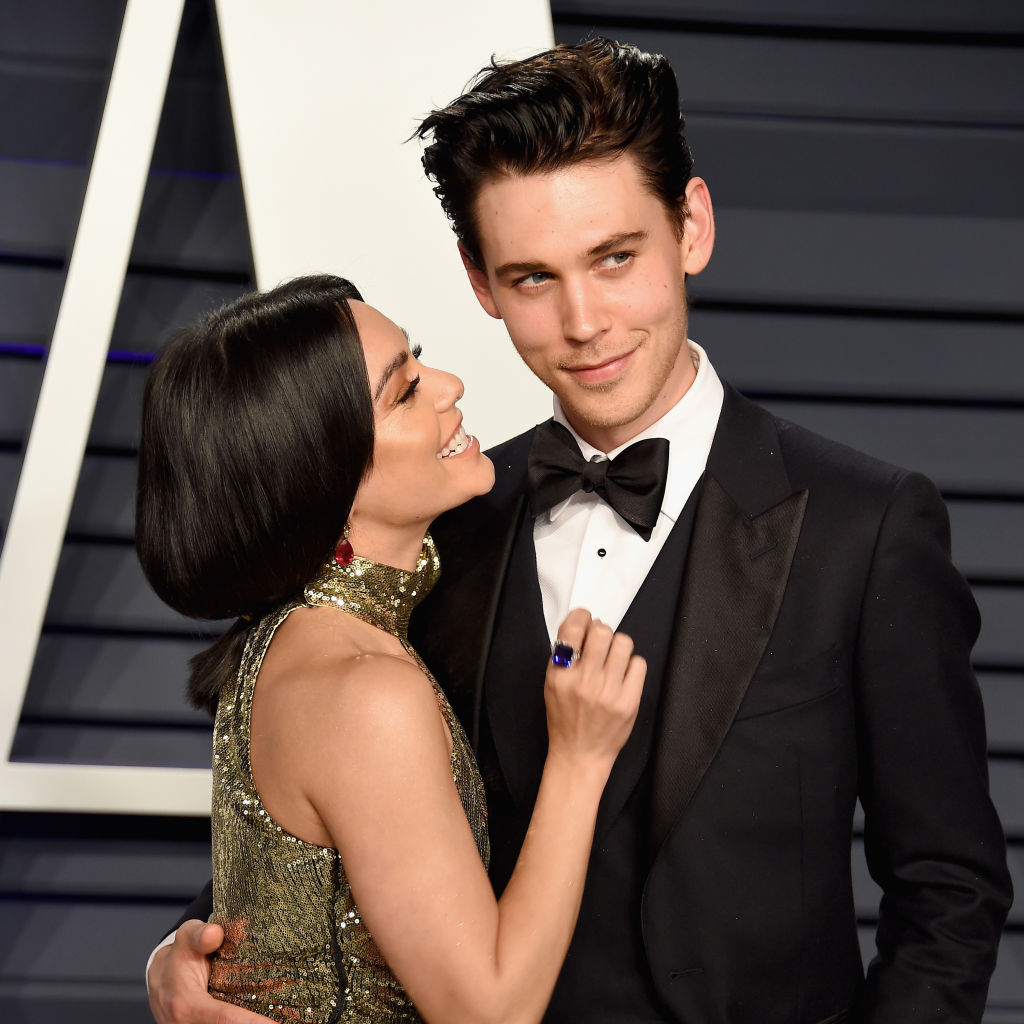 2005
The Daily Mail reported the two met on Disney Channel's High School Musical set while she dated her co-star, Zac Efron. She and Efron broke up in 2010, and the following year she began dating Butler.
2011
In September, sources caught Butler leaving Hudgens' Los Angeles house, and they were seen kissing at the restaurant, Bob's Big Boy.
2012
The couple went on a double date with fellow Disney Channel actress Danielle Panabaker and her boyfriend in January.
In February, Hudgens and Butler made their red carpet debut as a couple for the premiere of Hudgens' movie, Journey 2: The Mysterious Island. Publications view this appearance as their first confirmation of a relationship.
A few months later in April, the two made their relationship Coachella official. A source said they held hands the whole day and "were extremely lovey-dovey."
The couple then went to Outside Lands in San Francisco, and another insider claimed they were "totally in love."
The following month, the acting couple took a vacation to Italy and attended the Venice Film Festival. During a dinner, a publication claimed the two "made out like a couple of teenagers."
2013
In May, the pair took another vacation, this time to Vegas. Hudgens and Butler "were spotted kissing non-stop throughout the evening," and they "were dancing a lot throughout the city."
Hudgens finally made her relationship Instagram official in December, posting a photo that included Butler and her Hillsong church friends.
2014
In August, Hudgens uploaded a picture to Instagram with her and her beau and called him the love of her life while wishing him a happy birthday. Her caption went on to express her love and gratitude for Butler, saying he has "the kindest heart, beautiful soul, crazy talent, and best looks I've ever seen." She also said she thanked God for "creating Austin Butler."
2014
Unfortunately, Butler's mother, Lori, passed away from cancer in September. He notified his following about his mom in a tweet, and Hudgens included her own message saying, "I miss you already, mama." The two also asked their followers to "spread love" and "celebrate" for Lori.
2015
Hudgens openly talked about her romance for the first time in an August Entertainment Tonight interview. She said, "it's important to put that other person first" and "look for ways to always make each other happy." A few days before her interview, Butler uploaded a photo only featuring his leading lady on Instagram for the first time in a caption-less post.
2016
In February, Hudgens dedicated her Grease: Live performance to her father, who passed away only hours before the show. During the musical, Butler was amazed by his girlfriend's strength, tweeting her "singing 'Worst Things' had me in tears. Just brilliant."
A couple of weeks later, the two went on vacation to Sedona, and allegedly carved their names and a heart into one of the rocks and posted it on Instagram. Although Hudgens deleted the photo, the Red Rock Ranger District of the Coconino National Forest opened an investigation, and she had to pay a $1,000 fine.
In July, the couple took another Italian vacation, this one more heavily documented on Instagram.
Hudgens' High School Musical co-star Ashley Tisdale opened about her support for the couple in a July People interview saying, "it's just nice to have your two best friends be in a relationship."
2017
Butler flew to New Zealand to film MTV's The Shannara Chronicles in March. Hudgens posted a photo on Instagram of the two kissing captioning it, "#longdistancesucks." She then opened up about how their relationship stays healthy in a People interview saying, "communication is key."
Because the two had been dating for six years at this point, fans began assuming they were engaged. Hudgens' posted a photo on Instagram in December wearing a ring on a specific finger, and her followers went wild. She clarified things by tweeting, "I posted a pic. Not to show off my ring that I happened to throw on that finger after a long day of filming but to show off my haircut lol."
2018
In December, Hudgens opened up about her relationship again at the premiere for her movie, Second Act. She said Butler is "a wonderful supporter" and called him her "rock."
2019
For Valentine's Day, the High School Musical actress posted a photo of them, captioning it, "7 years strong." In late February, the couple attended the Vanity Fair Oscar Party together.
The couple headed back to Coachella in April. Hudgens uploaded a picture of them captioning it, "So obsessed with this pic from Chella."
In July, Hudgens posted of photo kissing Butler to commemorate International Kissing Day.
Later that month, the same day Butler landed the role of Elvis Presley, the two were spotted taking a walk in Los Angeles. Hudgens also posted the news of her man winning the role captioning it, "I am over the f****** moon. I can't wait so proud of my honey!"