'Austin Powers' Director Still 'Roots for' the Series' Return, Would Expect Greater Focus on Dr. Evil
Perhaps more now than ever, nostalgia is big business. Everything that's old is becoming new again. And in Hollywood, that means revisiting franchises long past their prime. Right now, the 1990s appears to be having its big resurgence, especially with Disney remaking all its animated favorites. But what of late-1990s icon Austin Powers?
In 1997, Mike Myers — just two years after his departure from Saturday Night Live — wrote, produced, and starred in a little movie called Austin Powers: International Man of Mystery. A blatant James Bond parody, the movie performed solidly at the box office. But when it hit home video, a cultural phenomenon exploded into being.
The 1999 sequel earned more in its opening weekend than the first film did in its entire theatrical run. Both Austin Powers sequels remain among the most financially successful comedies of all time. Yet, after 2002, Myers stepped away to focus on other projects. Nearly 20 years later, now could be the time to revive the Austin Powers series, at least its director thinks so.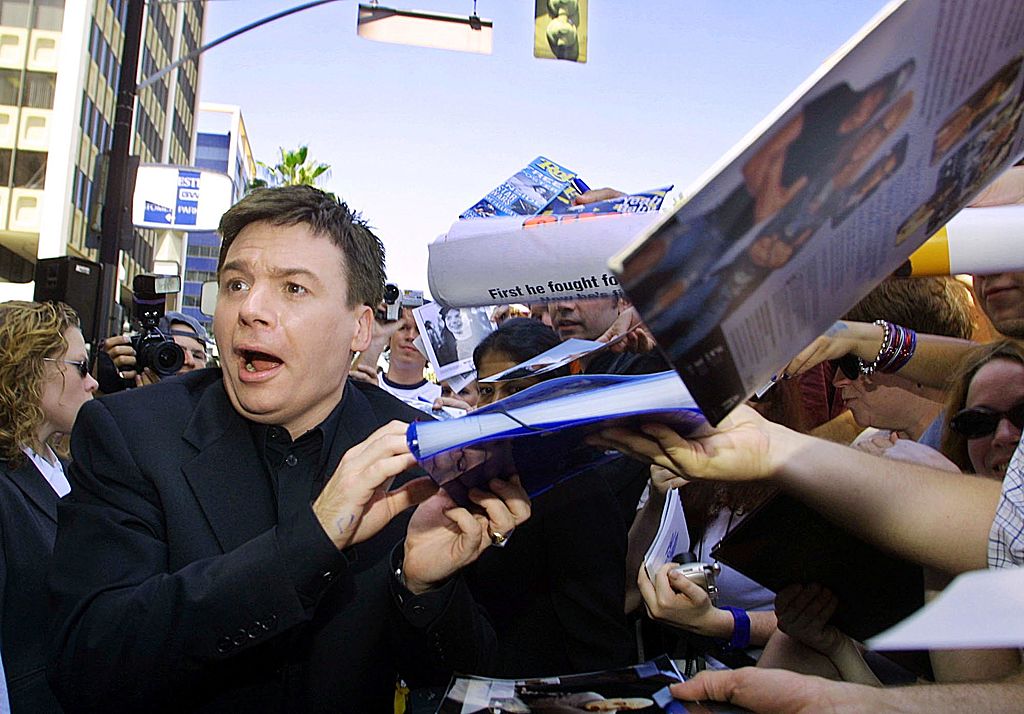 Rumors about 'Austin Powers 4' have been swirling for years
Following 2008's disastrous The Love Guru, Myers has stayed mostly off-camera or taken small roles in hits like Inglourious Basterds and Bohemian Rhapsody. And while rumors about Austin Powers 4 pop up now and again, nothing has truly come together. But that hasn't stopped Jay Roach — who directed all three films — from discussing the possibility with Myers.
"We talk about it once a month, but [we don't want to make a fourth one] until we know what it specifically wants to be," Roach told Movieweb. "I don't disagree that there is a classic battle in the Austin films, that of sort of love versus fear and paranoia, and color versus colorlessness, and music versus fear."
Finding the right story to tell is admittedly tricky. The series' popularity feels like a time capsule of the 1990s. And a fourth film would have to legitimize such a belated return. Plus, Austin Powers in Goldmember brought a definitive end to Austin and Dr. Evil's (both played by Myers) rivalry. Then, of course, Mini-Me actor Verne Troyer passed away in 2018.
Series director Jay Roach still hopes to reunite with Mike Myers
That being said, Roach still maintains hope fans haven't seen the last of Austin Powers and Dr. Evil. The characters are easily Myers' most popular creations. For his part, Myers has always expressed interest in perhaps revisiting them. And according to Roach, this remains the case even so many years later.
"I root for [Austin Powers 4] too," he told Movieweb. "I root for it to come back, and so does Mike. We all have for a long time. It's just always been [waiting for] when the right story comes up and we know what it is, and that's pretty much up to Mike."
Truly, no one knows these characters and their tongue-in-cheek world like Myers. Besides conceiving of the franchise, he cowrote the sequels, which also saw Myers take on the roles of Fat Bastard and Goldmember. If Austin Powers 4 does eventually get made, it probably will take a different angle than its predecessors.
If another 'Austin Powers' happens, it will center more on Dr. Evil
Although the titular superspy is ostensibly the focus throughout the Austin Powers trilogy, the sequels saw Dr. Evil encroaching more and more on his screentime. A parody of Bond's Blofeld, Dr. Evil's popularity arguably eclipsed his arch-enemy's. And though no story outline is in place, Roach believes a fourth movie would focus much more on Dr. Evil's perspective.
"Dr. Evil, there are some aspects of the way the world works right now that seem very Dr. Evil-y to me," Roach said to Movieweb. "I'll just put it that way. But no, we don't have a specific plan for anything right now."
This notion is one fans have heard multiple times over the years. And while Roach doesn't delve into specifics, it's clear he's talking about the current political landscape. After all, Myers has brought Dr. Evil to both The Tonight Show with Jimmy Fallon and SNL over the past few years. So instead of a fourth Austin Powers movie, maybe fans should hope for a Dr. Evil spin-off.