Author Explains Meghan Markle's 'Astonishing' Expectation of Seeing Dying Queen Elizabeth at Balmoral
TL;DR: 
Author Tom Bower discussed Meghan Markle's "astonishing expectation" of going to Balmoral Castle as Queen Elizabeth's health deteriorated in his book, Revenge. 
Bower noted how Meghan had previously "rejected" Queen Elizabeth's invites to Balmoral Castle for four years. 
Meghan Markle remarked on first meeting the monarch after Queen Elizabeth died and the "complicated time" it left for the royal family.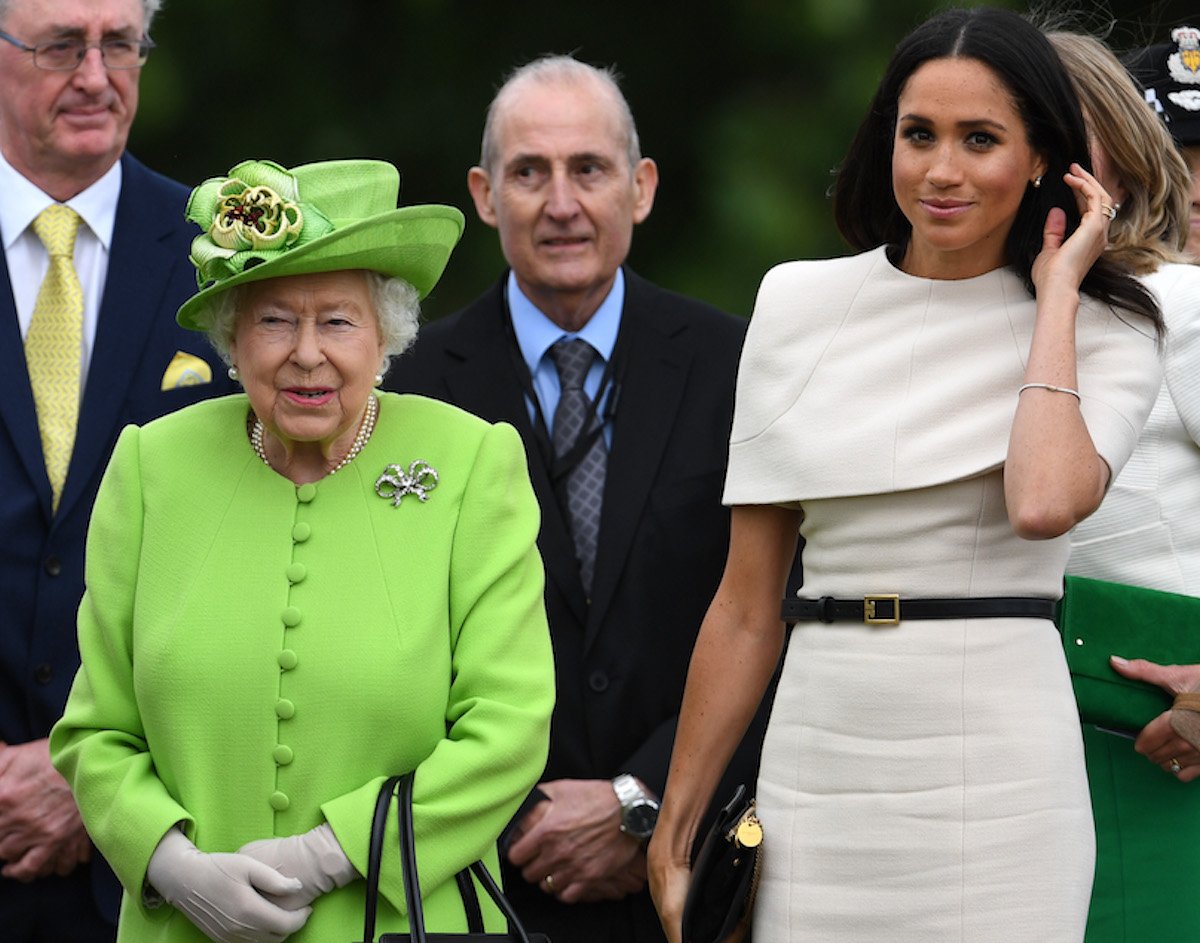 The royal family rushed to Queen Elizabeth II's side as her health declined before her death on Sept. 8, 2022. Not making their way to the monarch's beloved Scottish estate, however, was Meghan Markle. She — and Kate Middleton — were among the British royals who didn't make the trip. Although, according to an author, the Duchess of Sussex wanted to join Prince Harry and the rest of the royal family as they said goodbye to Queen Elizabeth. Ahead, why Meghan's "expectation" of going to Balmoral Castle proved "astonishing." 
Author labeled Meghan Markle 'suggestion' she join Prince Harry at Balmoral Castle shortly before Queen Elizabeth's death 'astonishing' given past invites were rejected
In his 2022 book, Revenge: Meghan, Harry and the War Between the Windsors, author Tom Bower discussed the queen's death and Meghan's presence at Balmoral. 
"At Meghan's suggestion, Harry insisted that he would be accompanied by his wife — and that plan was broadcast to journalists at 1:53 p.m," he wrote (via Mirror).
Bower continued, calling Meghan's "expectation" of going to the queen's estate "astonishing." 
"For four years she had rejected the queen's invitations to visit Balmoral," he wrote. "But, in her last hours of life, Meghan eagerly sought to make the journey." 
"Firmly, Harry was told that Meghan was not welcome," he continued. "Unwilling to waste more time," William ordered the plane heading for Scotland to take off at 2:39 p.m., leaving Harry to make the trek alone. 
Harry arrived in Scotland at 6:46 p.m., he wrote, noting the queen's death had been made public 14 minutes earlier after she died at 3:10 p.m. 
Meghan Markle called the aftermath of Queen Elizabeth's death a 'complicated time'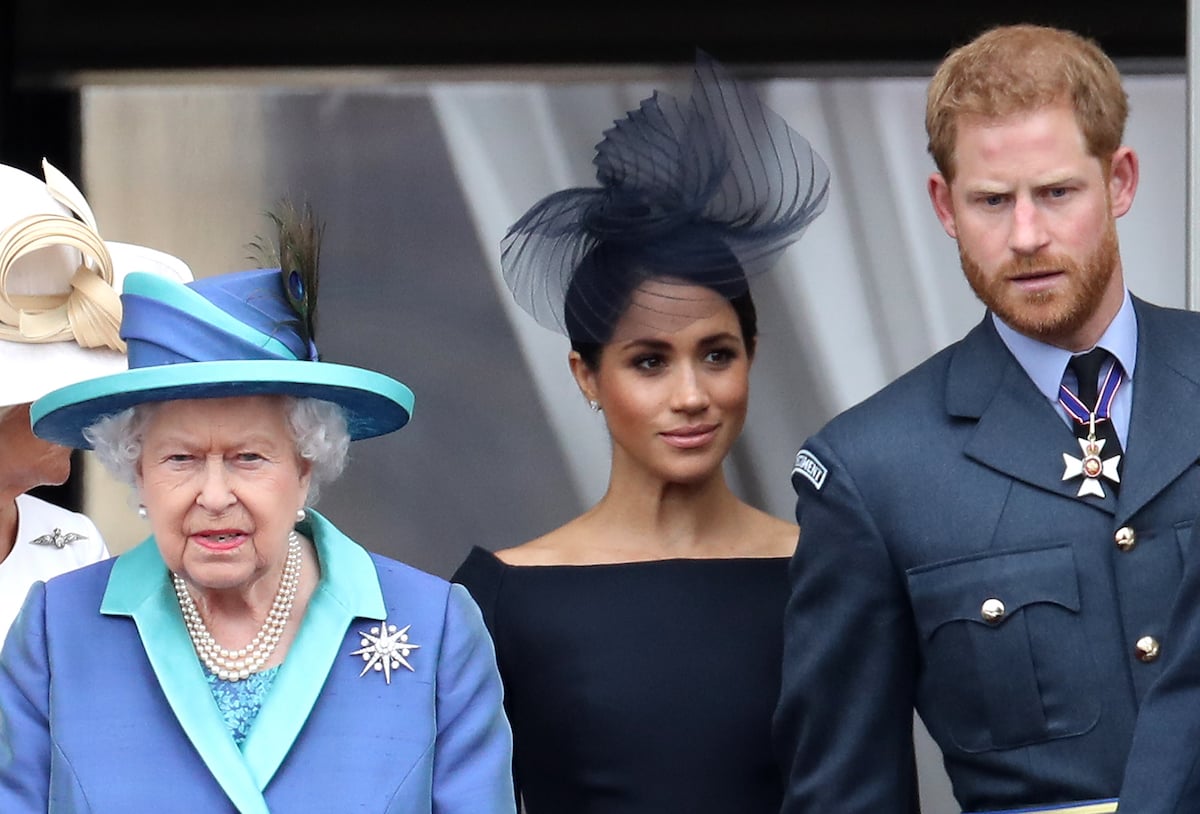 After attending Queen Elizabeth's funeral in September 2022, Meghan spoke publicly about the monarch's death for the first time. She said in an October 2022 Variety cover story it had become a "complicated time" after Harry's grandmother died. 
"It's been a complicated time. But my husband, ever the optimist, said, 'Now she's reunited with her husband,'" Meghan told the publication. She went on to say she'd "reflected" on how "special" her first public outing with the queen had been in 2018. 
She also shared the queen's death gave her "perspective" as well as Harry. "In big moments in life, you get a lot of perspective. It makes you wonder what you want to focus your energy on," she said. 
Meghan Markle remembered meeting Queen Elizabeth for the first time in 'Harry & Meghan'
Previously mentioned in her and Harry's 2021 Oprah interview, Meghan revisited meeting the queen for the first time in Harry & Meghan. The 41-year-old recalled being surprised at having to curtsy in private, likening the royal protocol to Medieval Times restaurants.
"She had no idea what it all consisted of," Harry explained. "So it was a bit of a shock to the system for her."
"There wasn't like some big moment of, 'And now you're gonna meet my grandmother,'" Meghan said, calling it "surreal." She and Harry were on their way to the Royal Lodge for lunch when Harry asked if she could curtsy. "I just thought it was a joke," she said. 
At this point, Meghan realized it was a "big deal" before doing a mock curtsy for the camera. "Like, I curtsied as though I was like [motions the curtsy] 'Pleasure to meet you, your Majesty.'"
"It was so intense," she added. "And then when she [Queen Elizabeth] left, Eugenie and Jack and Fergie say, 'You did great!' Thanks. I didn't know what I was doing."