'Avatar: The Last Airbender' Just Broke This Stunning Netflix Record
When Netflix decided to start streaming Avatar: The Last Airbender, they struck gold. The Nickelodeon-made cartoon has a dedicated fanbase, and manages to enchant new viewers with its careful handling of challenging topics combined with joyous adventure. And now, in an unprecedented tour de force, Avatar: The Last Airbender has managed to shatter a Netflix record in a mere 58 days after its release. In fact, the show has managed to outshine a bevy of Netflix originals.
'Avatar: The Last Airbender' shatters Netflix record
RELATED: 'Avatar: The Last Airbender': Why Greg Baldwin Will Never Sing Iroh's 'Leaves From the Vine'
On July 15, 2020, Avatar: The Last Airbender did the unprecedented. The show managed to unseat Ozark as the longest running top 10 show.
Ozark had been sitting in Netflix's top 10 list for 57 days as of July 14, with Avatar: The Last Airbender sitting right under it, tied for top position. On July 15, Ozark remained at 57, and Avatar rose to the top with 58 days on the top 10.
This is a big deal for a couple of reasons. For starters, Avatar isn't even a Netflix original. And among the top 10, the only other non-Netflix production is Money Heist. It's surprising that an animation from 2005, created by Nickelodeon, was able to unseat every other show on the top 10 list.
The other big deal about this is that Avatar has been sitting on the top 10 list since it was first released. Those 58 days are without any gaps since the show came out. The fanbase for the show is filled with diehard fans, and the new fans it accrues seem equally committed. And there's a reason the show is so successful — it manages to take on challenging and emotional topics with grace. Plus, it's simply a well-written adventure packed with goofy moments.
As proven by its monumental record-breaking moment, Avatar: The Last Airbender is a show that appeals to both children and adults alike.
A live-action adaptation is coming to Netflix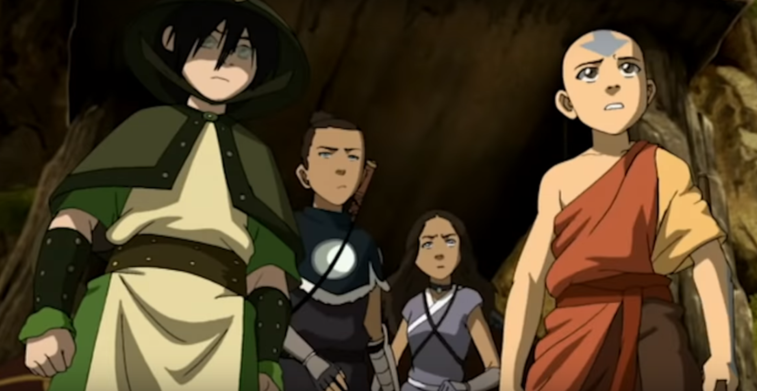 If you can't get enough of your Avatar: The Last Airbender fix, then you'll be happy to hear that a live-action adaptation is on its way. What's more, the new version is being made by the original show's creators.
While some fans are excited just to have more Avatar to look forward to, others might be experiencing some trepidation. This is easy to understand, given how badly M. Night Shyamalan's attempt at a live-action version flopped. The film was criticized for its writing, special effects, acting, and the fact that it whitewashed many of the show's characters.
One Reddit user suggested that fans might be seeing an aged-up version of the cast, given that Hollywood tends to hire adults for teenaged roles fairly often. They wrote, "I bet they're going to age them up, so they can market to the teenage population but also appeal to nostalgic millennials. Plus Hollywood hires mid-late twenty-year-olds/thirty-year-olds to play teenagers all the time so it's possible."
Another added, "They do for high school roles, but they usually don't hire adults for kids that are middle school-aged. But yeah I can definitely see them aging them up just because of the difficulty in working with child actors and their constraints on the amount of time they can work."
As for casting, one Redditor wrote, "I've been browsing the sub as well, and while there are a good number of white actor fancasts, most of them get called out in the comments. Of the fancasts I've seen, Forrest Wheeler as Aang is currently my favorite."
As of now, the official cast list has not been announced, but fans are waiting with bated breath, and perhaps a little anxiety, to see how the new project turns out.