'Avengers: Endgame' Fans Should Be Happy This MCU Star Will Not Appear on 'Agents of S.H.I.E.L.D.' Season 7
With Agents of S.H.I.E.L.D. winding down on ABC, fans are wondering if any of the show's characters will make their way into the movies. After all, Marvel film and television are working together for the first time. So the Marvel Cinematic Universe feels primed for some epic cross-overs.
This being Agents of S.H.I.E.L.D.'s final season, MCU fans might expect the show to hew more closely to its big-screen roots. Alas, at least one MCU star — most recently featured in Avengers: Endgame — has confirmed she won't be popping up in the show's final episodes.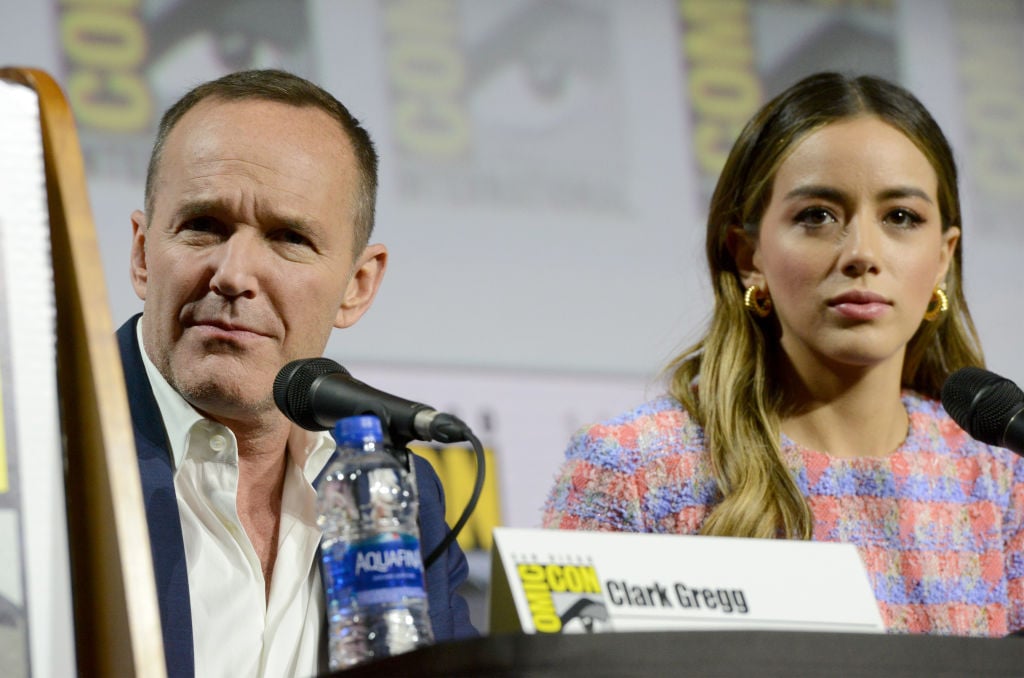 'Agents of S.H.I.E.L.D.' Season 7's time travel might come full circle
Much like Avengers: Endgame, the final season of Agents of S.H.I.E.L.D. hinges on time travel. Because of that, some fans believe the show is gearing up to follow the movie's example and visit the Battle of New York. After all, Clark Gregg's Phil Coulson was killed by Loki (Tom Hiddleston) in 2012's The Avengers. So far that hasn't been the case.
However, Agents of S.H.I.E.L.D. has taken advantage of this opportunity to bring Enver Gjokaj's Daniel Sousa back from the short-lived Agent Carter TV series. Gjokaj stars as a fellow agent harboring a serious crush on Peggy Carter (Hayley Atwell). While Sousa has referenced Carter, Atwell has spoken out about whether her character shows up too.
Hayley Atwell confirmed she won't return to 'Agents of S.H.I.E.L.D.'
While engaging with fans on Instagram (via ComicBook.com), Atwell shut down any speculation about whether she would make a cameo in Agents of S.H.I.E.L.D. Season 7. After a fan said they hoped to see her on the show, the actress responded with a simple "no."
In 2014, Atwell appeared in two episodes of season 2. The very next year, Agent Carter began its two-season run on ABC. Atwell, however, has been a constant presence throughout the movies. She made her MCU debut in 2011's Captain America: The First Avenger opposite Chris Evans.
Some fans might be disappointed that Atwell won't be returning to Agents of S.H.I.E.L.D. However, those who enjoyed the way her storyline wrapped up in Avengers: Endgame should be happy. After all, her connection to Evans' Steve Rogers has been definitively resolved. Or has it?
'Avengers: Endgame' already gave Peggy Carter the perfect send-off
At the end of Avengers: Endgame, an older Captain America returns to pass the shield over to Sam Wilson (Anthony Mackie). Though he refuses to discuss his wedding ring, fans see a flashback in which Cap finally settled down with Peggy Carter. They finally get their oft-teased dance.
This moment has proven so divisive that even the folks behind the movie can't agree on its implications. Directors Joe and Anthony Russo maintain that Cap created a new timeline when he stayed with Peggy. Meanwhile, writers Christopher Markus and Stephen McFeely believe he was always the mysterious man she married after Cap's own 1940s disappearance.
In addition to retaining Cap and Peggy's long-awaited happily ever after, keeping her off of Agents of S.H.I.E.L.D. retains this mystery. If fans want to imagine history has always had two Caps out there, they can still do so. But those who prefer the new timeline angle likely don't have to worry their interpretation will be clarified out of existence either. Everyone wins.