'Avengers: Endgame': Thanos Was Supposed to Look More Like the Comics
'Avengers: Endgame' sees Earth's Mightiest Heroes face off against Thanos. But the villain was originally meant to look very different.
In the Marvel Cinematic Universe, villains don't get much bigger than Thanos (Josh Brolin). At least not among those fans have seen so far. The MCU will persist for years to come, but the franchise may have a long road ahead in establishing a threat as epic as that posed by the Mad Titan.
A cosmic conqueror like Thanos may have once seemed too fantastical to connect with mainstream moviegoers. Yet, throughout what has now become known as "the Infinity Saga," the character has emerged as arguably one of the best comic book movie villains ever. Now we've learned Thanos almost looked very different from what we saw in Avengers: Endgame.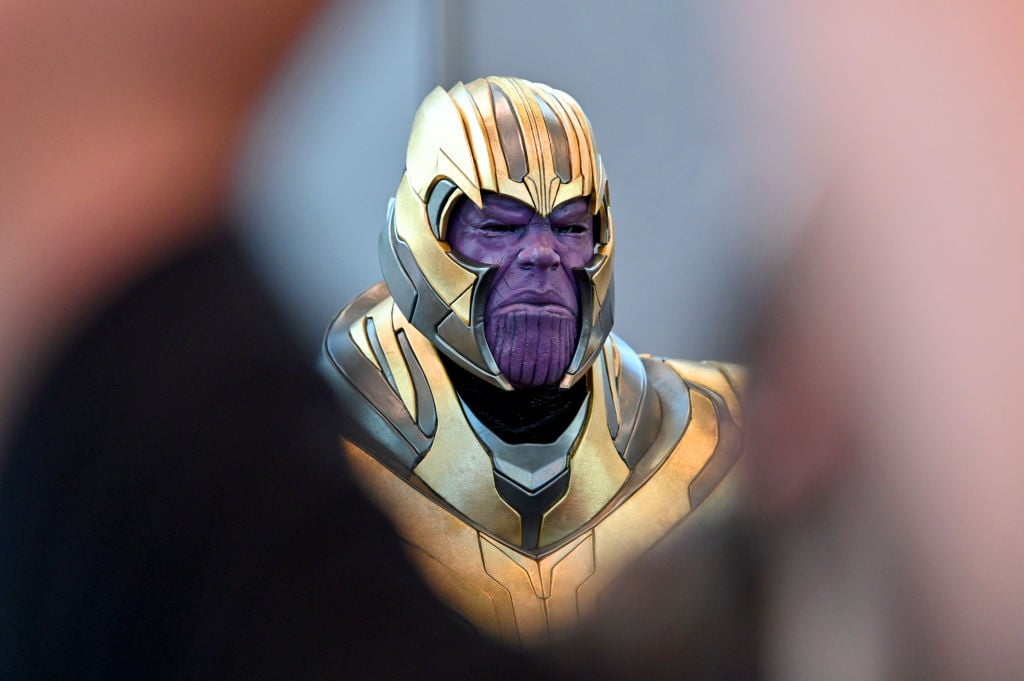 Thanos' evolution in the Marvel Cinematic Universe
Ever since audiences discovered his purple smirk at the end of The Avengers, Thanos has loomed large over the MCU. Brolin subsequently played the character — created by Jim Starlin — in Guardians of the Galaxy and Avengers: Age of Ultron. But the Mad Titan didn't truly lay claim to Earth until 2018's Avengers: Infinity War.
In his very first appearance, actor and stuntman Damion Poitier played Thanos. From that brief cameo through to Avengers: Infinity War, Marvel Studios tweaked his design. Don't believe us? Check out how different he looks even from Guardians of the Galaxy on. Advances in motion capture technology played a role in Thanos' look, but even the details of his face and skin tone have changed over time.
From Avengers: Infinity War to Avengers: Endgame, the character's changes are more subtle and based on narrative reasons. In Infinity War, Thanos is more powerful throughout because he possesses the Infinity Stones. So he lacks the need for armor and additional weaponry. Then, in Endgame, audiences get their best look at his warrior mode.
An early design intended for 'Avengers: Endgame'
With the amount of moving parts involved in bringing the grand-scale mythic storytelling of Avengers: Endgame to life, we're not surprised the film's design was constantly evolving. Thanos' warrior look certainly endured its fair share of changes.
Concept artist Jerad S. Marantz recently took to Instagram to share a glimpse at an early design of Thanos' armor for the film. And it definitely bears a very different look from what wound up in the final cut. His armor in the movie actually embraces a gold color scheme and juts out more, especially off of the character's shoulders.
That being said, this less grandiose design could feel more tactical and certainly feels truer to some versions of the comics. Yet, not only would it sharply contrast with previous armor Thanos has worn, it is also simply less imposing. We can't blame directors Joe and Anthony Russo for wanting something a bit more cinematic for their superhero epic.
Fans haven't seen the last of the Mad Titan
Thanos' story appears to be conclusively over by the end of Avengers: Endgame. But no ending is ever forever when it comes to comic books. In fact, fans have already begun to speculate how the Mad Titan could re-enter the MCU down the line. After all, the character does show up in several key story arcs in the comics.
But the one place fans can definitely look forward to seeing Thanos is on the upcoming Disney+ series What If…? The animated show will explore alternate fates for many established characters in the MCU. Brolin, Chris Evans and many actors will return to voice their characters. We don't know how this version of Thanos will compare to the ones we've met in the films. But we'll definitely be watching to find out.