Ayesha and Steph Curry Have 4 Matching Tattoos — Here's What They Mean
Steph Curry and Ayesha Curry are one of pop culture's highest-profile young couples. Steph Curry is a sports star, an acclaimed basketball player who has millions of fans. His wife, Ayesha Curry, is a lifestyle guru and cookbook author who has appeared in many television shows over the years and has even opened several restaurants.
Together, they are an inspiring power couple. Steph and Ayesha Curry have opened up on many occasions about their happy marriage, and don't mind showing off their love for each other. In fact, the couple even displays their devotion to each other on their skin, with a series of four matching tattoos. 
How many tattoos does Ayesha Curry have?
Ayesha Curry was born in Canada in 1989. As a pre-teen, she began acting, appearing in several music videos and television projects. She first rose to prominence in 2014, when she began posting cooking demonstrations to YouTube.
Her popularity as a home chef took off, and in the years that followed, she became a regular presence on The Food Network. Ayesha Curry has published several bestselling cookbooks, including her most recent effort, The Full Plate, published in 2020.
Ayesha Curry is a busy mom, with three young children that she shares with Steph Curry. To show her love for her family and her hobbies, she has gotten several tattoos. Reportedly, Ayesha Curry has a total of seven tattoos, including several of them that reference her strong religious faith, a tiny tattoo of a whisk that represents her love of cooking, and a couple of tattoos that honor her husband, including a pineapple to reference Steph Curry's team, the Golden State Warriors. 
How many tattoos does Steph Curry have?
Steph Curry is considered by many sports fans to be one of the greatest players in basketball history. A star player for the Golden State Warriors, he achieved fame at an early age and is a seven-time NBA All-Star.
Steph Curry is a proud father of three, and even though he has his own high-powered career, he always makes time to support his wife and her accomplishments.
Steph Curry reportedly has around five tattoos, including one that features the letters "WOE," which stands for "Working on Excellence," and one on his left wrist that reads "TCC 30" which stands for "Trust, Commitment, and Care."
Steph and Ayesha Curry rock four matching tattoos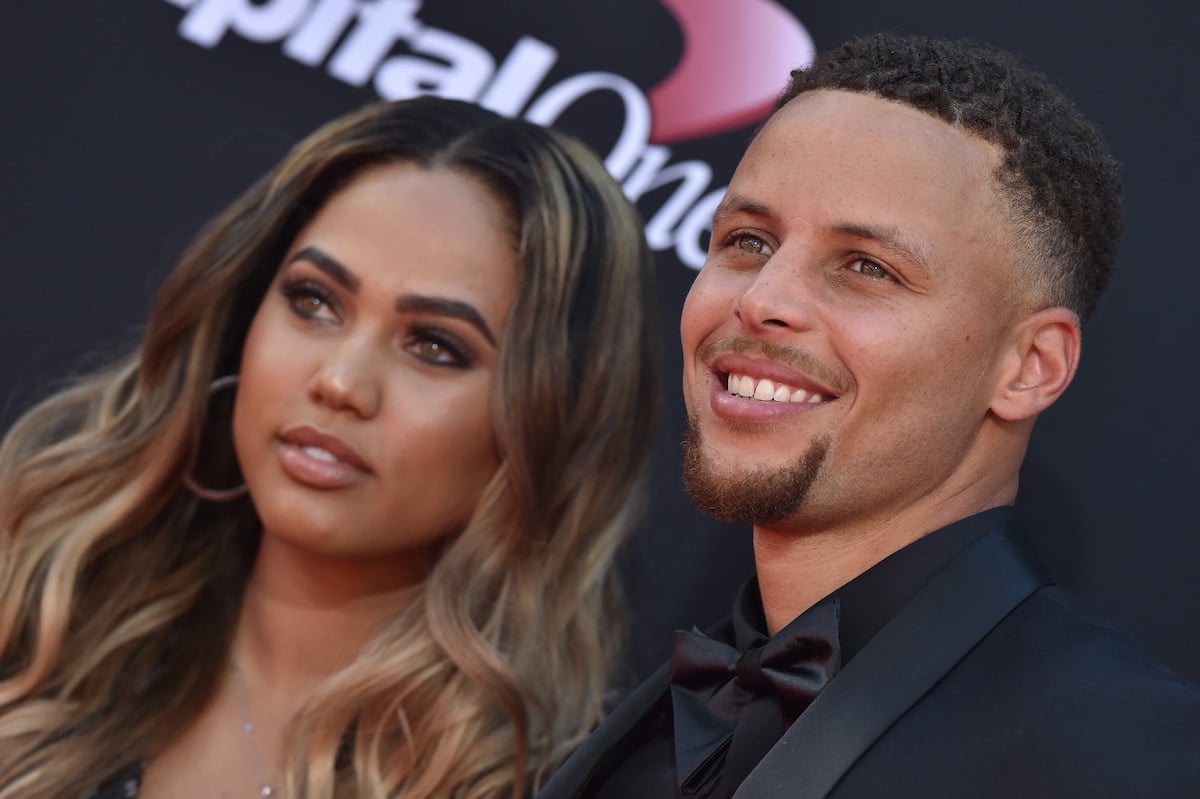 In addition to their tattoos that signify their hobbies and careers, Steph and Ayesha Curry have several matching tattoos to represent their marriage and family life. According to Insider.com, the couple got their first set of matching tattoos in 2016, small arrows that are designed to represent the idea of "staying in the moment."
The Currys got their second set of matching tattoos in 2019, following the birth of their third child. These tattoos feature a geometric wolf, butterfly, and unicorn, symbols that stand for their children. 
The couple even has a fun pre-game ritual that involves their tattoos. According to Steph Curry, "we have matching tattoos. This signifies the past is behind us and the future is in front of us, so we stay in the middle, in the moment. I smack my tattoo and she does the same."
The ritual reminds Curry that his "job should be fun" and helps to keep the couple connected even in the heat of an NBA game.