'B Positive': Could a Romance Happen Between Drew and Gina?
The B Positive Season 1 finale ended with Drew and Gina going for the kidney transplant. Drew will finally get his life back. One underlying theme that has come up this season is the attraction growing between the two characters. Could Drew (Thomas Middleditch) and Gina (Annaleigh Ashford) end up together? Here's Showbiz Cheat Sheet's take.
How Drew and Gina reconnected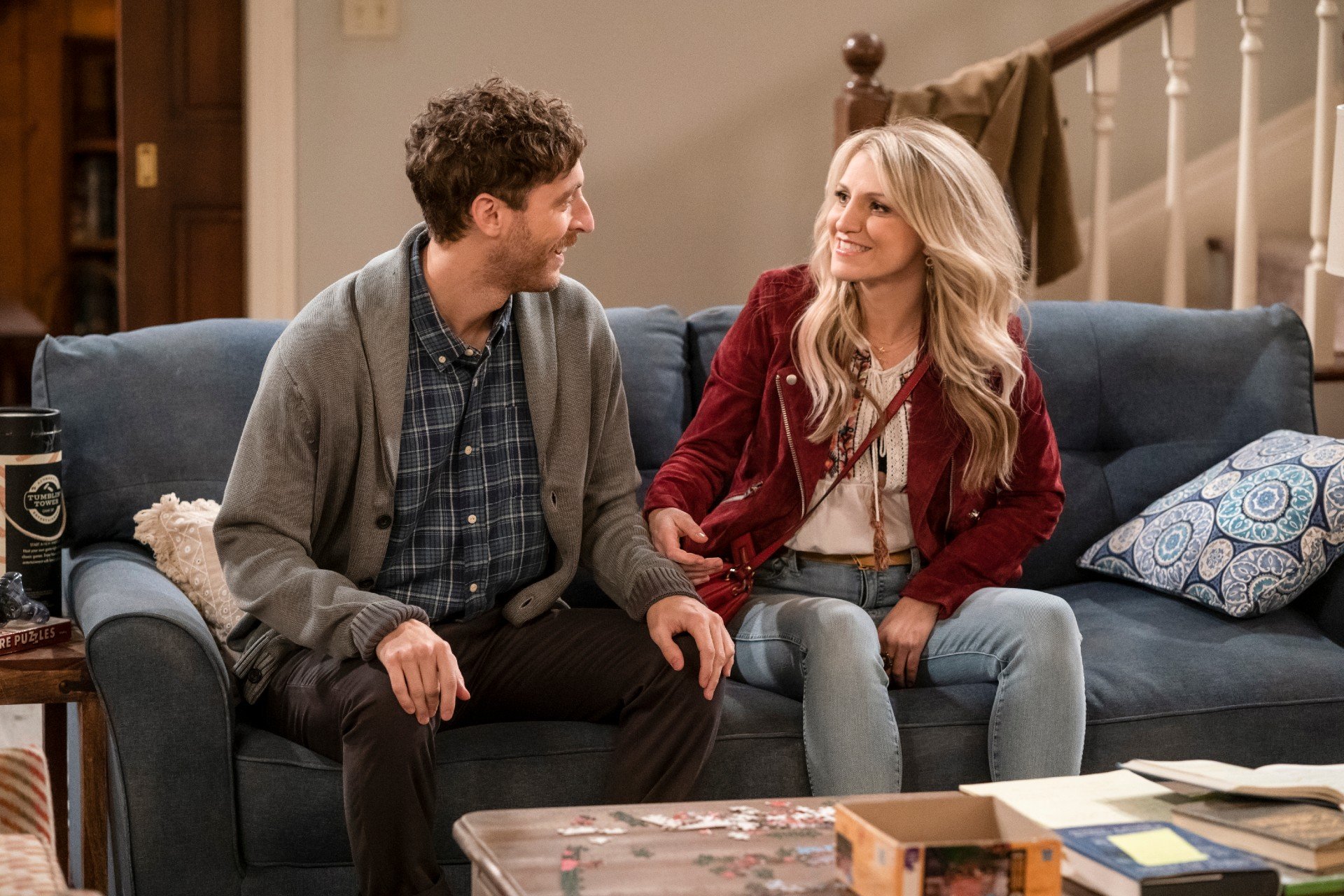 Drew and Gina went to high school together and reconnected at a friend's wedding. Drew mentioned he needed a kidney transplant. Much to his surprise, Gina offered to give him one of her kidneys. Drew offered to let her stay in his home so that he could watch her and make sure she was taking care of herself. Gina had a history of drug use and partying hard, so he looked after her and made sure she was eating right and living responsibly.
Drew and Gina get closer
Drew and Gina got closer during B Positive Season 1 Episode 18 (titled "Life Expectancy"). The night before the kidney transplant, Drew and Gina have a heart-to-heart. Gina tells Drew how much she appreciates him. "You completely changed my life," says Gina. At the time, she was preparing to move out because they agreed she would move once the transplant was over. Gina admits she panicked because he didn't know what was next for her, and she felt lost. 
Drew then gives Gina a gift for being his kidney donor. He gives her a key to his home and says she can stay as long as she wants. "Truth is, I don't want you to leave," says Drew. "You've completely changed my life, too," he admits. "And I can't imagine what this house will be like without you. I can't imagine what I will be like without you."
Could a romance happen between Drew and Gina on 'B Positive'?
At one point, Drew and Gina were dating other people. However, they both started experiencing problems in their relationships. Drew was dating a woman named Adriana. They hit it off after meeting at the hospital, but things quickly fell apart. Adriana was concerned her health issues and Drew's health issues would be too much to handle. Drew was willing to work on the relationship, but Adriana didn't want to keep trying.
Drew and Adriana broke up, but Gina is still in a relationship with his friend, Eli. Drew respects Gina's relationship, but it's clear there are some romantic feelings between them. They are both trying to ignore those feelings.
We're rooting for Gina and Eli, but we think Drew and Gina will eventually end up in a romantic relationship. Their feelings toward each other started to seep out during B Positive Season 1 Episode 16 (titled "A Cute Asphyxiation"). When Drew and Gina were having trouble in their relationships, Gina asked him why relationships have to be so hard. Drew agreed that relationships are hard and commented on how easy it was to get along with her. He added, "[Relationships] should be like you and me."
Gina said she appreciated that she didn't have to worry about what she said to Drew. They both commented on how comfortable they were with each other and how well they communicated. "This is how it should be; no drama, pressure," says Gina.
Drew and Gina will always be connected to each other because of their shared experience with the kidney transplant. No matter what happens, they will always have that history. We're interested to see how their relationship develops in season 2.
Follow Sheiresa Ngo on Twitter.