'Babylon Berlin' Season 4: Release Date, Cast, and Everything Else We Know So Far
Things are changing in Berlin, and not in a good way. By the time we reached the end of Babylon Berlin Season 3, the stock market had crashed, the Nazi movement was gaining steam, and detective Gereon Rath (Volker Bruch), facing a personal crisis, had succumbed again to the lure of morphine. In the last moment of the season 3 finale of the German-language Netflix series, Gereon looked through a sidewalk grate and saw what appeared to be a dragon slithering beneath the city street. 
We're pretty confident the dragon is metaphorical, but the moment is an obvious signal that dark times are coming for Gereon and everyone else in Berlin. So, when will we get to see what happens next? 
Production on 'Babylon Berlin' Season 4 is underway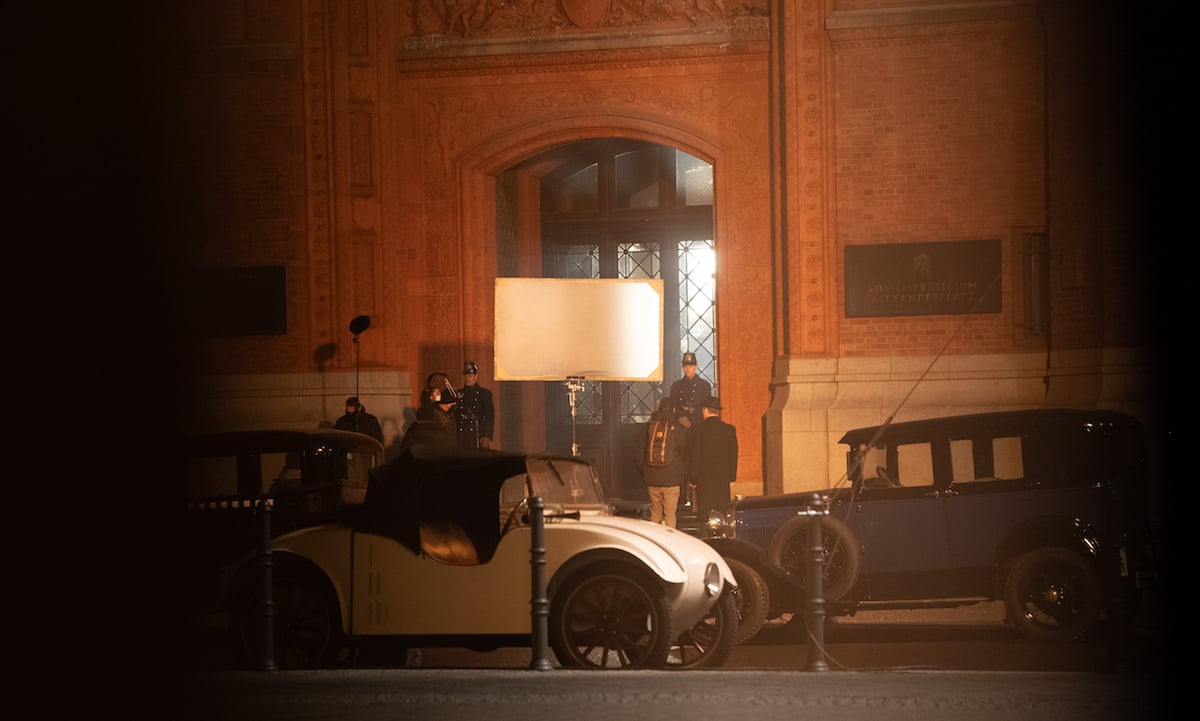 Details about Babylon Berlin Season 4 are scant, but we do know the show will return. Production on the show's fourth season is currently underway, according to a May 2021 report from The Hollywood Reporter. 
Work on new episodes was actually set to begin more than a year ago. Then, the coronavirus (COVID-19) pandemic hit and film and TV sets everywhere shut down. Now, Babylon Berlin's cast and crew are back at work, with the German tabloid B.Z. recently sharing photos of Berlin's streets transformed for the upcoming 1930s-set season. 
Netflix hasn't announced when the new season will premiere in the U.S.
'Babylon Berlin' cast: Mark Ivanir joins the show
The premiere date might be a mystery, but we do know the name of one person who will be joining the Babylon Berlin cast. Mark Ivanir, who has previously been seen in The Good Shepherd, Homeland, and Netflix's now-canceled Away, will appear in season 4. Deadline reported the news and shared that he will have a recurring role. There's no word yet on what character he will play. 
What will the next season of 'Babylon Berlin' be about? 
The photo captured by B.Z. shows a swastika hanging above a doorway and Brownshirts marching in the streets. The image suggests the Nazis will likely play a more prominent role in Babylon Berlin Season 4 than they did in past seasons. That's to be expected, given the time period. The stock market crash and the economic crisis that followed helped propel the Nazis to power. 
Right-wing industrialist Alfred Nyssen (Lars Eidinger) played a prominent role in season 3, and his bold stock market play allowed him to profit during the crash. Nyssen is clearly inspired by Fritz Thyssen, a leading German industrialist and early financial backer of Adolf Hitler and the Nazi Party (though he eventually broke with the regime). It's possible we'll see Nysseen getting cozy with the Nazis in the next season of Babylon Berlin. 
Season 3 also saw Gereon's ex Helga (who also happens to be his sister-in-law) begin a relationship with Nyssen. That, combined with the horror of the stock market collapse, has him reaching for the morphine after staying off the drug for all of season 3. Gereon's struggle with addiction may be a theme in season 4, along with his evolving relationship with Charlotte. The two shared a kiss in season 3, but what that means for their future is unclear.  
'Babylon Berlin' Season 4 will be based on the book 'Goldstein'
In a conversation with the U.K. newspaper Express, Babylon Berlin co-creator Henk Handloegten shared that season 4 will be based on Goldstein, the third book in author Volker Kutsher's series of Gereon Rath books. In that novel, Gereon is assigned to a case involving American gangster named Abraham Goldstein. It focuses on "a divided city where two worlds are about to collide: the world of the American gangster and the expanding world of Nazism," according to the book's synopsis.
Babylon Berlin Seasons 1-3 are currently streaming on Netflix.
Check out Showbiz Cheat Sheet on Facebook!
RELATED: Obsessed With 'Babylon Berlin'? Then You Need to Watch These Shows and Movies