'Bachelor' Fans Are Coming To Defend Victoria Larson From Matt James' Friend; 'I Can't Stand Victoria but This Is So Bad'
Victoria Larson has not had a very favorable time on this season of The Bachelor. She's been pretty vocal against most contestants and stepped on many toes, and was even called out this last episode by Katie Thurston, another contestant. Her fashion has also been a topic of conversation for viewers, but one thing that fans aren't standing for is Matt James' friend making fun of her body. That's exactly what happened in a recent Instagram video that fans are quite put off by. 
Matt James' friend made fun of Victoria Larson and fans aren't having it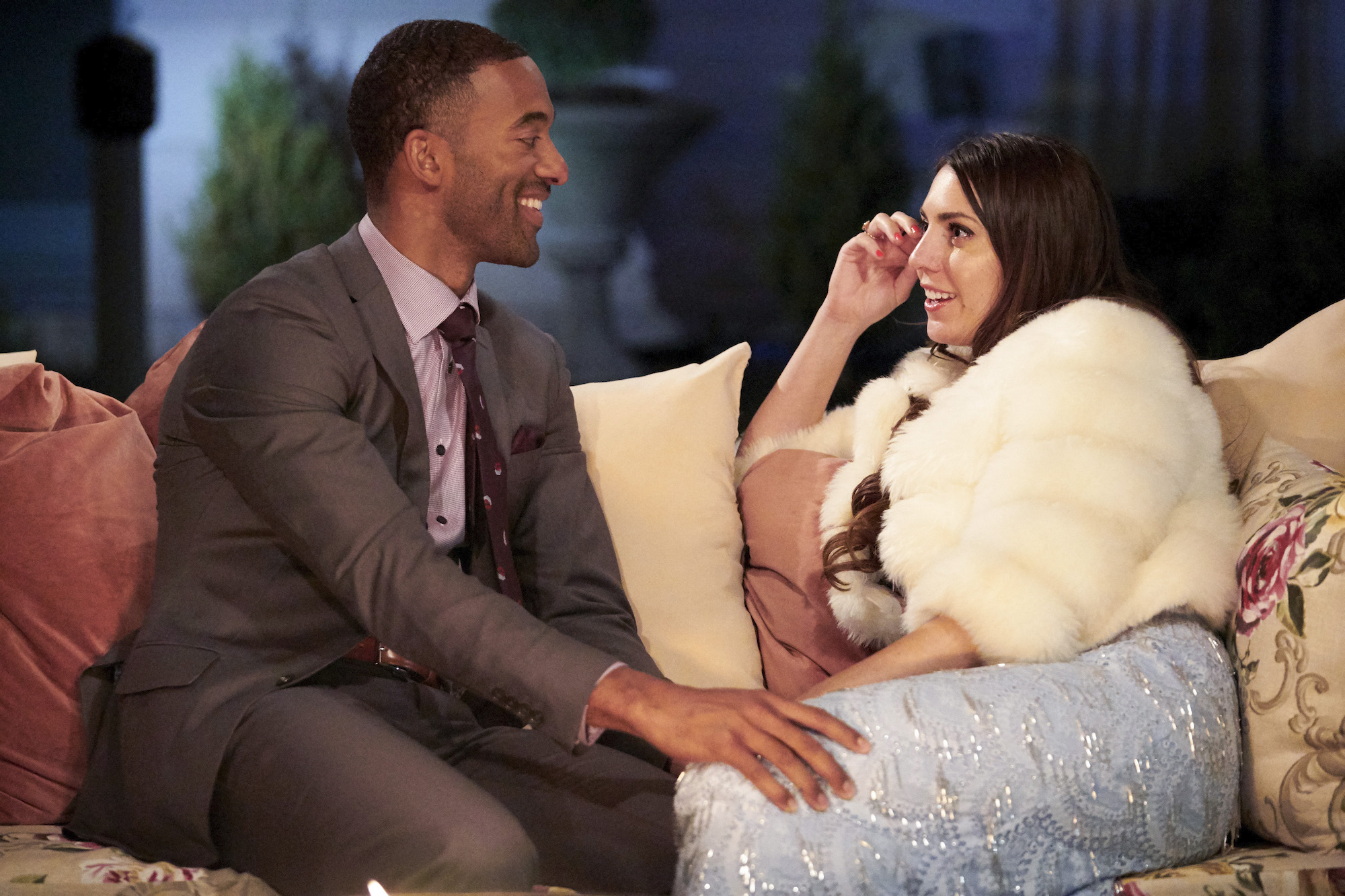 In a video posted to the Bachelornation.Scoop Instagram account on Jan. 25, James and his friends — including former The Bachelorette contestant and fan-favorite Tyler Cameron — were golfing when one of his friends made comments about Larson. The friend (Jerry) seemed like he was trying to fool around and distract James as he was putting. He said, "Now how was Victoria's body? 'Cause when I look at her, it doesn't look very nice … and you've been making out with this woman."
Others around them laughed. While James' face isn't visible and it's unclear if he also laughed, he didn't say anything to James other than asking him to move the pin out of the way for him to play. 
Fans on Bachelornation.Scoop's Instagram weren't happy with the comments and viewers on Reddit also shared their opinions. User u/coconut_creme_ posted, "men like this truly make me sick" and asked, "What kind of behavior is that?"
The user pointed out that James, being the Bachelor, should have surrounded himself with people that wouldn't have put that out there or acted like that in the first place. "At least have some respect for the title and ACT like you have some sense," they wrote. "Someone on the main sub said something along the lines of him not having a personality on the show because he's trying to hide the repelling personality he has irl."
They ended the original post by saying that ABC and The Bachelor franchise "made a mistake with this one…"
Larson has not had a great run on the show with her behavior, but fans aren't here for body-shaming comments for anyone 
In addition to the mean comment, in general, the original poster also noted that Victoria's position on the show does not mean she should be made fun of. 
"Victoria SUCKS, we can all agree on that, but making fun of her body and giggling like nasty frat bois just. ain't. It," they wrote."
And everyone in the comments seemed to agree.
"I can't stand Victoria but this is so bad. And they all thought this was fine to post?" one user commented. 
Another user noted that Larson shared that she was insecure about her body and image with James on the show. So he knew she was possibly sensitive to comments like this. 
Another one brought up James' morals, noting that he's "supposed to be religious," but that didn't come through with the people in this situation or the way he handled it here. 
"I always feel like it's those who loudly 'preach the gospel' that are always the ones who don't follow it themselves, but that's just what I observe," another user wrote.
Victoria subtly commented on the situation as well  
So, how does Larson feel about those comments? While it doesn't seem like James commented on his friend's body-shaming remarks, Larson made some subtle hints that she's seen the video and is brushing off the negativity. 
For one, People reported that Victoria commented on the video with, "Cute… I love my body :)" with a pink heart, sparkle emoji, which they pinned. 
And on her personal Instagram, Larson posted a meme of women in a pageant walking around for the swimsuit portion, with a man on his couch saying, "Her nose is too big." She posted one of her in a bikini, as well, with the caption, "Y'all are too much," and then wrote, "body by @naturalpilates & @carriespilatesplus."  
In a recent interview with Good Morning America, Larson said a lot of her disparaging comments on the show to other women were in "good fun" or not meant the way they come across to viewers. But even with the way they are seen — as bullying — fans aren't here for body-shaming.