'Bachelor' Fans Are Dragging Peter Weber's Ex-Girlfriend, Merissa Pence, for Calling Out Victoria Fuller
[Spoiler Alert: Spoilers ahead for Season 24, Episode 8]
The Bachelor is always full of drama, but Peter Weber's season of the show might be the most chaotic and messy yet. Weber has developed an intense connection to contestant Victoria Fuller. While their relationship hasn't been smooth sailing, it's clear Weber's very attracted to Fuller and wants to see their romance continue. But his ex, Merissa Pence, introduced some hard truths to Weber during Fuller's hometown visit.
Pence appeared to have good intentions when telling Weber (and the cameras) about Fuller's sordid past. But many Bachelor fans think she overstepped. Here's what they're saying on her Instagram.
Peter Weber's ex, Merissa Pence, warned Weber of Fuller's past actions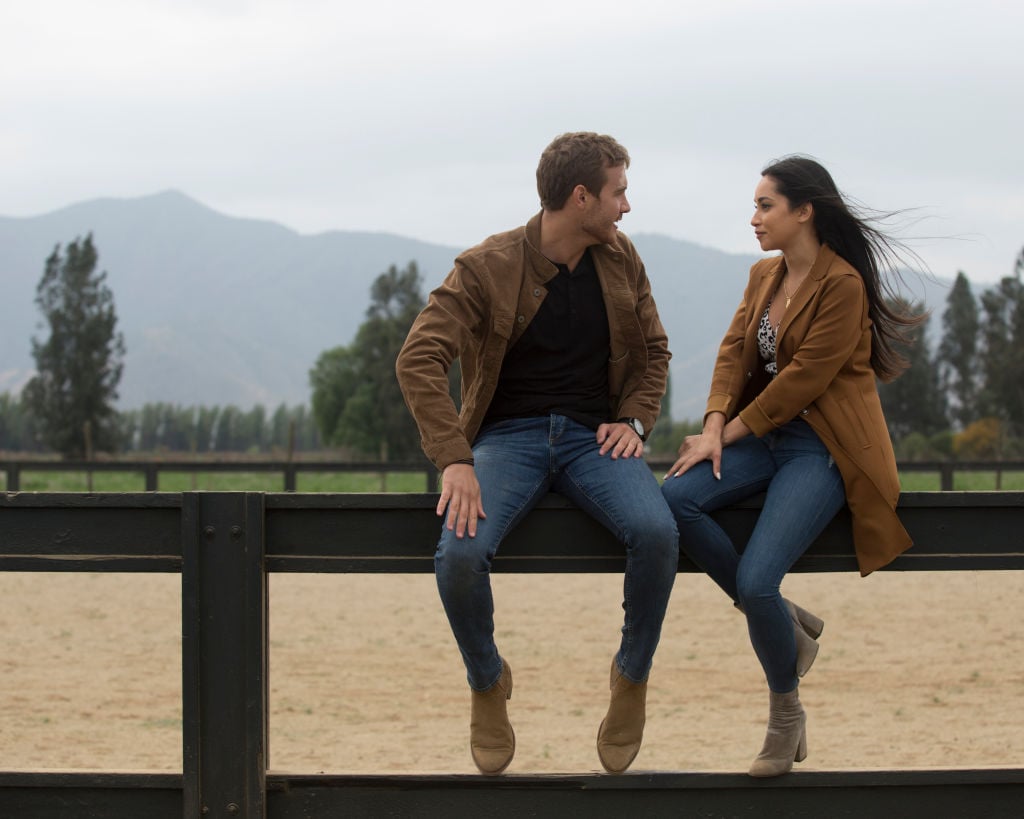 Those who've been keeping up with Bachelor spoilers know Fuller has been the center of controversy for multiple reasons. While she fell out of favor with fans after her "White Lives Matter" debacle, it's her hometown date that's getting all the attention now.
Heavy notes rumor has it that Fuller was getting romantically involved with her friends' husbands back in her hometown of Virginia Beach. And Pence, a woman who dated Weber for about six months and remains on good terms with him, approached Weber about the rumors prior to him visiting Fuller's family.
As for how Pence and Fuller know each other, Heavy reports Pence told Us Weekly that they met through a mutual friend. But Pence never felt right about Fuller. "I told our mutual friend, I was like, 'Look, I'm never going to hang out with her again. She's crazy. She literally has no respect for anybody around her and I just don't want to be associated with that,'" Pence noted.
When Weber approached Fuller about the rumors, Fuller wasn't having it, of course. But she still received a rose from Weber after all was said and done.
'Bachelor' fans are slamming Fuller on Instagram
Many are happy Pence came forward with what appears to be the truth. And some Bachelor fans are taking to Instagram to attack Fuller for staying on the show.
On Feb. 17, the day the hometown dates aired, Fuller posted a photo of her with Weber to her Instagram. "Thank you Pete for always having faith in us & believing in me, even when I would doubt myself along the way," she captioned the photo. And many took to the public comments to slam her.
"Definitely should've went home. Poor communication you have," one of her followers commented.
"You don't know how to communicate or have serious conversations when Peter calls you out," another wrote. "You act like a child and you're all about the drama. Girl bye!"
Yet another added, "Funny how peter wants to settle down with someone with the same mature mindset, yet there is still girls like you in the running."
Other fans aren't happy Pence inserted herself into the drama
Many Bachelor fans are happy that Pence came forward with the truth. But others aren't as impressed, as they think she had plenty of other opportunities to approach Weber before he became so invested in Fuller.
Pence posted a photo of her with her family holding roses and wearing Bachelor T-shirts to Instagram on Feb. 18. And one follower commented, "I've seen pieces of episodes (my wife watches this garbage, so I mostly listen) but I think everything about this show is wrong. You searching for drama, and fame is just puke worthy. By the end, he will pick a girl, and 6 months later they will split."
And Pence got even more backlash on a post of herself she added on Feb. 17.
"In my opinion it wasn't your place to tell your EX that the girl he is interested in he shouldn't be pursuing," another follower wrote. "Everyone has their past s***. You live and you learn! #notcoolgirl."
Another added, "you had no right, you're just jealous bc you want peter back."
And another wrote, "hope you got the attention you were fishing for."
It seems Pence's intentions were pure despite the negativity. And now, Fuller is going to have to face the rumors one way or another. We'll stay tuned to see how it all pans out.
Check out Showbiz Cheat Sheet on Facebook!