'Bachelor in Paradise' 2021: Natasha Parker and Joe Amabile Tease the 'Wild' New Season
A lot of changes are coming when Bachelor in Paradise Season 7 is released on Aug. 16, 2021. Luckily, new cast members Natasha Parker and Joe Amabile recently teased what to expect when the summer spinoff returns. So here's what the BIP contestants had to say about their "intense" journey.
Natasha Parker and Joe Amabile join the 'Bachelor in Paradise' 2021 cast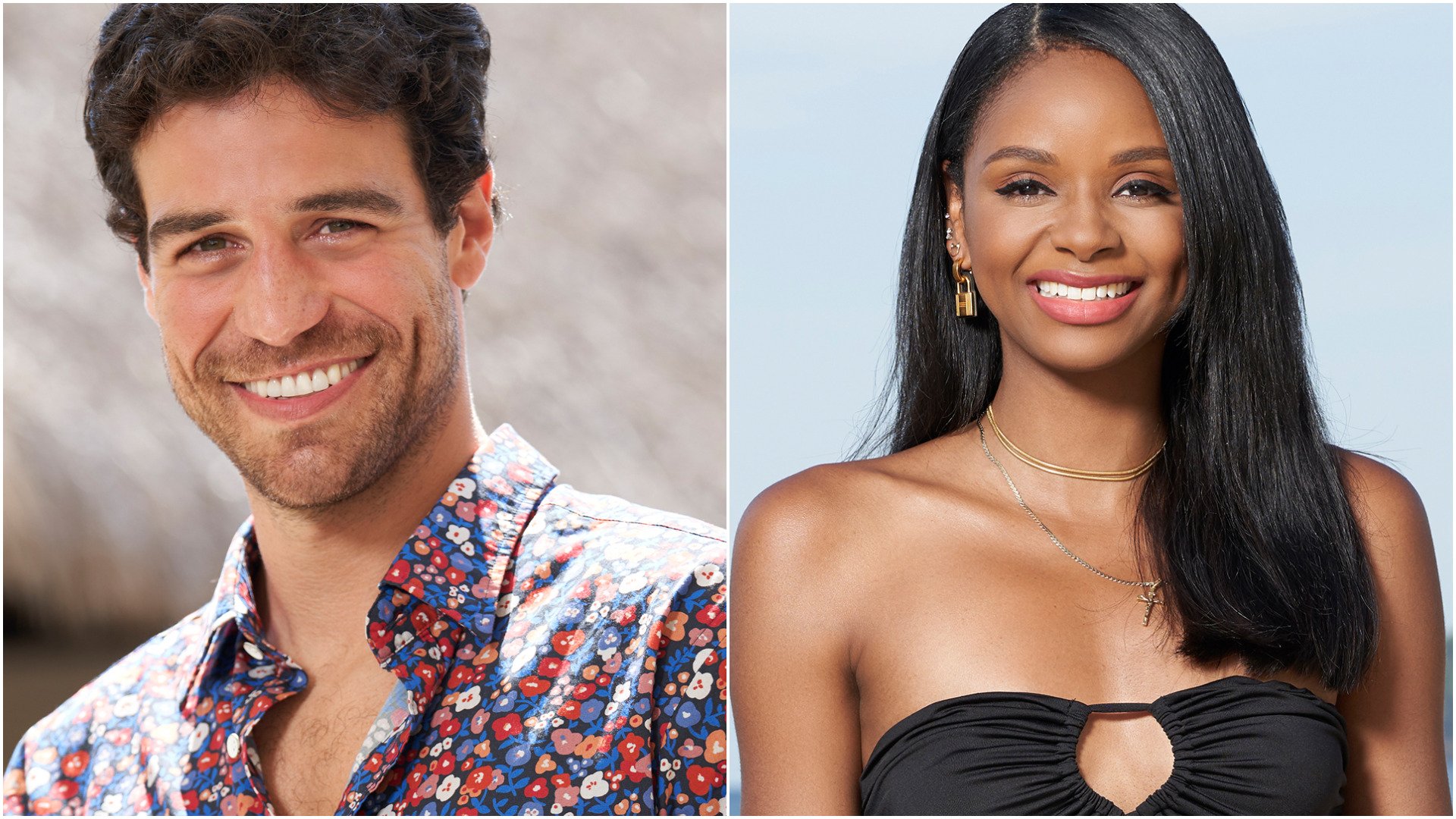 RELATED: 'Bachelor in Paradise' Spoilers 2021: Reality Steve Reveals Couples Who Get Engaged and Cast Pairings in Season 7
In case you need a refresher Natasha was on Peter Weber's season of The Bachelor. Meanwhile, Joe appeared on Becca Kufrin's season of The Bachelorette. Joe was also on Bachelor in Paradise Season 5 and connected with Kendall Long. But the couple split after BIP because Joe wanted to move back to Chicago.
Now, Natasha and Joe co-host the Click Bait podcast alongside Tayshia Adams. Both Natasha and Joe have been missing for the past few weeks. But they returned in the July 8 episode, confirming their appearance on Bachelor in Paradise Season 7. The contestants also teased what to expect from the cast on premiere night, revealing how big the new season will be.
"I don't remember how many were in the original cast for your season, but there were 24 this time, which was a lot," Joe said.
Natasha Parker and Joe Amabile say 'BIP' Season 7 was a 'wild ride'
RELATED: 'The Bachelorette' Week 6 Preview Drops Major Clues About Katie Thurston's Journey Beyond Next Week
Whatever happens when the Bachelor in Paradise Season 7 premiere airs on ABC, it seems we're in for a ride. Still speaking on the Click Bait podcast, Natasha and Joe teased the upcoming season.
"I wasn't expecting to be in the original cast," Joe said. "I forgot all of what Paradise is about. It is a wild ride, and this season is insane. Every day got more and more intense."
He later added, "A lot of unexpected happenings in Paradise. You just never knew. Something was always going on. But I'm very excited to watch."
Joe also compared filming BIP Season 7 to his previous appearance. The reality star suggested the new cycle will be unlike anything Bachelor Nation fans have been before.
"It was a lot different than my first time. It was wild, it really was," he said. "I can only compare it to the season I did prior. This was, no exaggeration, 15 times more intense."
Meanwhile, Natasha noted the Bachelor in Paradise cast didn't know what to expect. So they went to Joe for advice. But Natasha revealed that things were "different" this time around. The Bachelor star also reflected on her own experience in Mexico and referenced Capone's "Oh No," which went viral on TikTok.
"Every day there was a 'oh no, oh no, oh no no no no' [moment]," Natasha said.
Joe Amabile and Natasha Parker tease Wells Adams' new role in 'Bachelor in Paradise'
RELATED: 'The Bachelorette': Wells Adams Teases 3 Major Moments Fans Didn't Get to See on Katie Thurston's Season
Clearly, there's a lot of drama coming in Bachelor in Paradise Season 7. There's also plenty of change on the horizon, and it seems the franchise is ready to welcome it with open arms. As you may know, Tituss Burgess, Lance Bass, David Spade, and Lil Jon will all guest host the new season. Meanwhile, Bachelor in Paradise bartender, Wells Adams, will take on another role following Chris Harrison's exit.
When speaking on the Click Bait podcast, Joe confirmed that Wells was in charge of the rose ceremonies. Joe also hopes Wells will take the role permanently.
"I do have to say, Wells, in my opinion, should be the full-time host. He did a great job," Joe said. "Wells did the rose ceremonies as well as the bartending, and he was great. It was very important for me that he was there because I had somebody that has experience. I was able to go talk to Wells a lot, and he always makes me laugh."
Meanwhile, Natasha revealed she had the "opposite" experience with Wells. The reality star agreed that Wells should take the role full-time. She also gushed over the "master of ceremonies" for his ability to talk to the cast. But even so, Natasha admitted that she cried every time she spoke to Wells. She said:
[Wells] always makes Joe laugh. He always makes me cry. … The conversations that I had with Wells were so pivotal for me. I really thought that Joe and I were gonna really be able to be there for each other. But we really couldn't because we had so much going on within our own lives, our own relationships. Wells became that person to just unload everything and just be that objective voiced. He helped me so much through this process, just being an amazing human, listening to me, but also making me cry. I couldn't talk to him without crying.
For now, we'll just have to watch the storylines unfold in Bachelor in Paradise Season 7. But it certainly seems like we're in for an emotional journey. So get ready. New episodes of BIP start Monday, Aug. 16.