'Bachelor in Paradise' 2021 Trailer Teases New Couples, Cast Members, and Love Triangles
We're in for a wild one, Bachelor Nation fans. On Aug. 9, ABC dropped a fresh Bachelor in Paradise 2021 trailer, revealing new couples, cast members, and drama that will probably make you scream. So here's everything to watch out for in the BIP Season 7 promo.
[Spoiler alert: This article contains spoilers from Bachelor in Paradise Season 7 in 2021.]
The 'Bachelor in Paradise' 2021 trailer previews Lil Jon and David Spade as hosts
The extended Bachelor in Paradise Season 7 promo trailer begins with celebrity host Lil Jon inviting Bachelor Nation fans back to Mexico.
"America has waited and waited for two long years," Lil Jon says in a voiceover. "And now, get ready because Bachelor in Paradise is back. It's gonna be bigger, bolder, and sexier than ever before. Yeah!"
BIP 2021 will include rotating hosts following Chris Harrison's exit. The celebrity lineup includes Lil Jon, Tituss Burgess, Lance Bass, and David Spade. The Joe Dirt star also makes a brief appearance in the new preview.
"The guys are good-looking. The girls are good-looking. And I'm the host," Spade says. "This could be the most dramatic Bachelor in Paradise ever."
New couples and cast members in the 'Bachelor in Paradise' Season 7 promo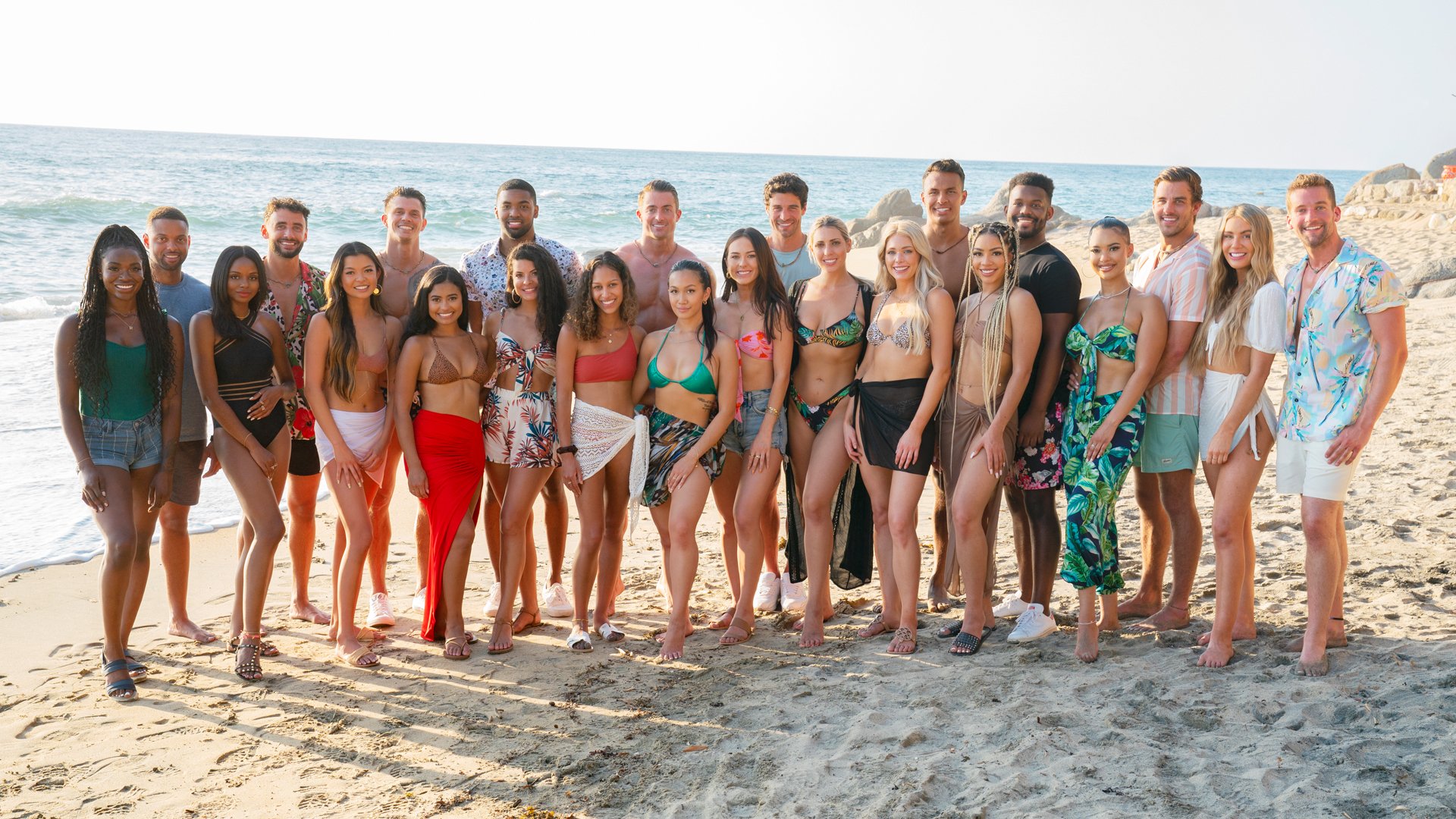 The Bachelor in Paradise 2021 trailer is about two and a half minutes, but the preview still manages to fit the massive season 7 cast. A few new faces outside of the original contestant list are also squeezed in.
The new BIP Season 7 promo confirms appearances by Riley Christian, Chris Conran, Pieper James, Chelsea Vaughn, Kendall Long, Tia Booth, McKenna Dorn, Demi Burnett, and Becca Kufrin. Meanwhile, some connections start to form.
There are multiple couples that seem to form in the Bachelor in Paradise extended preview. Mari and Kenny Braasch go on a date. Then later, Kenny chats with Tia on the beach. The Bachelorette Season 16 contestant is also seen with Demi in another clip. That said, Demi is later spotted making out with Brendan Morais.
Meanwhile, Tammy Ly and Riley appear to have a flirtatious moment together. But later, Riley shares a romantic kiss with Maurissa Gunn. Then Tahzjuan Hawkins smooches Tre Cooper. Joe Amabile and Serena Pitt get together. Ivan Hall and Jessenia Cruz go out on a date. Becca and Thomas hit it off. Abigail Heringer and Noah Erb also cuddle in a hammock together.
The 'BIP' 2021 preview teases the Kendall Long/Joe Amabile/Serena Pitt and Demi Burnett/Kenny Braasch/Mari Pepin-Solis love triangles
While plenty of relationships will form this summer, this is Bachelor in Paradise. So naturally, a few love triangles will arise, and the new BIP trailer highlighted two major storylines.
As mentioned, Mari and Kenny go on a date together. But it seems there's trouble in Paradise once Demi gets involved. In the preview, The Bachelor Season 23 star kisses Kenny. Then Mari breaks down crying.
"Here he is with Demi, and I'm right there watching," Mari says through her tears.
Then it seems there's an argument that explodes between the two women. Demi bakes a cake for Kenny, and Mari throws it into the campfire. Later, Mari tells Demi she "backstabbed" her. But Demi denies the claims.
Meanwhile, the Bachelor in Paradise promo drops a bomb on Joe and Serena P.'s blossoming romance. As you remember Kendall and Joe got together in BIP Season 5, and the couple broke up in January 2020. So when Kendall arrives in the trailer, Joe seemingly wonders whether his ex wants to stop his relationship with Serena P. and get back together. 
"Kendall's absolutely trying to stop this," Joe says in a voiceover. Then a shot of Serena P. crying flashes by.
Clearly, there's a lot going on when Bachelor in Paradise returns in 2021. But hey, they have to make up for the past two years. So get ready. The season 7 premiere starts on Monday, Aug, 16, 2021.