'Bachelor in Paradise' Couples Who Could Get Engaged in the Finale
The Bachelor in Paradise Season 7 finale is just around the corner, and we smell a few engagements on the horizon. So which BIP stars could potentially get their happy ending on the summer spinoff? Here's where all the couples stand now and who could get engaged in the Bachelor in Paradise finale on Oct. 5.
Riley Christian and Maurissa Gunn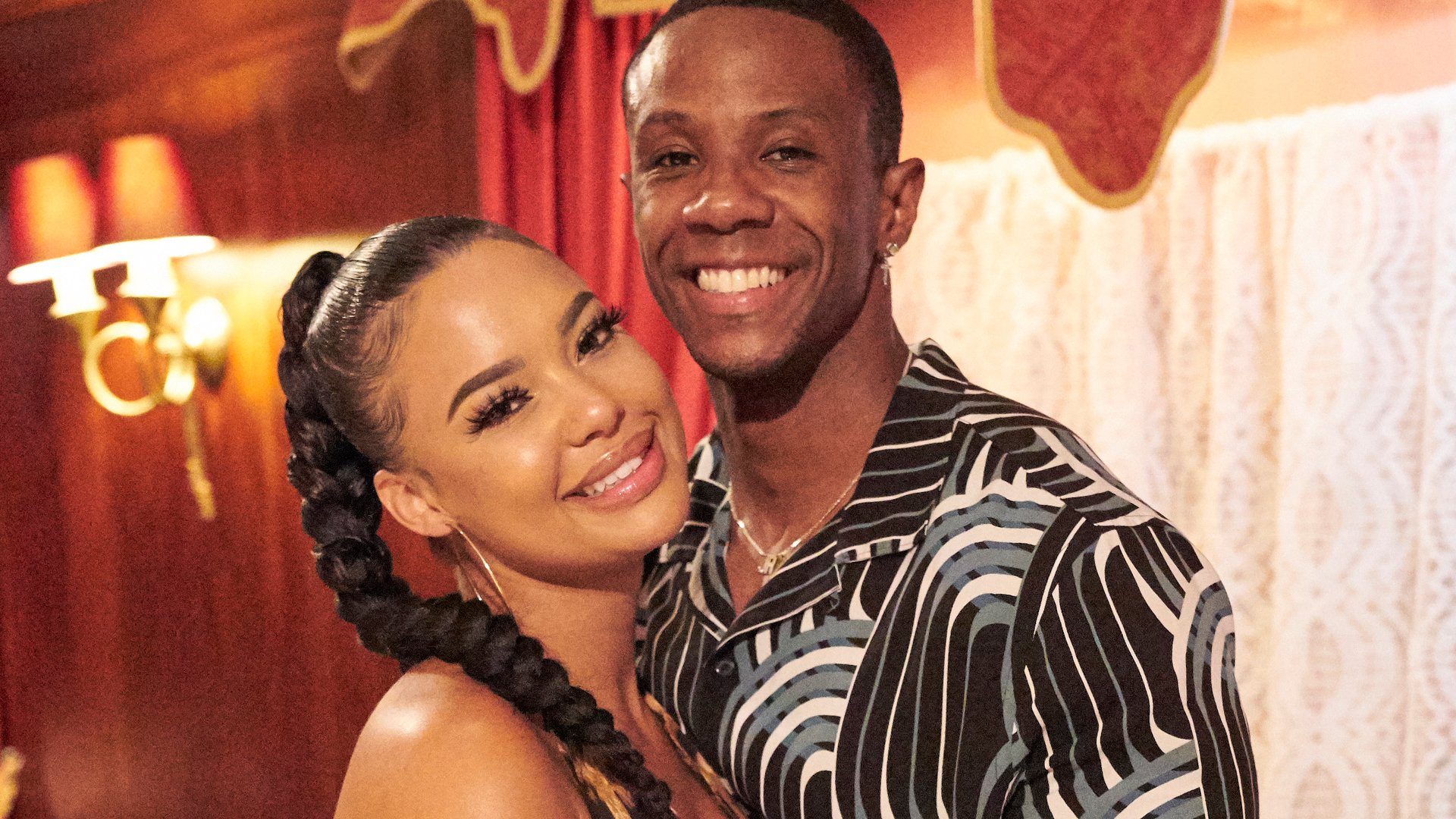 Bachelor in Paradise Season 7 has been filled with plenty of drama, but Riley Christian and Maurissa Gunn might be proof the process actually works. Many fans saw sparks between the reality stars the moment Riley arrived on the beach, and their chemistry has only grown. 
Early on, Maurissa got vulnerable about her past. Then more recently, Riley opened up about his father and family. It's also clear that the couple is thinking about the future, and Riley revealed he wants Maurissa to meet his mom. 
Now, Maurissa and Riley are falling in love. But is that enough for forever? If any of the couples have a shot at getting engaged in the Bachelor in Paradise finale, we think it's Riley and Maurissa.
Kenny Braasch and Mari Pepin-Solis
Mari Pepin-Solis and Kenny Braasch had a rocky start on Bachelor in Paradise Season 7. They met on day one, and it seemed like they were set on each other. But after a few misunderstandings, Kenny and Mari ended their relationship. Then Kenny pursued Demi Burnett.
Nevertheless, Mari finally got honest about her feelings for Kenny. So Mari and Kenny got back together, and they've been going strong ever since. The reality stars revealed they were falling in love in episode 9, and Kenny shared that he could see a potential engagement and marriage with Mari in the future.
While we think it's possible Kenny and Mari will get engaged in the Bachelor in Paradise finale, a new promo via Twitter suggests the couple might break up in episode 10. Both parties hint that they're not on the same page, which could mean they aren't ready for an engagement yet.
Thomas Jacobs and Becca Kufrin
The Bachelorette's Becca Kufrin and Thomas Jacobs have had an interesting run on Bachelor in Paradise Season 7. Both reality stars connected with other people before finding each other on the show. 
Thomas started talking to Tammy Ly. Meanwhile, Becca gave her first rose to Aaron Clancy. But Thomas and Becca's spark was undeniable once they got together. 
Meanwhile, Becca and Thomas shared a few cute moments as Bachelor in Paradise continued. But their relationship seemed to sit on the backburner compared to other couples and all the drama. 
Now, the BIP team could be trying to distract fans from a potential engagement between Thomas and Becca. But the lack of footage makes it difficult for viewers to root for them. The preview for the Bachelor in Paradise finale also highlights Thomas crying with Becca. So while we think a breakup could be on the way, anything is possible.
Grocery Store Joe Amabile and Serena Pitt
Many Bachelor in Paradise fans weren't sure what to think when Joe Amabile met Serena Pitt. The last time we saw the BIP alum, he was still with his now-ex, Kendall Long. Then when Grocery Store Joe returned to the beach, he seemed to doubt his odds to find love. But Serena changed everything.
Joe revealed that Serena was the reason he stayed on Bachelor in Paradise. Then when Kendall arrived, Joe noted that Serena was still his priority. They also told each other that they're falling in love in episode 9. 
Now, it seems Serena and Joe are on the right track to an engagement in season 7 of BIP. But we still haven't seen the reality stars talk about their future beyond The Bachelor bubble. Remember Joe is from Chicago, and Serena lives in Canada. Meanwhile, Joe's relationship with Kendall ultimately ended because she didn't want to move out of LA. So while we could potentially see Serena and Joe getting engaged, it seems an important conversation needs to happen soon.
Noah Erb and Abigail Heringer
Abigail Heringer and Noah Erb were the ones to watch in the Bachelor in Paradise Season 7 premiere. The reality stars received the first one-on-one date. But even so, it seems the couple is starting to fade into the background.
Midway through the season, Noah and Abigail faced their first challenge together. They seemed almost too comfortable with each other, and Abigail wasn't sure whether they were just friends. Eventually, the reality stars talked it out. But even so, BIP hasn't shown much from Abigail and Noah.
Like Becca and Thomas, the lack of screen time dedicated to Noah and Abigail makes it difficult for some Bachelor in Paradise viewers to root for them. But is this intentional or are the producers just preparing fans for Abigail and Noah's engagement? As mentioned, anything is possible at this point in the game. 
Where the other couples stand ahead of the 'Bachelor in Paradise' finale
In all honesty, we aren't sure whether the remaining couples have a shot at an engagement going into the Bachelor in Paradise finale. We're late in the game, and newcomers just don't have as much time to establish strong relationships. 
Following everything that happened with Brendan Morais and Pieper James, Natasha Parker went on dates with Dr. Joe Park and Ed Waisbrot. In the end, Natasha connected with Ed. But the blossoming romance seems too new for an engagement in the finale.
Meanwhile, Tia Booth seemed to pick James Bonsall when Blake Monar didn't step it up. But again, the James and Tia relationship is too fresh, and it seems unlikely the couple will be engaged in a few days. 
Chelsea Vaughn also appears to be in a love triangle with Ivan Hall, Aaron Clancy, and potentially Demar Jackson. Demar and Chelsea just went on a one-on-one date. She also connected with Ivan and Aaron, who are now in a fight ahead of episode 10. So while Chelsea could end up with someone on the beach, it seems the Bachelor in Paradise team didn't give the contestant much time to form an engagement-ready relationship. 
Bachelor in Paradise Season 7 is coming to an end soon, and we're itching to find out who gets engaged. But who knows what's on the horizon? Everything is speculation at this point, and this season is filled with many surprises. So stay tuned. The grand finale will drop on Tuesday, Oct. 5.