'Bachelor in Paradise': Is Demi Burnett's Mom Still in Prison?
Bachelor in Paradise alum Demi Burnett has been an open book since joining The Bachelor Season 24, where she competed for Colton Underwood's heart. In one episode, Burnett had a phone conversation with her mother with Underwood present. She revealed her mom's trouble with the law which landed her in jail. Is she still serving? Here's what we know.
'Bachelor in Paradise' star Demi Burnett revealed her mother was imprisoned on 'The Bachelor' Season 24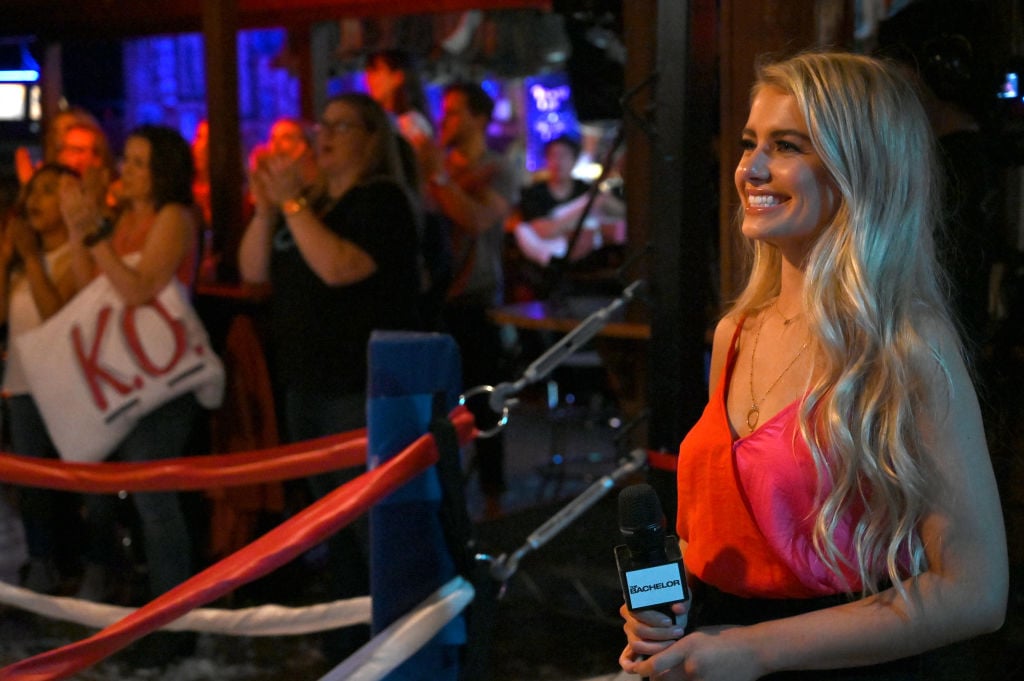 Early in The Bachelor Season 24, Burnett opened up to Underwood about her mother, revealing that she'd gone to prison but was "actually going to get out very soon." According to the Federal Bureau of Prisons, Tina Jean Jordan served 18 months, beginning July 24, 2017, at FMC Carswell Federal Prison in Texas after being charged with conspiracy to commit bank fraud. Burnett said even though Jordan "messed up," she still loved her.
"I know you've seen such a bold, fun, crazy side of me, but there is a whole other side of me nobody knows about," Burnett told Underwood in the episode. "This week, actually, my mom was released from federal prison. Having to see someone you love so much be stuck in a place where they don't want to be and going through all of that stuff, you just want to take like them out of it."
She continued: "My mom might be really messed up, but that woman loves me so much, and like no matter what she does, I love her unconditionally."
According to Life and Style, Jordan was allowed to spend the final six months of the sentence in a halfway house. However, it's not the first time Jordan served time. Over the years, she had charges of embezzlement, violating probation, forgery, and grand theft.
Is Tina Jean Jordan still in prison?
The last time Jordan served in prison ended just as Underwood's season of The Bachelor began filming. Since she started an 18-month sentence in 2017, which concluded November 23, 2018. Burnett revealed Jordan returned to prison for "violating probation or failing a drug test or something," with a release date of May 2020.
In a 2019 interview with Us Weekly, Burnett said "haters" tell her she'll probably end up behind bars like Jordan.
"There's a lot of support. There's some people who tell me that I'm going to end up in prison like my mom, but, you know, they don't faze me," she said. "Haters say that just because I'm scandalous. But I have gotten a lot of people who've come out, and they're like, 'Thank you for speaking about this. I have a parent in prison too, and nobody ever talks about it or understands it, and I like that a lot. That makes me feel good."
The BIP contestant also revealed she's closer to her father.
"I live with my dad and my stepmom," she said. "My dad always had the proper environment for us, so we've always been with him."
As far as her dad's thoughts on Underwood, Burnett said he gave the green light.
"My dad approved, and that's all I needed to hear," she said. "I usually don't bring a lot of guys around or anything, so he ensured me that Underwood would be worth it."
We now know Burnett didn't receive Underwood's final rose, but that didn't stop her search for love.
Burnett recealled early memories of her mother
RELATED: 'Bachelor in Paradise': How Does Kendall Long Feel About Ex 'Grocery Store Joe' Amabile's Return to Paradise?
Burnett elaborated more on her relationship with both parents during an appearance on the Ben and Ashley I Almost Famous podcast, hosted by former Bachelor Nation stars Ben Higgins and Ashley Iaconetti.
"My childhood was interesting. I don't think I've ever really talked about this. I grew up with a single dad. My mom moved away. My dad always took care of us. He was an amazing father. My mom was somewhere out there," she said. "It was never stable. Like, we never knew when we were going to see her. We never knew what was going on with her. She was messed up on drugs, messed up with men."
She explained being too young to understand when Jordan first went to jail.
"You know, parents want to protect you and that kind of information when you're a kid. And especially me, I was this super adorable little blonde girl running around, and I think the last thing they wanted to tell me was your mom's going to prison," she said. "So it was some time whenever I was younger. Like, I didn't see her for a while, and I didn't know why."
This, she added, lent itself to her having "mommy issues" when it comes to relationships and love.
"Not having that nurture, it definitely made me a bit harder. I'm a little bit colder," she said. "Having so much love for this woman and you look up to her so much, and you want her to love you as much as you love her and chasing her — it hurt. It hurt bad. I used to cry as a kid."
Bachelor in Paradise airs Mondays and Tuesdays on ABC.