'Bachelor in Paradise' Episode 9 Preview Shakes the Cast With New Drama and a Potential Engagement
Watch the 'Bachelor in Paradise' Season 7 Episode 9 preview, which teases what's coming up next for cast members Kendall Long, Joe Amabile, Mari Pepin-Solis, Kenny Braasch, Ed Waisbrot, Demar Jackson, and more in week 6.
On Sept. 21, episode 9 of Bachelor in Paradise Season 7 will continue the drama with Kendall Long and Joe Amabile. But what else is next for the beachgoers in week 6? The Bachelor in Paradise Episode 9 preview confirmed the cast will be shaken up in ways you won't expect — here's the breakdown.
[Spoiler alert: This article contains spoilers about Bachelor in Paradise Season 7 Episode 9.]
New 'Bachelor in Paradise' Season 7 Episode 9 preview teases Joe Amabile, Kendall Long, and Serena Pitt drama
The Bachelor in Paradise Season 7 Episode 9 preview jumps right into the thick of it with Joe and Kendall, and it looks like someone might be going home. Kendall breaks down and tells Joe she "never stopped loving" him. But the BIP promo trailer suggests Joe doesn't get back together with his ex. 
In a voiceover, the bachelor says he can see how upset Kendall is. However, Joe reveals he is "feeling things" for Serena Pitt. Then Kendall collapses in Joe's arms, and she expresses how difficult her journey has been.
"This is the hardest thing I've ever been through, and it just keeps going," she says.
Now, it seems Kendall will eventually remove herself from Bachelor in Paradise. The reality star is having a hard time watching Joe and Serena's romance blossom, and it doesn't look like the couple is slowing down anytime soon. But we'll just have to wait and see what happens next.
'Bachelor in Paradise' Week 6 promo trailer hints Mari Pepin-Solis and Kenny Braasch could get engaged
While things are getting messy with Joe, Kendall, and Serena, the new Bachelor in Paradise preview suggested that Kenny Braasch and Mari Pepin-Solis are getting serious and thinking toward the future.
In the teaser, the reality stars go on an intimate one-on-one date, and Kenny says he's falling in love with Mari. Then in a voiceover, Mari suggests that she could get engaged to Kenny at the end of BIP. 
"I get butterflies thinking about him," Mari says. "There could be an engagement here very soon."
Last week, Kenny picked Mari over Demi Burnett. Now, Mari and Kenny seem to be one of the strongest couples on the beach. So it seems likely an engagement could be on the horizon. But at this point, anything could happen.
New 'BIP' cast members Ed Waisbrot and Demar Jackson shake things up
Speaking of strong couples, Bachelor in Paradise fans saw sparks between Maurissa Gunn and Riley Christian the moment they met in season 7. But the new BIP preview suggests that a new arrival could ruin everything. 
In the promo for episode 9, celebrity guest host Lil Jon turns the beach "upside down." He introduces Demar Jackson and Ed Waisbrot from Tayshia Adams and Clare Crawley's season of The Bachelorette. Then Demar hints that he wants to whisk Maurissa off her feet.
"Maurissa was everything that I thought she'd be," Demar says. "We may be walking out of here hand-in-hand."
Riley also says he's not "going down without a fight" because he wants to be with Maurissa. That said, it doesn't seem likely Demar and Maurissa end up together. In the preview, Maurissa tells Riley she's falling for him, and it's clear the two reality stars already have an established connection. But we'll see how this one unfolds.
Meanwhile, Ed's arrival could mean a happy ending for Natasha Parker on BIP. Previously, Natasha got a second chance at love after everything that happened with Brendan Morais and Pieper James as well as the date with Dr. Joe Park. But it looks like things will finally turn around. In the Bachelor in Paradise preview for episode 9, Natasha and Ed kiss. 
"I cannot be happier right now," Natasha says in a voiceover.
It's clear that Natasha is keeping her heart open on the beach. But will Ed be her perfect match? Stay tuned.
Aaron Clancy and Ivan Hall fight over Chelsea Vaughn in 'BIP' Episode 9
Now, it's possible the Bachelor in Paradise Season 7 Episode 9 teaser dropped another clue about Kendall's exit through the actions of Ivan Hall. In the previous episode, Ivan and Kendall formed a bond. But Ivan is seen kissing Chelsea Vaughn in the new preview for the Sept. 21 episode. So it seems possible Ivan and Kendall won't be continuing their relationship.
Meanwhile, Chelsea and Ivan's kiss sparks an argument with Aaron Clancy. Previously, Aaron gave Chelsea his rose after going on a one-on-one date. Then in the trailer, Aaron demands Ivan to "come over" and the reality stars face off.
"I will slap that stupid beard off his face," Aaron says in a voiceover.
For now, Bachelor in Paradise fans will have to see how this confrontation ends. But it doesn't look good.
'Bachelor in Paradise' suggests season 7 ends early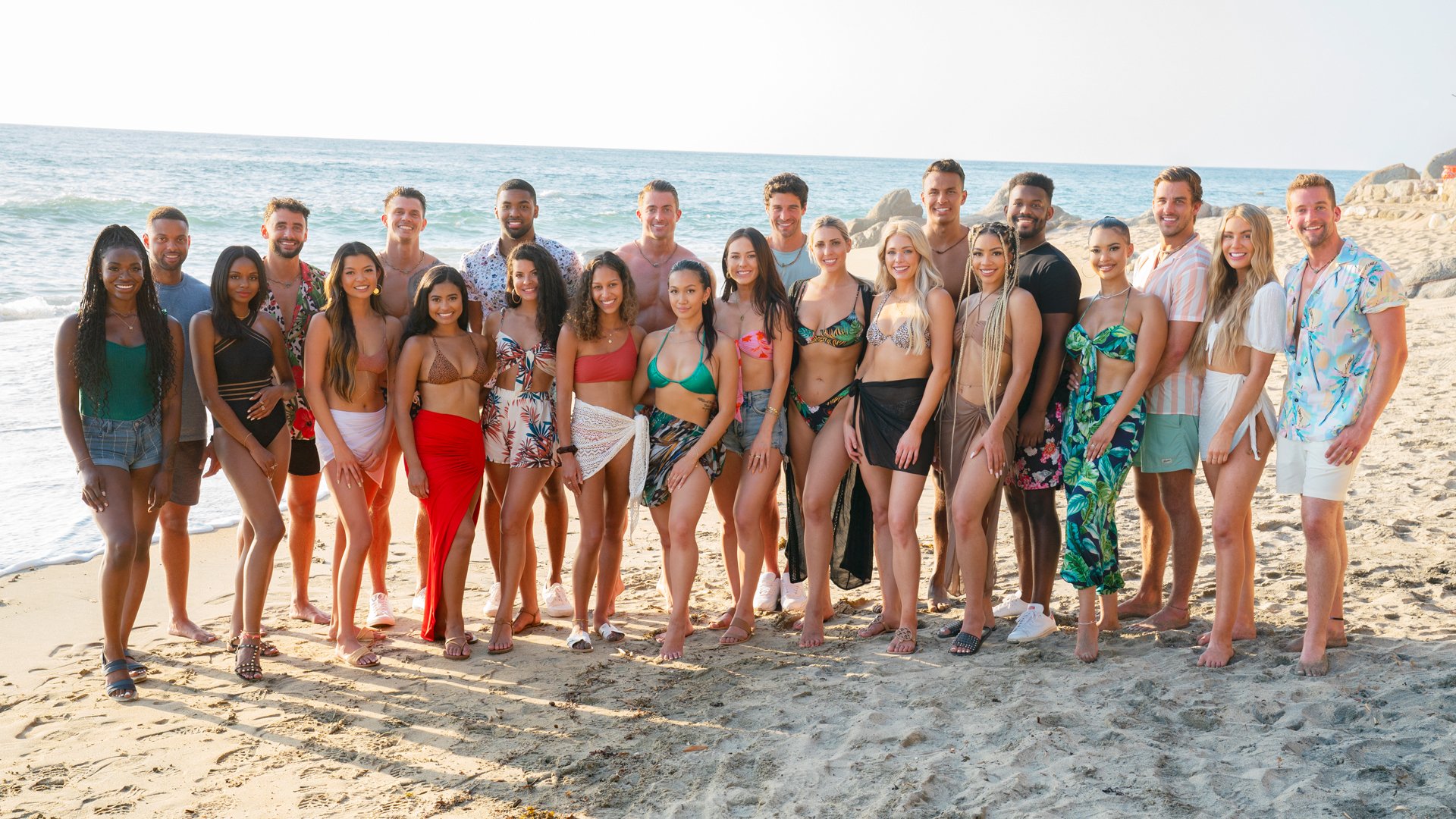 It's clear things are starting to get heated in Bachelor in Paradise Season 7 Episode 9, but it doesn't really look like anyone will go home — except possibly Kendall after her discussion with Joe. The end of the new preview leaves viewers on a cliffhanger as a tropical storm hits the beach. 
"There's a dangerous tropical storm approaching," a BIP producer tells the cast. "It's headed straight for us. We need to start evacuating right now."
Then Tia Booth adds, "Early today, I was stressed about who I was gonna give my rose to. Now, I'm stressed about being alive."
Tia's comment makes it seem like we're not going to get an elimination rose ceremony this week. But it's unlikely the whole season will be canceled or end early. 
Meanwhile, the Bachelor in Paradise preview highlights multiple solid couples as they evacuate the beach. Maurissa and Riley, Kenny and Mari, Joe and Serena, and Noah Erb and Abigail Heringer are all seen together at some point. So for now, we think these pairs are safe. But who knows? There's a lot of drama on the way. Get ready.
Bachelor in Paradise Season 7 airs Tuesday nights on ABC.