'Bachelor in Paradise': Is Kendall Long Leaving or Does She Get Back Together With Joe Amabile?
Bachelor in Paradise Season 7 proved the Kendall Long, Joe Amabile, and Serena Pitt love triangle is far more complicated than they anticipated. Now, many fans are wondering whether Kendall will end up leaving the show single or back together with Joe on BIP 2021. Here's a breakdown of both theories and what Bachelor in Paradise spoilers say about Joe and Kendall moving forward.
[Spoiler alert: This article contains potential spoilers about Kendall Long, Joe Amabile, and Serena Pitt in Bachelor in Paradise 2021.]
What happened to Kendall Long, Joe Amabile, and Serena Pitt in 'Bachelor in Paradise' Season 7?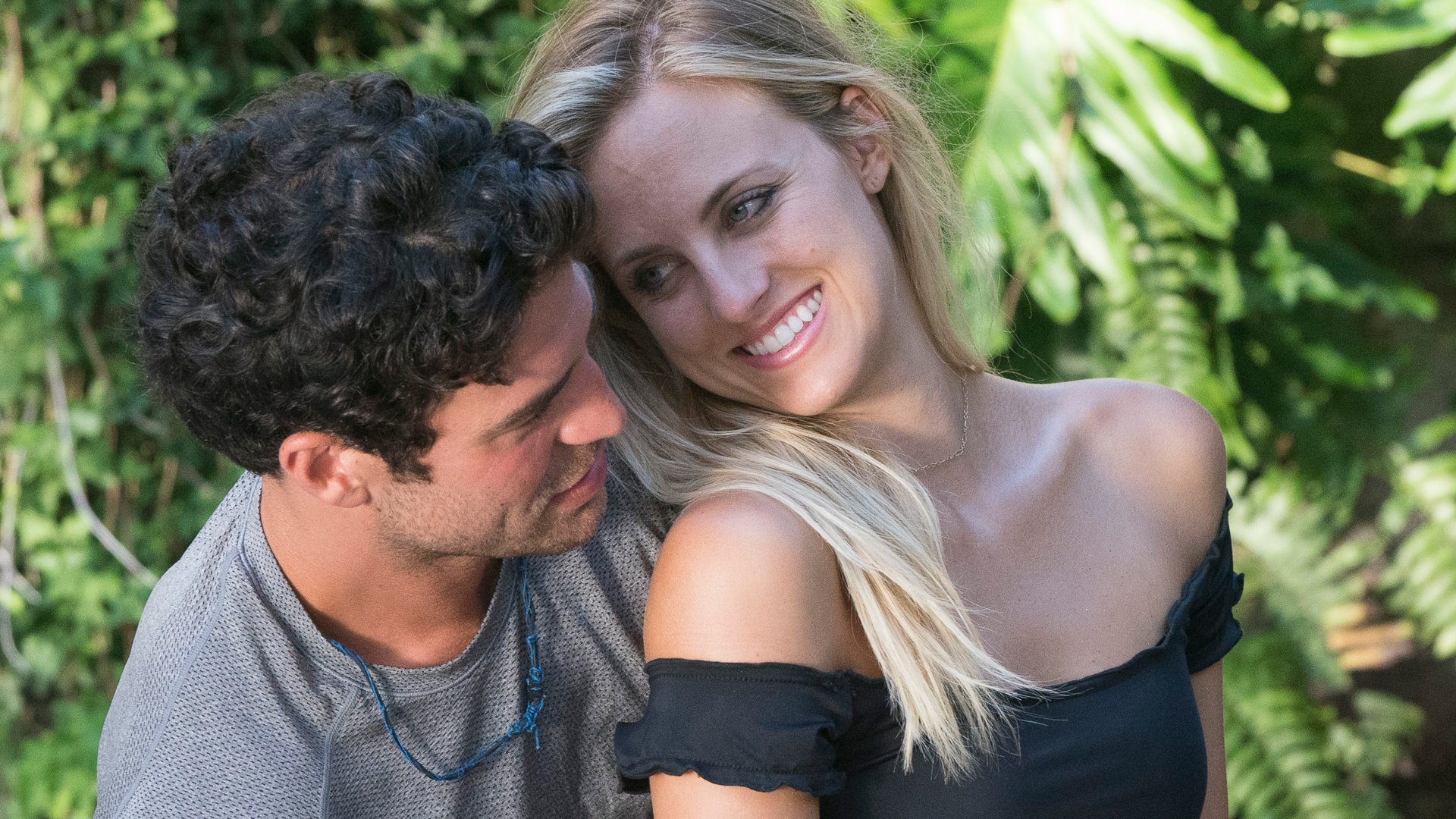 RELATED: 'Bachelor in Paradise': Were Kendall Long and Joe Amabile Engaged?
Joe and Serena connected on a different level in the Bachelor in Paradise Season 7 premiere. Initially, Joe wanted to leave the beach early because it reminded him of his past relationship with Kendall. But his conversations with Serena changed his mind.
Finally, Kendall returned in episode 6 of Bachelor in Paradise, and she revealed she broke up with Joe because of logistics, not love. Kendall also admitted that she still loved Joe. But Joe wasn't sure whether he still loved Kendall.
Meanwhile, Joe told Serena that she was his main priority, but the door was still open to get back together with Kendall. He noted that Kendall was there for him, but she was open to dating other people. Joe also revealed that he needed to have more conversations with Kendall, and he wasn't sure what was going to happen next.
'Bachelor in Paradise' Season 7 Episode 8 teasers hint Kendall Long might leave because of Joe Amabile and Serena Pitt
RELATED: 'Bachelor in Paradise' Spoilers: Are Brendan Morais and Pieper James Still Together, Dating, or Engaged Now?
While Bachelor in Paradise Season 7 Episode 7 suggested that Kendall and Joe might get back together eventually, the previews for episode 8 hint otherwise. In the promo trailer for the Sept. 14 episode, Kendall says it's "overwhelming" to see Joe kiss Serena. Then Kendall gets up and walks away from the cast.
"I don't want to be here," Kendall says in a voiceover.
Then Noah Erb and Abigail Heringer wonder whether Kendall is about to leave Bachelor in Paradise. Another teaser ahead of the Sept. 14 episode also suggests Kendall has a breakdown over Joe and Serena. With tears in her eyes, Kendall tells producers:
"There's memories in every corner of this place. The spark that I felt when Joe and I first met, it's not something you feel every day — and it happened here. Just being back here is bringing back a lot of that I didn't expect. Joe and I were at a point where we were talking about forever. I'd like to think I've healed from that, but I just feel really detached from everyone. … I just don't know how much longer I can do this."
Does Kendall Long end up leaving or will she get back together with Joe Amabile, according to 'BIP' spoilers
RELATED: 'Bachelor in Paradise': Natasha Parker Reveals What Really Happened With Brendan Morais and Pieper James on 'BIP' 2021
For now, Bachelor in Paradise fans will have to wait and see what happens to Kendall and Joe as season 7 continues. But it's possible that the teasers already gave away some clues. In the first preview, Joe tells Serena he's falling in love with her, possibly indicating that it's over with Kendall. But that doesn't necessarily mean Kendall leaves the show right away.
In the second Bachelor in Paradise promo for episode 8, Kendall is spotted with Ivan Hall from The Bachelorette Season 16 with Tayshia Adams and Clare Crawley. But will things end well for Ivan and Kendall? According to Bachelor Nation spoiler guru Reality Steve, both parties will eventually leave single.
"Kendall Long had a tough time watching Joe's relationship and ended up leaving the show," Reality Steve wrote. "The last person she was involved with was Ivan Hall, who also ended up leaving."
There's a lot going on between Kendall and Joe on Bachelor in Paradise, but it looks like the reality stars will finally close their chapter together soon. So stay tuned.
Bachelor in Paradise Season 7 airs Tuesday nights on ABC.