'Bachelor in Paradise': Kenny Braasch and Mari Pepin-Solis Share an Update on Their Engagement via Instagram
Kenny Braasch and Mari Pepin-Solis might have had the rockiest road out of all the couples on Bachelor in Paradise who ended up engaged. After Mari decided she wanted the option of going on other dates while keeping Kenny prioritized, he ended things and started pursuing Demi Burnett instead. Things turned around before the season ended, and Kenny and Mari eventually made their way back to one another. Now the two have updated fans on their engagement through Instagram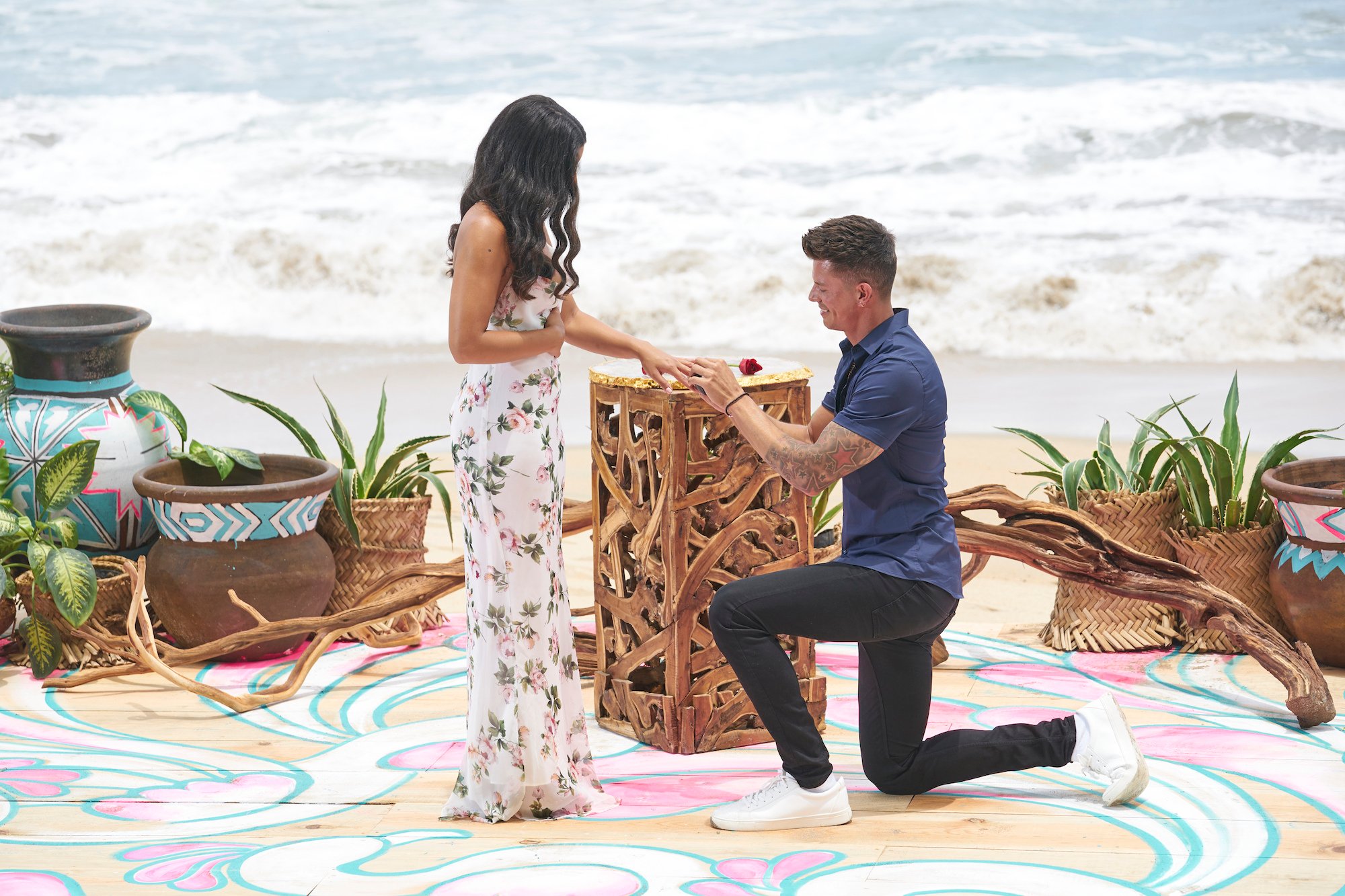 Kenny Braasch proposed to Mari Pepin-Solis in the 'Bachelor in Paradise' Season 7 finale
Despite their ups and downs, Kenny and Mari ultimately decided they were meant for one another. After Kenny started seeing Demi, Mari confessed that she wanted to continue their relationship. The reality stars gave their romance another shot, and the rest is history.
Kenny was obviously nervous during his proposal as he mentioned he was shaking and had to pause once or twice.
"Mari, as soon as you came down the stairs and through the gates of Paradise I was blown away by how beautiful you were. I don't know if was love at first sight but it was definitely something – something I've never felt before. At the end of the day, we did go through a lot of real-life relationship stuff and we were tested like no other couple in Paradise I think. Even with all that being said Mari, I am so f—ing in love with you. I literally can't see my life without you. You're such an amazing woman you've changed my whole outlook on life and everything about you… I can't imagine my life without you." Kenny paused to get down on one knee before continuing, "Mari Pepin, will you marry me?"
Mari was ecstatic in her proposal and thrilled at the "huge" Neil Lane diamond engagement ring Kenny quickly slid on her finger. But now that Bachelor in Paradise is over, where does the couple stand?
Mari Pepin-Solis and Kenny Braasch update Bachelor Nation on their engagement via Instagram
Mari took to Instagram to share some candid photos of the couple. In the pics Kenny holds a bottle of champagne and she shows off her sparkly new engagement ring. Using the caption "Engaged AF😍♥️" it's safe to assume that the couple is still going strong.
Kenny also shared the same photos on his Instagram profile, but with the caption, "There's something about Mari ❤ #bachelornation #bachelorinparadise #bip #tacos"
What's in store for Kenny Braasch and Mari Pepin-Solis after 'Bachelor in Paradise?'
Kenny might have shown up on the island completely nude, and Mari might have tossed her future fiance's birthday cake into a fire, but it all worked out in the end. Recently, the couple sat down with Glamour to let Bachelor Nation in on their plans post-Paradise.
Kenny was the first to speak up when asked about how he felt about the couple's journey on the show, "No. Definitely no regrets, because at the end of the day, the way the whole thing panned out has put us where we are now. So obviously, I have no regrets for that because we're in a great spot now."
As for what that great spot is, Mari offered up their plans for the future, "I'll be moving to Chicago early next year. So that's the first step—we'll be living together. And eventually, we'll talk some wedding plans and some kids after that."
We love to see it.