'Bachelor in Paradise': The Messy Details of Demi Burnett's Split From Kristian Haggerty Could Reveal a Pattern
The Bachelor franchise pretty much specializes in throwing wildcards into the mix. When Bachelor in Paradise star Demi Burnett walked onto the beach, many of the contestants were surprised to see her, not only because to newcomers she is semi-famous, but because she got engaged last season. On BIP Season 6, Demi got engaged to Kristian Haggerty, only to break up shortly after. Now that the details of the breakup have been revealed, is a pattern emerging?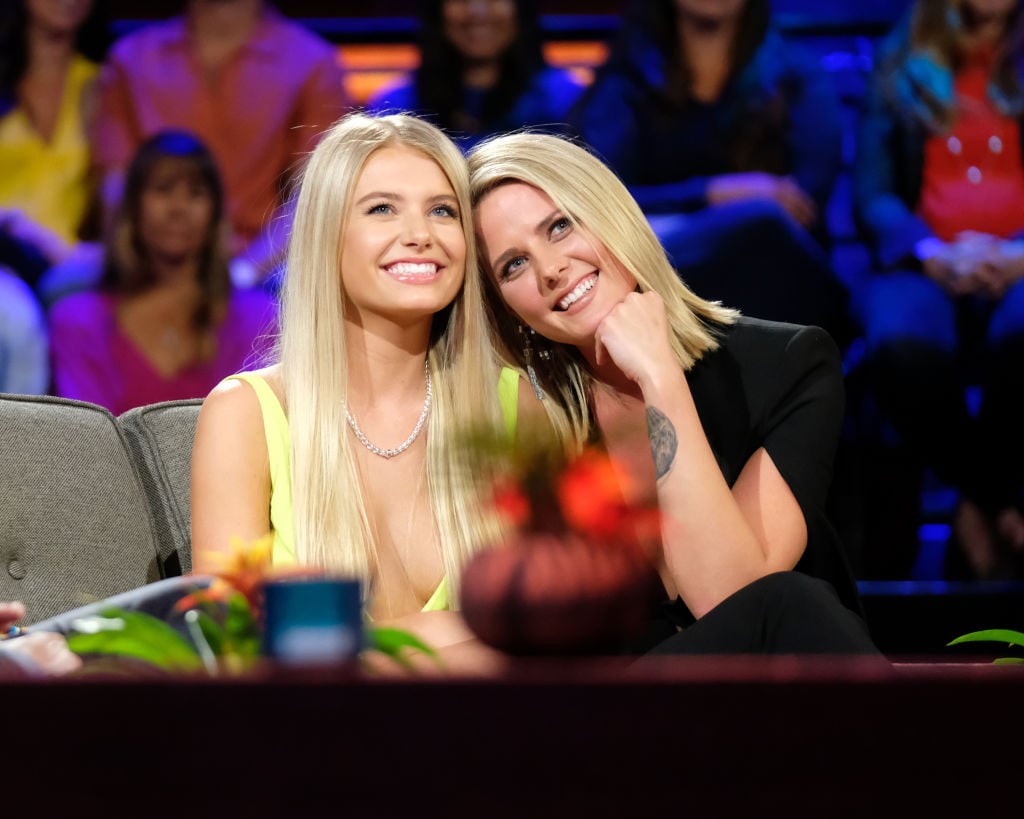 Demi and Kristian's relationship on 'Bachelor in Paradise'
Despite Demi being so against people already being in relationships when coming on Paradise this season, last season, Demi had a relationship with Kristian back home when she came to the beach. Her relationship with Kristian made it hard for her to focus on anyone on the show, even after she made a connection with Derek Peth.
"I have Derek in front of me and it feels nice to be around him, but I don't have Kristian around me, so I don't know how I'd feel if it was just me and her," she said on the show. "It's easy for people who are exploring options here because all of their options are here, and one of my options is not here. So that's where it gets a little difficult for me."
Eventually, Kristian came on the show and Demi cut things off with Derek after only a few days. Demi and Kristian ended the show with Demi proposing to Kristian and then Kristian returning the favor at the reunion special.
Demi and Kristian's breakup
Demi and Kristian didn't stay in lover's land for too long as rumors started circulating that Kristian was hanging out with a new woman. A few weeks later, Demi posted a lengthy caption announcing the end of the engagement.
"What has always been at the forefront of our relationship is love and care for one another," Demi captioned a photo. "Our priority is doing what is best for us. With a heavy heart full of love for one another we have decided it is best for us to take a step back from our relationship. We ultimately want what is best for us in the long run and for us right now, that means being apart and growing individually."
Why did Demi and Kristian breakup after 'Bachelor in Paradise'?
After leaving Paradise, the two didn't see each other very often, making their relationship "extremely rocky" according to E! News.
"They were supposed to permanently move in together in LA, and that never happened," a source told the outlet. "They really haven't spent much time together in the same place since getting back from Paradise, and it made them rethink the whole situation. They grew apart, and once they came down from the post-vacation high, they realized they were rushing their relationship."
In an interview with the Almost Famous podcast in April 2020, Demi revealed she was the reason behind the split. She said that ultimately she fell out of love.
"She was so good to me and that would make me feel guilty 'cause I was like, 'I'm not feeling the same anymore and I feel bad that I don't feel the same anymore because I made a commitment to you. I feel like a garbage human being,'" she said.
She revealed that she was also annoyed that Haggerty proposed to her as well.
"That made me irritated because … I'm a selfish person sometimes and that was my thing," Demi said. "I was like, 'I proposed to you,' you know? And then I was like, 'Why'd you do it? That makes no sense. People don't propose to each other like that normally.' I don't know. I was being a b—h about it, essentially. … I'm such a brat. I didn't like the ring at all."
Is a pattern emerging?
After Paradise, Demi began dating Slater Davis, but that relationship was short-lived as well.
Now, Demi is back on the beach trying to find love once again. When she first landed in Paradise, she took Brendan Morais, from Tayshia Adams' season of The Bachelorette, out. The relationship didn't last long as Brendan rejected Demi after the two kissed. Luckily for Demi, she was saved at the rose ceremony by James Bonsall.
The previews for the rest of the season don't make it seem like Bachelor in Paradise works for Demi this season, either.