'Bachelor in Paradise': Proof Kenny Braasch Wasn't Naked
The Bachelorette contestant Kenny Braasch turned heads during his arrival in the Bachelor in Paradise premiere. Braasch walked down the Paradise stairs completely naked — or so Bachelor Nation thought. One Bachelor in Paradise fan account found evidence proving Braasch wasn't naked at all.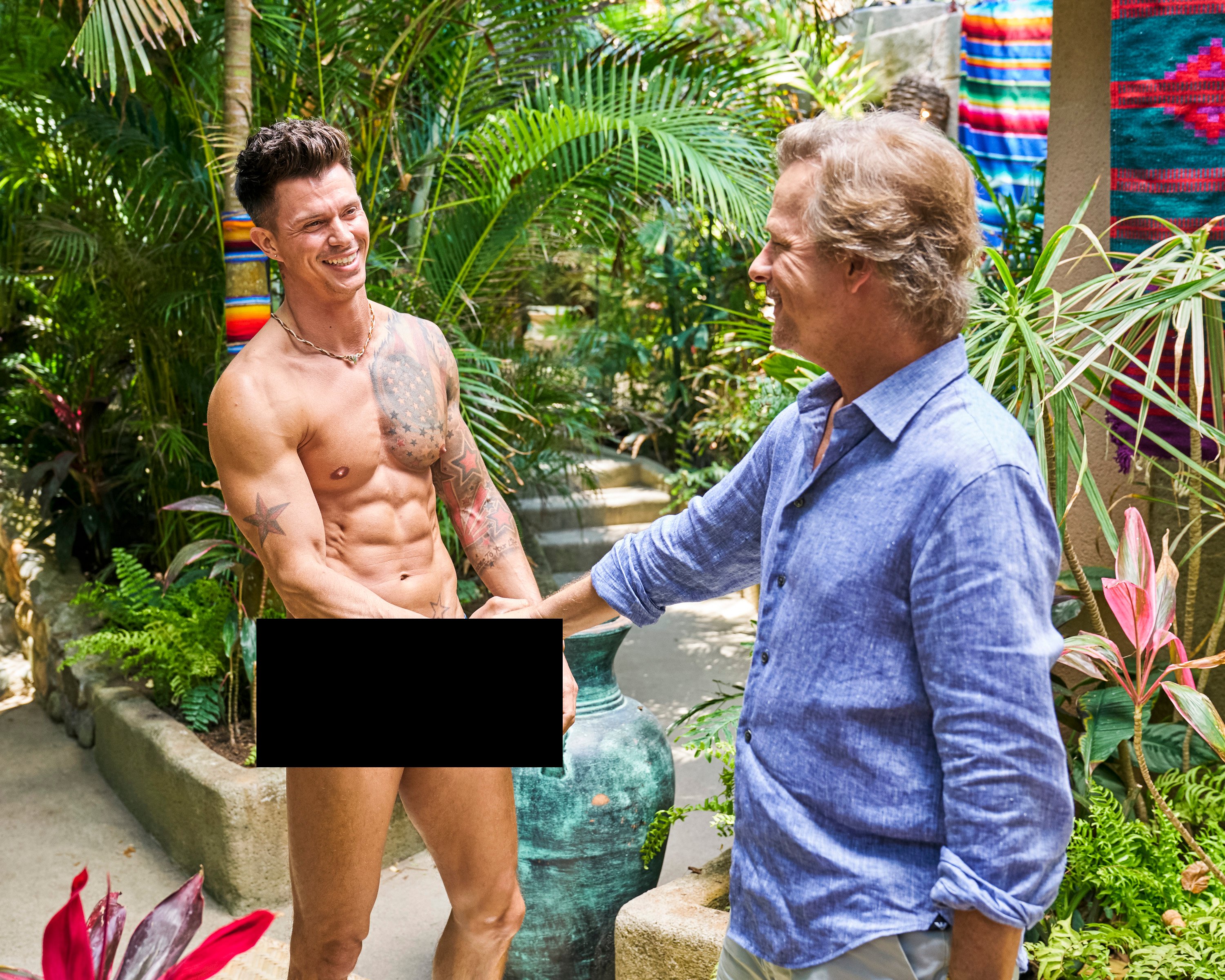 Kenny Braasch showed up to Paradise 'naked'
Braasch first appeared on Clare Crawley's season of The Bachelorette, which became Tayshia Adams' season. Most of Bachelor Nation will recall Braasch's career — "Boy Band Manager." 
Now, Braasch is better known as "the naked man" from Bachelor in Paradise. It was hard to ignore the big black censoring rectangle covering Braasch's lower body between his belly button and thighs. At first, many fans assumed he was naked. 
"I'm not gonna hide this s— anymore," he told host David Spade when he arrived in Paradise. "I'm not putting all the work in for no one to see it." 
Kenny Braasch wasn't naked on 'Bachelor in Paradise' — he was wearing blue briefs
One Bachelor Nation fan account on Twitter shared evidence of what Braasch was wearing during the first episode BiP Season 7. In the photo, Braasch appears to be wearing a speedo or briefs. 
"They forgot Kenny's sensor in this shot," the tweet reads. In a reply, the fan account said: "And if you're thinking he just put on shorts for this scene here's a shot from the same moment." The accompanying picture shows a censored version of the same shot. 
Bachelor Nation didn't believe Kenny Braasch was nude on 'Bachelor in Paradise'
After the initial shock of Braasch's arrival wore off, Bachelor Nation started to piece together the probability of him actually arriving naked. Several fans on Twitter think producers told the cast to act like Braasch was naked for television. Others mentioned how casual the rest of the cast was, considering Braasch's nudity. 
Aside from the photo evidence, there were other clues led Bachelor Nation to question Braasch's nudity. Most fans noticed the cord of Braasch's mic pack trailing down his back. 
Being naked has become Kenny Braasch's brand in Bachelor Nation
His entrance to Bachelor in Paradise wasn't the first time Braasch was "naked" in the franchise. During his time on Crawley's season of The Bachelorette, Braasch stood out during the group dates that required nudity. 
"Somehow I ended up naked all the time on the show," he told the Chicago Tribune in December 2020. Thanks to 10 years in the modeling industry, Braasch has enough confidence to bare it all on reality television. 
"That stuff doesn't even bother me, to be honest," Braasch added. "I think that's why I was so comfortable with it on the show — I didn't care. A lot of the guys were not comfortable with it, but for me, it was sort of just like business as usual, I guess." It looks like that trend has and could still likely continue on Bachelor in Paradise. 
Will Bachelor Nation see more from a "naked" Braasch on Bachelor in Paradise? Only time will tell. Tune in Mondays and Tuesdays for new episodes of BiP on ABC.