'Bachelor in Paradise' Season 7, Episode 1 Recap: A New First-Night Kiss Record
The 'Bachelor in Paradise' season 7 premiere: who are the starting contestants, who paired up, and who got the first date card.
Bachelor in Paradise is back and as hot as ever — just ask Tahzjuan Hawkins. The show seems to be leaning into what it is especially hard this season: a prolonged fun, silly, dramatic party on the beach that may result in an engagement or two. It doesn't take itself too seriously, a factor that was only highlighted by the addition of the celebrity hosts, the first of which is David Spade (not Dave Chappelle, Tammy Ly). The premiere episode didn't disappoint. Bachelor Nation received all the things they crave from BIP: plentiful Grocery Store Joe airtime, a sweet off-site date, and a record-breaking amount of steamy makeouts.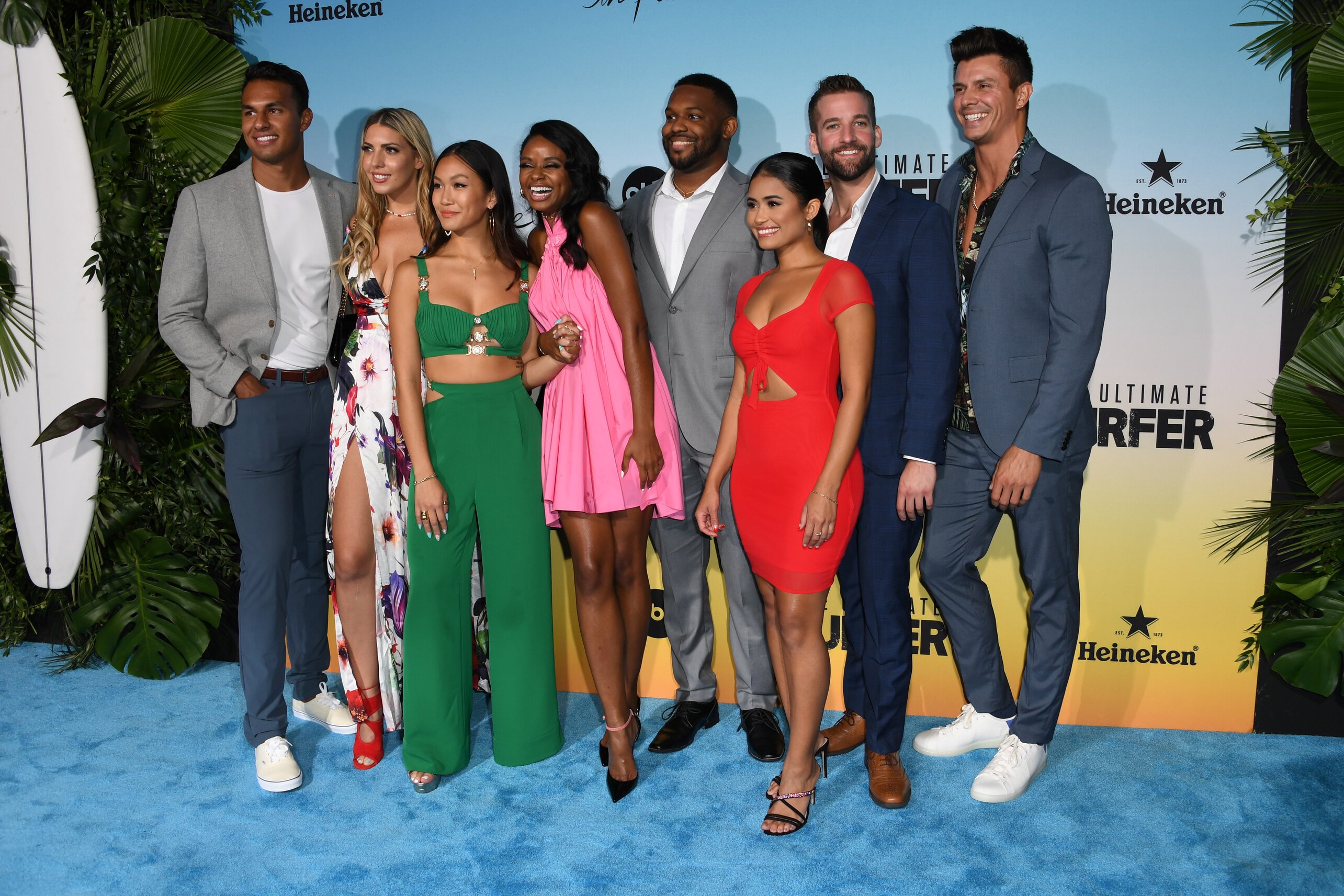 The starting 23 'Bachelor in Paradise' contestants
The first to hit the beach (adorably, alone) was Abigail Herringer from Matt James' season of The Bachelor. Later, several of her former co-stars would join her: Serena Chew, Jessenia Cruz, Victoria Larson (former Queen, current Goddess), Victoria Paul, Serena Pitt (the initial hot commodity), and Mari Pepin-Solis. From Peter Weber's season, there's Natasha Parker, Kelsey Weir, Maurissa Gunn, Deandra Kanu, and Tammy Ly. And from Colton Underwood's season, we have second-timer Tahzjuan Hawkins.
For the boys, from Tayshia Adams and Clare Crawley's season of The Bachelorette, we have Ivan Hall, Brendan Morais, Kenny Braasch, and Noah Erb. From Katie Thurston's season: James Bonsall, Connor Brennan, Aaron Clancy, Tre Cooper, and Karl Smith. And then of course there's Grocery Store Joe Amabile from Becca Kufrin's season.
The stage is set by David Spade and Wells Adams during a 'family meeting'
After it seemed all of the arrivals had trickled in and everyone had ample mingling time, David called a "family meeting." There, he and bartender and Bachelor in Paradise staple Wells Adams reminded contestants of the rules: If you don't get a rose, you go home.
After the meeting, it didn't take long for people to begin pairing up.
Kenny gravitated toward Mari because she was "the hottest" from Matt James' season and she toward him because of his big muscles (which were especially on display because he arrived at the beach completely naked). Tre and Tahzjuan had chemistry, even though the Colton Underwood contestant admitted that she'd gone on a date with Tre's uncle. Connor and Maurissa got close (so close that she declared that he was, indeed, a good kisser, despite Katie Thurston's reasons for letting him go). Aaron and Tammy got to know each other better. Ivan and Jessenia got steamy in the hot tub. And Natasha and Brendan turned heads as they laughed down by the water.
The first 'Bachelor in Paradise' date went to Abigail, who chose Noah to escourt her
The first date card of the season went to Abigail. It was an easy choice for her to make after sharing an initial spark with Noah. They had dinner at an off-site location filled with brightly colored piñatas. Abigail told Noah that she likes to take things especially slow and that she has a tendency to "friendzone" guys. They spent the latter portion of the date smashing piñatas together and laughing. They ended the date with a kiss.
The 'Bachelor in Paradise' premiere broke the first-night kiss record
Meanwhile, the first-night kiss record was breaking back at home base. A montage of five other couples making out graced our screens, with several of them declaring "I think that was the first kiss of the season."
One of those kisses was between Grocery Store Joe and Serena P. Joe didn't have the easiest first day on the beach. The last time he was on Bachelor in Paradise, he met and fell for Kendall Long. They ended up dating for two years, only breaking up because they weren't on the same page about where to live as they considered getting married and having kids. So being back in the same setting was jarring, and Joe wondered if he'd made a mistake. But talking with (and kissing) Serena P. eased his anxieties.
Just before the episode ended, a new addition strutted down the steps: Demi Burnett from Colton Underwood's season.
"Those poor girls, I'm gonna steal all their men. I'm gonna f— some s— up," she said in her intro video.
Bachelor in Paradise airs Mondays and Tuesdays at 8 p.m. on ABC.