'Bachelor in Paradise' Season 7, Episode 3 Recap: The Men vs. Thomas
The third episode of Bachelor in Paradise Season 7 started with a bang. A bang that goes by the name of Thomas, the villain of Katie Thurston's season of The Bachelorette. By the time Thomas stepped on the shores of Paradise, everyone was privy to his reputation. Aaron, James, and Tre, in particular, had been doing their best to warn the Paradise cast about their former co-star. Here's how the day played out.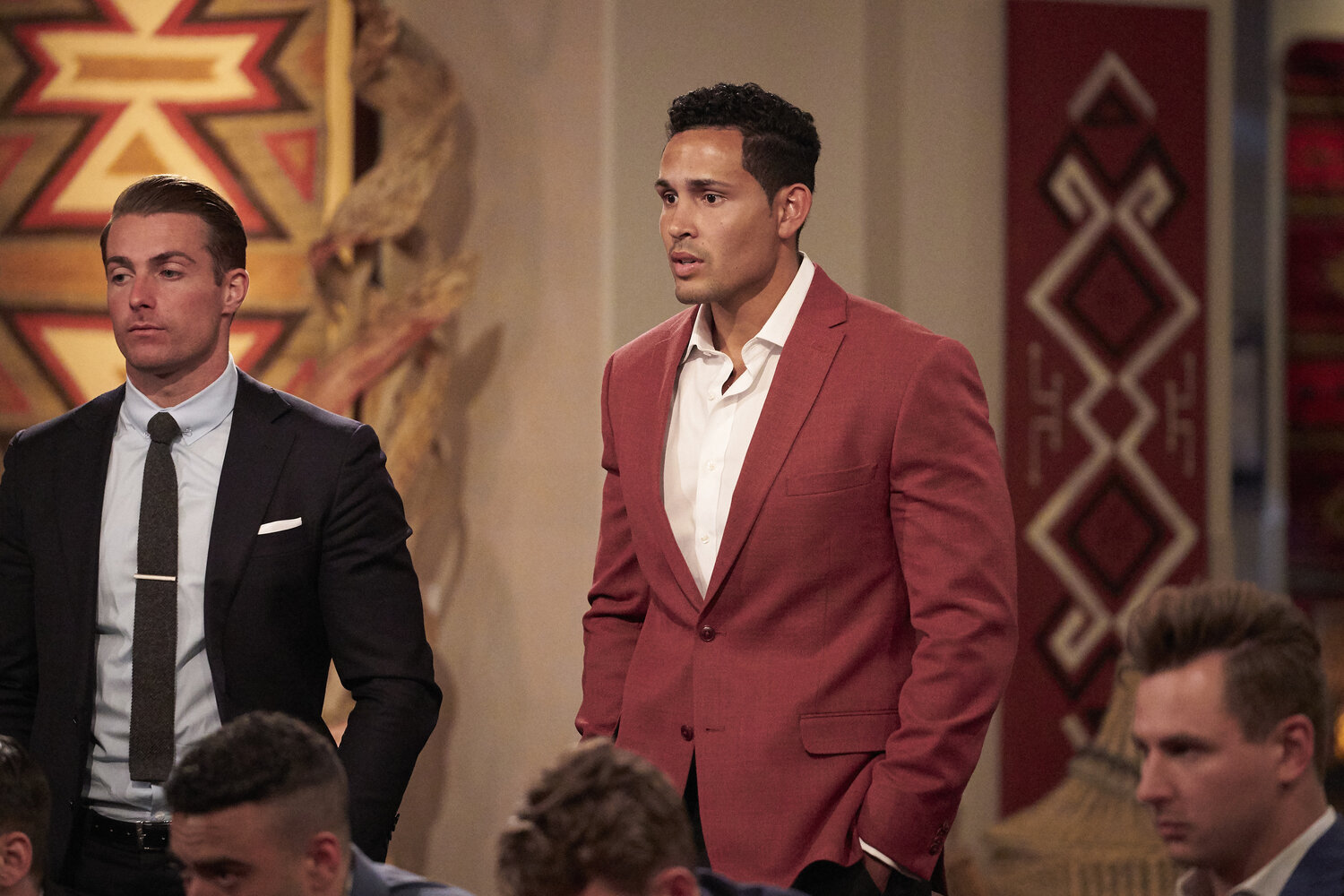 Thomas takes Serena P. on a date
The controversial contestant, of course, walked on the beach with a date card in hand. Immediately, despite the mens' warnings, the women were attracted to the newcomer. He asked Serena P. to join him and she said yes. Their date consisted of getting flung around on various types of innertubes on the ocean. They seemed to have a good time, laughing and making out between bumps. After the wet and wild portion of the date, the pair enjoyed a romantic picnic on shore, where Serena P. asked Thomas about the drama that took place during Katie's season. He admitted that he took time away from Aaron with Katie and that ruined their relationship from the beginning. He also said Tre was not emotionally strong and needed a lot of support.
At the end of the date, Serena P. told Thomas: "I honestly had an awesome time with you and I had so much fun." But she also told him that she didn't want to get involved with his drama so he should pursue other people.
Meanwhile, "Grocery Store" Joe spent the majority of his day at the bar with Wells. Before Serena P. left on her date, he told her: "You gotta explore your options." But then, to the camera, he said: "If she chooses Thomas there's no point for me to stick around."
When Serena P. returned from her date with Thomas, she wasted no time cuddling up to Joe on a daybed to tell him things weren't going to work out between her and Thomas. To say he was relieved is an understatement.
Riley and Maurissa get intimate
The next new man to walk down the beach was Riley, who was on Clare Crawley and Tayshia Adams' season of The Bachelorette. For Tahzjuan, the beach instantly became a whole lot hotter. When Riley was around, her hand-held fan was waving like it had a motor. In a confessional, she said Riley was the "entire reason" she came to Paradise and she was charmingly stunned in his presence, admitting she didn't "know how to act."
To Tahzjuan (and Connor)'s dismay, Riley asked Maurissa to join him on a date. They were taken to a restaurant where they were seated in front of host Lance Bass and two mystery plates of food. The food revealed was "the most disgusting things I've ever seen in my life — everything from a big a– tongue to bugs," said Maurissa. Lance laid out the rules: Answer the intimate questions he asks, or take a bite of the food. Maurissa and Riley were mostly game to answer questions — No, they'd never slid into a celebrity's DMs; no, neither had said "I love you" to someone without meaning it. But they both took a bite of tongue when asked how many people they'd slept with. Riley didn't think the tongue was bad. In fact, he took two more bites on his own. By the end of the game, Riley felt "the sexual tension is there." As the two made out, Lance Bass broke out into a little dance in celebration.
After the truth or eat portion of the date, Maurissa and Riley connected on their own (without Lance). They said they both wanted "a basketball team" of kids. And Maurissa shared with her date that she needs a lot of "reassurance" from her partners. She was with someone who didn't make her feel loved and she gained "like 80 pounds" and "stopped eating healthy." Now she knows she needs reassurance from a partner. Riley told her, "I can reassure you." The date ended with the two headed to the boom-boom room.
Meanwhile "Cat Man" Connor played sad ukulele music under the moonlight.
Thomas, James, Aaron, and Tre have a talk
Back at the beach, Thomas was at the bar talking to Wells. Karl grabbed Thomas and brought him over to James, Aaron, and Tre. Thomas apologized to the men for lying to Tre, and for taking time away from Aaron and James with the bachelorette. While Aaron said he still needed space from Thomas, Tre said he appreciated the apology.
But then, a bit later in the evening, Serena P. told Tre that Thomas had told her during their date that he was "not emotionally strong." Tre stormed up to Thomas and said that this was the last time they were ever going to speak. Thomas asked to explain but Tre said that he was "dead to me and my experience here."
Tre and Tahzjuan; Natasha and Brendan
The other Bachelor in Paradise couples that the episode featured were Tre and Tahzjuan and Natasha and Brendan.
After it became clear that Tahzjuan was interested in Riley, Tre felt he needed to check in. On a daybed, where these types of conversations are prone to take place, they spoke about wanting to continue pursuing their connection. Tahzjuan said she wanted to "get to know him even more." And in a confessional, she asked a crab she caught if she should continue things with Tre. The crab said yes.
With Natasha and Brendan, things aren't going so well. Natasha said that she and Brendan didn't have any romantic chemistry. They haven't even kissed yet. When she spoke with Brendan about her concerns, again on a daybed, Brendan said he's been enjoying getting to know her. Natasha said it felt like they were both just waiting for someone else to show up and that "something's not clicking."
"Brendan is either the most complicated man I've ever met or a con artist," she told the camera.
The episode ended without a rose ceremony.
Bachelor in Paradise airs on ABC Mondays and Tuesdays at 8 p.m.