'Bachelor in Paradise' Season 7, Episode 4 Recap: The Mari, Kenny, and Demi Love Triangle
Here's a recap of what happened during the fourth episode of 'Bachelor in Paradise' Season 7.
Things got messy down on the beach during the fourth episode of Bachelor in Paradise. Not only did new arrivals shake things up, but when previously solid couples started mixing and matching, all hell broke loose. Here's what happened.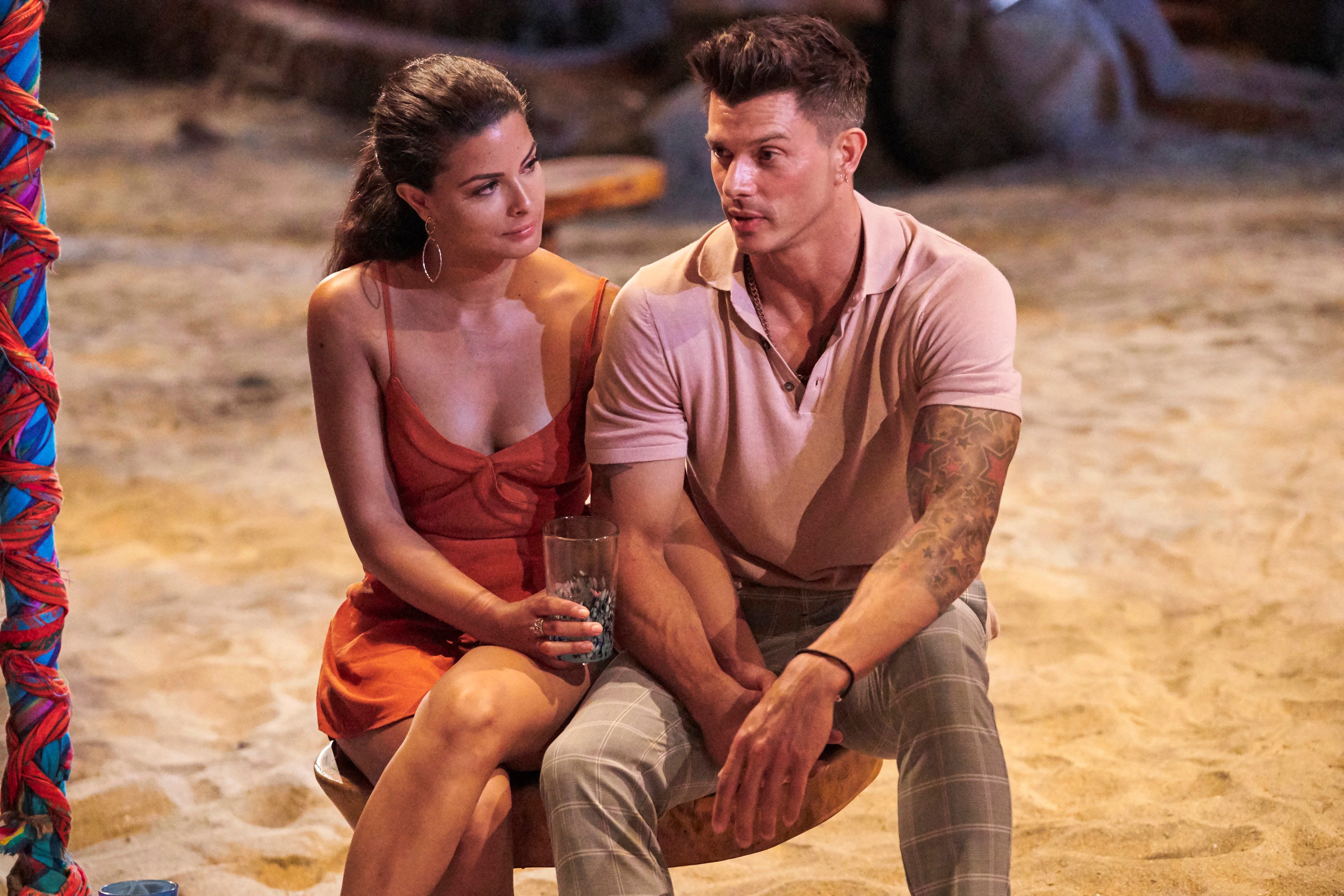 Chris Conran and Chasen Nick join the 'Bachelor in Paradise' cast
Chris Conran and Chasen Nick, from Clare Crawley's season of The Bachelorette, are the newest additions to the Bachelor in Paradise cast. "We're two smoke bros looking for some smoke shows," Chris declared as he and Chasen walked arm in arm down the steps to the beach. The men were given a double date card upon entering. Chasen asked Deandra to accompany him and Chris asked Jessenia.
The four spent the afternoon with an "intimacy guru," blowing on each other's bodies and trying out different Kama Sutra poses.
Chasen and Deandra seemed to hit it off. When they returned to the beach, Karl Smith gave Deandra a bracelet to show that he still wanted to explore things despite her date with Chasen. Jessenia and Chris also formed a quick connection. During their date, Jessenia said that her relationship with Ivan Hall has "one thing missing." And she thinks Chris may have that thing. When she returned to the beach, she told Ivan she was torn between him and Chris.
Joe Amabile and Serena Pitt go on a date
The next couple to score a date card was "Grocery Store" Joe Amabile and Serena Pitt. They had dinner in the middle of a wrestling ring, where they asked each other about past relationships. Joe told Serena that he and Kendall Long broke up because they couldn't decide where to live. Kendall didn't want to leave California and Joe wanted to end up in Chicago. Serena told Joe that she was with someone she thought she was going to marry but that she didn't get the effort she needed from her ex.
After dinner, Joe and Serena changed into wrestling clothes to play fight in the ring. They ended up rolling around on the floor making out. In a separate interview, Joe tells the camera he sees Serena as someone he "could potentially fall in love with" and that he's "all-in."
Mari Pepin-Solis, Kenny Braasch, and Demi Burnett
Meanwhile, back at the beach, Mari Pepin-Solis told Kenny Braasch that she wanted to be open to going on dates with other people. She then told Demi Burnett about the conversation she had with Kenny. Demi wasted no time jumping on the opportunity because it's her thinking that the point of Paradise is to date around. Demi and Kenny start flirting and eventually make out. Mari sees the hook-up and feels "betrayed." She told the camera that after her talk with Kenny she thought he'd "plan something cute and show me he really wants to be with me but this is the exact opposite."
The drama only intensified as the day turned to night. That evening, Demi made Kenny a birthday cake and threw him a little celebration because he didn't get to celebrate "a big birthday" in quarantine. Mari was livid — "One person can only take so much. This side of me doesn't come out often," she said as she threw the birthday cake into the fire. She pulled Demi aside and told her, "I feel betrayed."
In the end, Kenny said his relationship with Mari had turned "too toxic." He put the final nail in the coffin by going to the boom-boom room with Demi.
Drama with the other 'Bachelor in Paradise' couples
Mari, Kenny, and Demi didn't hog all the drama last night. There was plenty to go around.
Connor Brennan had a tough day after learning that Maurissa Gunn went to the boom-boom room with Riley Christian after their date.
Natasha Parker received a pep talk from Lance Bass about initiating the first kiss with Brendan Morais — "It's 2021!" Emboldened after her conversation with the host, Natasha offered to give Brendan a massage. After, he kissed her. "Each day he does open up a little bit more," she said in an interview, pleased with the progression in their relationship.
And then there's Tammy Ly, Aaron Clancy, and Thomas Jacobs. Tammy grabbed Thomas by the hand and led him to a daybed, walking right past Aaron. On the daybed, they struck up a bond over the fact that they were both villains on their seasons. Thomas told Tammy he would have kissed her right when they sat down but he was hesitant to because he knew Aaron could see. Tammy initiated a kiss and the two started making out. Not too long after, Aaron pulled Thomas aside to fight with him on the beach. "I deserve some respect!" he said.
The episode ended without a rose ceremony.