'Bachelor in Paradise' Season 7, Episode 9 Recap: Kendall Lays It All Out and Couples Grow Stronger
Here's what you missed on the ninth episode of 'Bachelor in Paradise' — from new declarations of love, to a sexy taco date, to a tropical storm.
Article Highlights:
Kendall leaves the beach while new couples say "I love you."
The Bachelor in Paradise cast gets evacuated due to a tropical storm.
Tia and Chelsea are torn. Aaron and Ivan fight over Chelsea.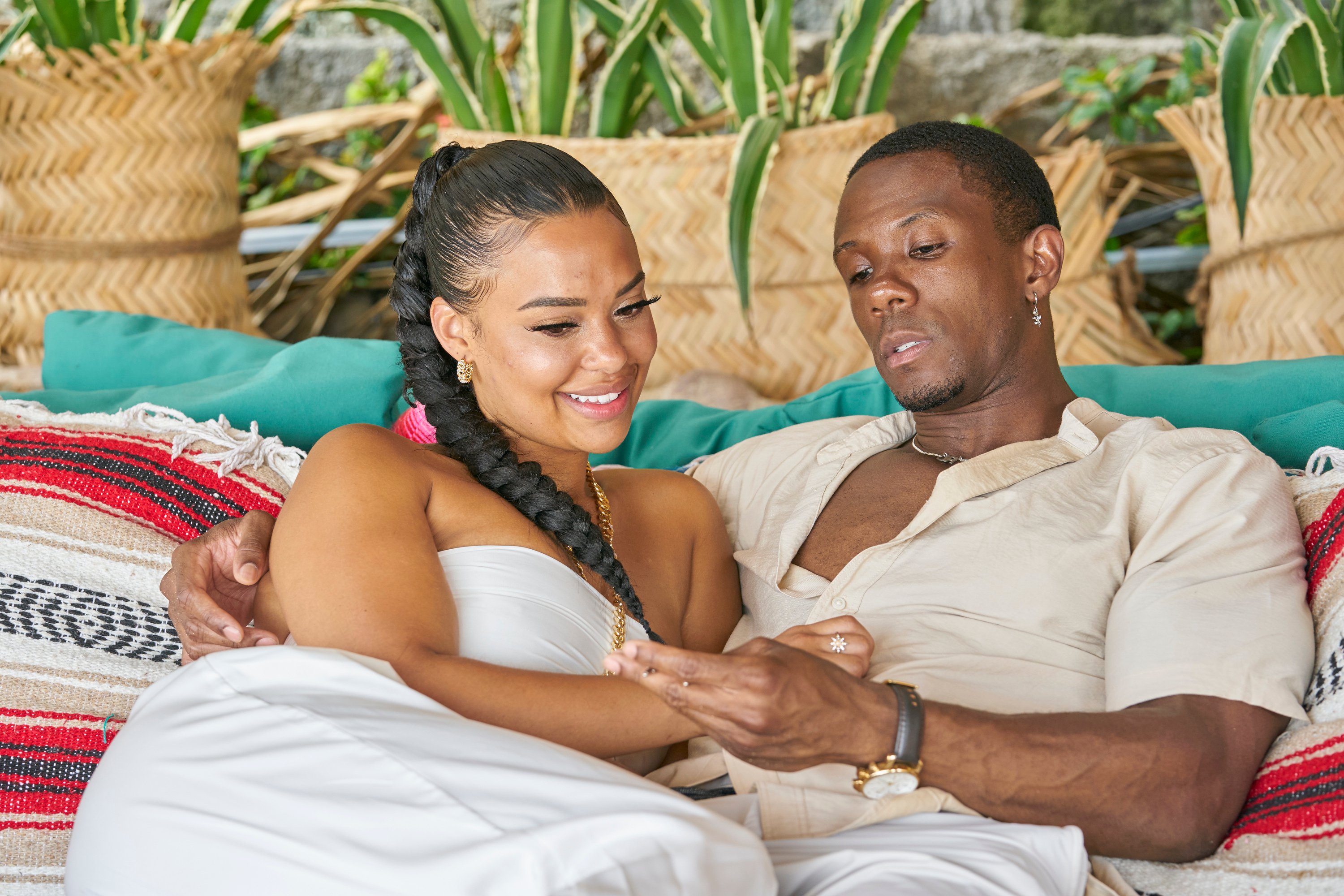 Last night's episode of Bachelor in Paradise mostly focused on the already-established couples growing their relationships. Two other pairs even joined Serena Pitt and Joe Amabile in the "I love you" club. Here's what you missed during episode nine.
Kendall cries in Joe's arms before she leaves 'Bachelor in Paradise'
During episode eight, Kendall Long watched her ex and Serena begin to fall in love. Episode nine picked up with her having a heart-to-heart with Joe. She told him how hard it's been for her to be back in the place where they fell in love, and that she still has a lot of love for him.
"I still feel like you are my best friend, you know?" she told him crying. "I love seeing you thriving, and being happy, and being funny, making connections with people, but it just reminds me why I fell in love with you. So it's hard to see that. I never stopped loving you, obviously." 
Joe held Kendall and reassure her that she's "going to be OK." But he also told her that he'd moved on.
"The reason I came out here is because I knew it was over between us," he said. "If I didn't feel that, I wouldn't have come. I was also kind of under the impression that you felt the same way. You were a big part of my life and I'm always going to care about you. I'm still always here for you."
With that, Kendall gave Joe one last hug and decided to leave. She said goodbye to Ivan Hall and tearfully got into the Paradise getaway van.
"It's hard in a place where you met, where you had this great love story that really was real, and it worked. So it makes it hard and those feelings do come back," Joe told cameras. "But if she truly wanted me back, she should've told me before I got here, before I started this, because I really, really loved her. I see how upset she is, but I'm feeling things for Serena at this point." 
Two new men join the cast of 'Bachelor in Paradise'
Two new men joined the Bachelor in Paradise cast: Demar Jackson and Ed Waisbrot, who were both introduced to Bachelor Nation on Clare Crawley and Tashia Adams' season of The Bachelorette. Demar asked Chelsea to join him on the date (though he considered Maurissa Gunn, too) and Ed asked Natasha, who happily accepted.
The couples took part in a painting date, where the women painted their partners wearing nothing but jungle leaves. At the end of the afternoon, Ed and Natasha kissed.
"Paradise is so amazing," she told cameras. "I could not be happier right now. Finally."
Mari and Kenny eat tacos off each other
Mari Pepin-Solis and Kenny Braasch were given a sexy little date card that had them eating tacos off of each other's nearly naked bodies.
"Kenny has a great platter," said Mari. "I like what I'm working with."
Kenny seemed to enjoy the date, too, saying: "Mari is the hottest plate I've ever seen. She's a freak behind closed doors. Watch out." 
After the meal portion of the date, the pair opened up about their feelings.
Kenny told Mari they "might have to start talking about" an engagement soon and that he's "falling in love with" her.
"That's funny, because I'm falling in love with you, too," responded Mari.
After the date, the couple headed to the boom-boom room.  
Riley opens up to Maurissa
After Demar spoke with Maurissa about potentially taking her on a date, she felt like she needed "a little more" from Riley. So they sat down to have a talk about their feelings and relationship.
"I don't want you to worry about anything, anyone else coming in here and taking me away from you," he told her. "It's just not gonna happen." 
He also explained why it wasn't natural for him to be forthcoming with his feelings.
"As bad as I want a family of my own, my family situation has never been too great," he said. "I think that's one of the things at the top that scares me… It scares me a bit to know that even though [my dad] did everything in his power, he doesn't have a relationship with his children." 
"I do care about you a lot," he went on. "I have been in love before, and I can see myself going that way. It's scary as hell for me, but I'm going to do it because I have to and I want to." 
"I am falling in love with you," Maurissa told him. And he told her that he felt the same way.
In a confessional, Maurissa said she was excited about the way things are going because she'd "met the man of my dreams."
The cast evacuates Paradise
After Riley and Maurissa's intimate conversation, producers gathered the cast to make an announcement: "There is a tropical storm rapidly approaching. As of an hour ago, it's heading straight for us. We actually believe it's no longer safe for you guys to stay in Paradise." 
So everyone loaded into vans to be brought to a safe location. But, apparently, things blew over quickly. The whole segment was just a couple of minutes long. When the group arrived back on the beach, hotel-showered and looking fresh, Lil Jon told everyone to begin getting ready for a daytime cocktail party before the women were to be handing out roses.
Tia talks to her vagina about who to give her rose to
Tia Booth is torn between tattooed Blake Monar and nice-guy James Bonsall.
James set up a little date to inspire him and Tia to talk about their hometowns. He painted a stoplight because she'd told him she grew up in a town that was so small it only had one stoplight. Next to it laid a painting of the New York City skyline, because he'd grown up in Manhattan.
"My heart is leading me toward James, who's such a great person overall," she told producers. "But sometimes you have to listen to your vagina. As nice as tonight was with James, when we kiss I just don't feel a tingle in my vagina."
Tia proceeded to have a pep-talk with her vagina, weighing the pros and cons of each man.
She spoke to Blake about wanting to be "pursued."
He told her, "There's nothing I want more out of this than leaving with you." But Tia told him that "words only go so far."
"All I needed was for you to act like you gave two s**** for two seconds when we first got down here," she said. "That's it." 
"Tia, I don't care about anything but you and I's relationship," he replied, getting progressively frustrated. "All I wanted from you was a conversation. I obviously care. I want to talk to you in a real setting." 
Tia left the conversation unconvinced. She sought James out and thanked him again for his sweet gesture and the two shared a kiss.
Aaron and Ivan vie for Chelsea
Meanwhile, Aaron Clancy attempts to seal the deal with Chelsea Vaughn. He set up a makeshift runway and did his best modeling walk for her, since she's a professional model herself. The two laughed and made out on a daybed down by the water.
Later on, Ivan (after telling Aaron and James that he didn't have any intentions of stealing anyone's rose before the ceremony) decided to lay down with Chelsea on another daybed and shoot his shot. The two expressed interest in one another and ended up making out. They even walked away holding hands. Aaron, of course, saw the whole thing and said, "I will slap that stupid beard off his face." 
After, Aaron confronted Ivan for the "b**** move" and things quickly became heated as the men puffed up their chests.
"What are you gonna do about it?" Ivan replied.
The three-hour penultimate episode of Bachelor in Paradise airs on Sept. 28 on ABC.