'Bachelor in Paradise' Spoilers: Will Tia Booth Pick James Bonsall or Blake Monar?
Many Bachelor in Paradise fans are curious to watch Tia Booth's journey in season 7. The reality star recently went on a date with newcomer Blake Monar. But what does this mean for James Bonsall? Ahead of the Sept. 21 episode of Bachelor in Paradise, the ABC reality series seemingly spoiled what's next for James, Tia, and Blake. So here's what to expect.
[Spoiler alert: This article contains spoilers about Tia Booth, Blake Monar, and James Bonsall in Bachelor in Paradise Season 7.]
What happened to Blake Monar, Tia Booth, and James Bonsall in 'Bachelor in Paradise' 2021?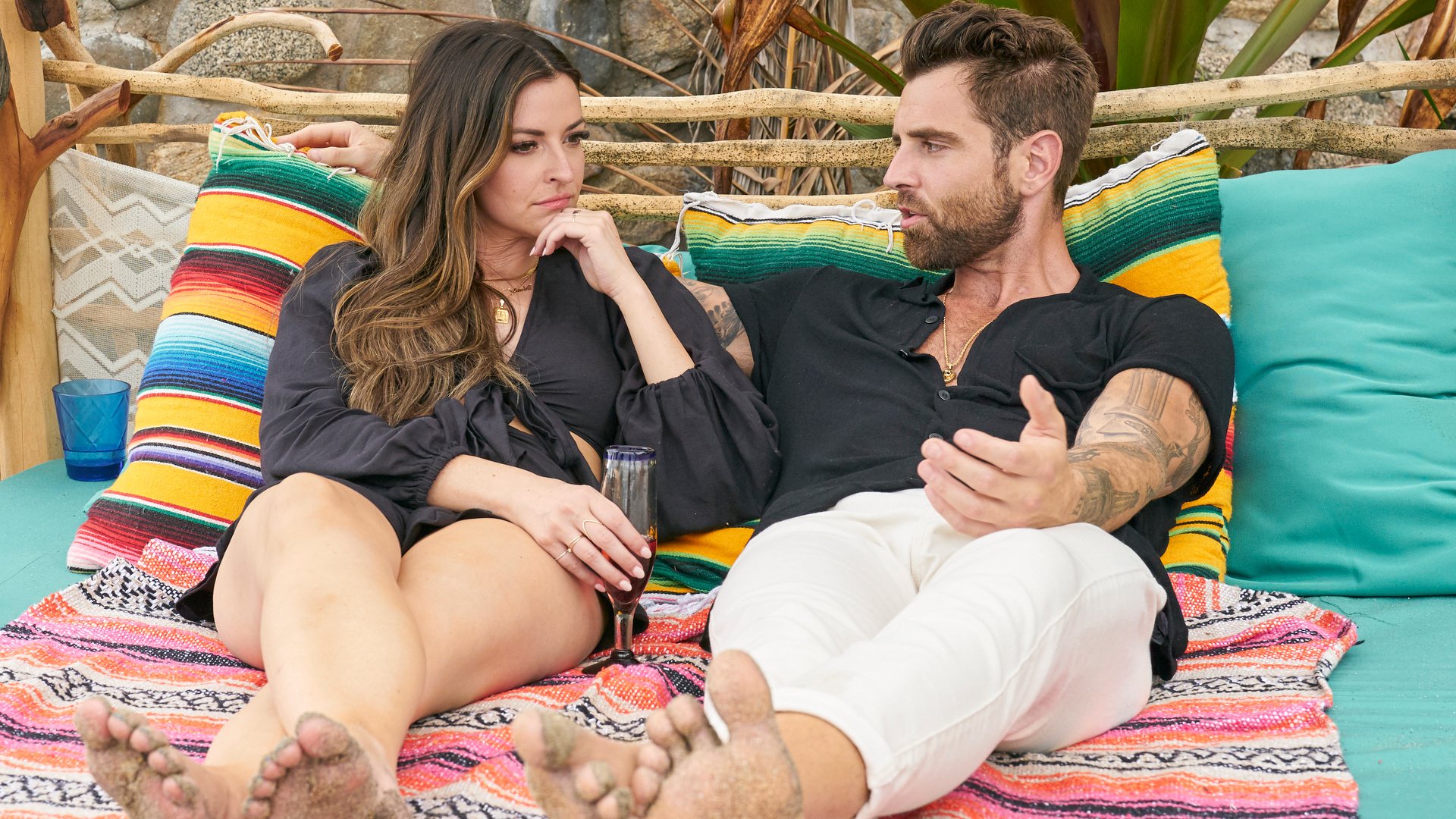 When Tia arrived on Bachelor in Paradise Season 7, she went on a date with Kenny Braasch. The reality stars seemed to hit it off. However, Kenny decided to pursue a relationship with Mari Pepin-Solis.
Meanwhile, Tia seemed to connect with James, who arrived on the beach on day one. But sparks started to fly for Tia when Blake arrived in episode 8. Nevertheless, the Tia-James-Blake love triangle isn't over yet.
New 'Bachelor in Paradise' promo teases Tia Booth's love triangle with James Bonsall and Blake Monar
In a promo for Bachelor in Paradise Season 7 Episode 9 on Sept. 21, Tia debates whether she wants to end up with Blake or James.
"I'm going into the rose ceremony torn between two different guys," Tia says in the teaser. "James has gone out of his way to make me feel special. But Blake, I need you to act like you care about me."
Then Tia confronts Blake, telling him she wants to be "pursued" and feel "chosen." Blake says he wants nothing more than to leave BIP with her. But Tia doesn't need empty words.
"It's just showing it," Tia says. "I want someone to fight for me."
Meanwhile, Tia meets up with James, and the reality stars share a kiss. Then Riley Christian narrates the whole situation leading into the next rose ceremony.
"The competition is high in Paradise with James and Blake," Riley says.
"I know Blake came in here, probably swept her off her feet. But since then, there's been some commotion, and it might be a little more rocky. I do think it's going to be a tough one for her to decide on. Her rose is really up in the air."
'BIP' spoilers hint whether Tia Booth ends up with Blake Monar or James Bonsall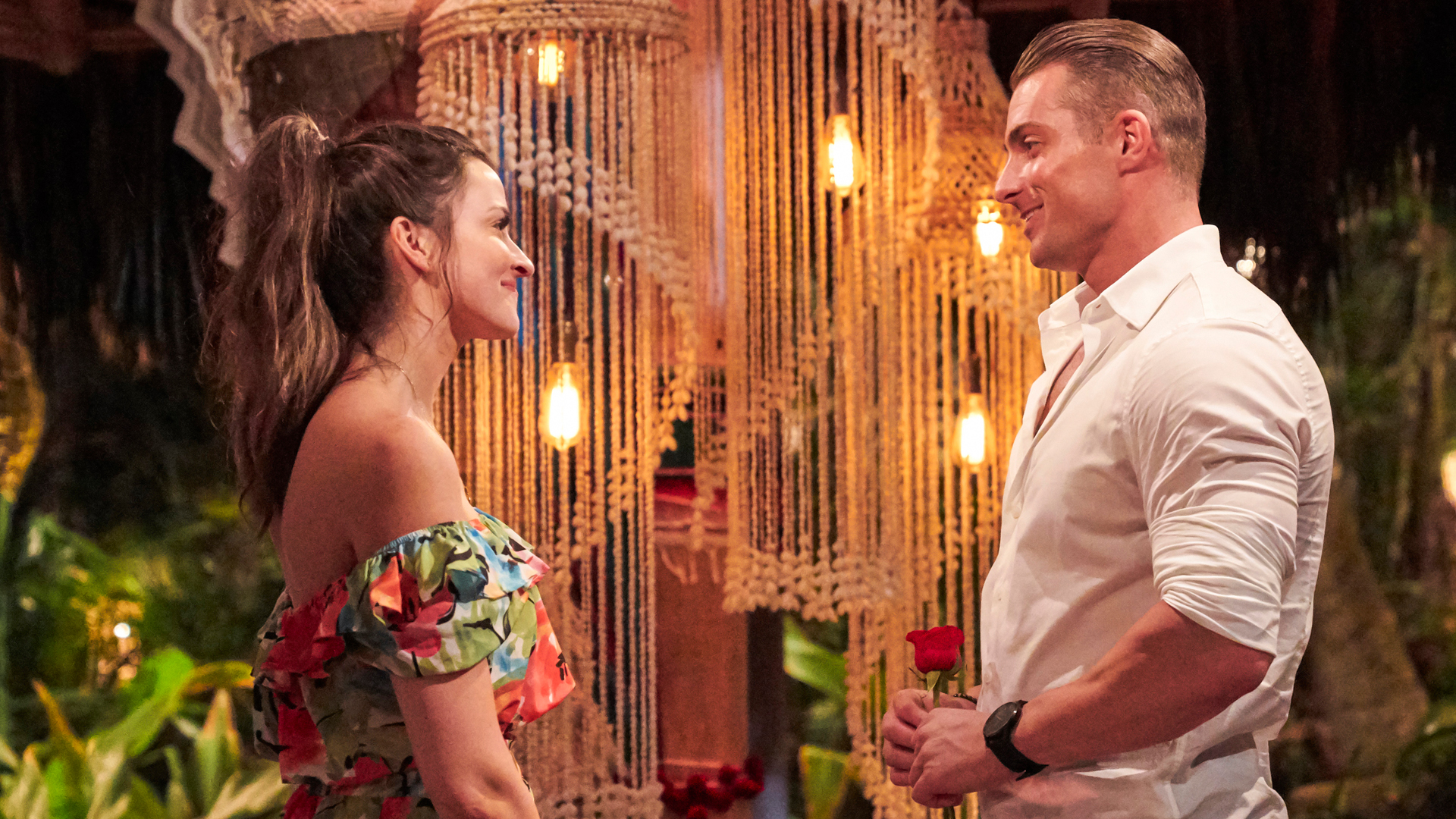 Now, will Tia give her rose to Blake or James in Bachelor in Paradise Season 7 Episode 9? Fans will just have to wait and see what happens. But it's possible the tropical storm might postpone any major decisions. In the preview for the Sept. 21 episode, Tia suggests that she's more concerned about the storm than her choice at the rose ceremony.
Meanwhile, Bachelor Nation blogger Reality Steve already shared season spoilers about Tia, James, and Blake's fates on BIP. According to the spoiler king, Blake left the show without a single rose. So it's possible Tia chooses James at the next elimination ceremony. 
Regardless, Reality Steve claimed that Tia eventually leaves the show single. The blogger also said Chelsea Vaughn received a rose from James after she arrived. This connection has yet to play out, considering Chelsea's relationship with Aaron Clancy. So for now, we'll just have to wait and see what happens on Bachelor in Paradise.
Bachelor in Paradise Season 7 airs Tuesdays on ABC.