'Bachelor' Star Demi Burnett Clapped Back at a Follower Who Criticized Her Boyfriend's Pink Hair
Peter Weber's season of The Bachelor ended catastrophically for everyone involved. While Weber didn't find the love of his life after breaking things off with Hannah Ann Sluss, he now appears to have a strained relationship with his parents, too. And we're sure ex-Bachelor contestant Demi Burnett has many opinions of her own when it comes to Weber.
Burnett guest-hosted one of the challenges on Weber's Bachelor season. And we've seen Burnett go through plenty of heartache of her own, as she got her heart broken on Colton Underwood's season and had to make some seriously difficult decisions on Bachelor in Paradise. Now, she seems to be totally in love with her new boyfriend — and she's clapping back at followers who insist on posting negative comments about her partner's hair.
Demi Burnett couldn't make things work with Kristian Haggerty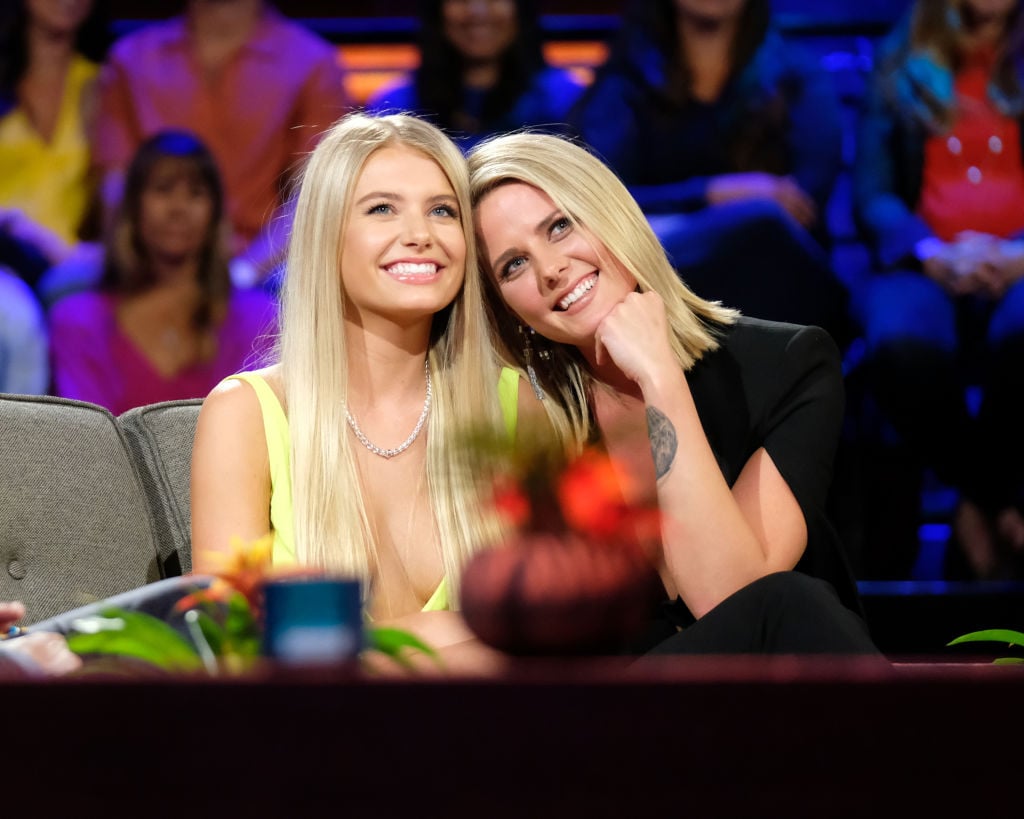 When Burnett first entered Paradise, she hit it off with Derek Peth. But she couldn't get Kristian Haggerty, a woman from home, out of her mind. While Peth adored Burnett and wanted to make things work, it was Haggerty who Burnett truly wanted. And once Haggerty joined the cast of BIP, the two got engaged at the end of the show.
Unfortunately, by October 2019, fans started to wonder if Haggerty and Burnett were still together. "She's in Florida, I'm in New York but we do spend time together. Just because we don't broadcast it doesn't mean that we're not together," Burnett told Us Weekly. But it wasn't long after that when Haggerty and Burnett announced their breakup.
"With a heavy heart full of love for one another we have decided it is best for us to take a step back from our relationship. We ultimately want what is best for us in the long run and for us right now, that means being apart and growing individually," Burnett announced on Instagram on Oct. 31. "We have felt so much love and support from you all as you've followed our journey together and for that we are grateful."
She's now dating Slater Davis
We're sure Burnett went through significant heartbreak in losing Haggerty. But she's bounced back — and she's now posting all about her new boyfriend, Slater Davis.
Davis is a Los Angeles-based musician. According to Burnett, they're both "madly" in love with each other.
"This is my person. This is somebody I want to never not be around," Burnett explained to Entertainment Tonight. "I feel like I learned a lot about myself and things I've done wrong or qualities that I've had that aren't the best that I need to work on, and I've really focused in on that. And it just kind of made me more aware of who I want to be for somebody."
As for the future, Burnett and Davis noted they're not talking engagement or marriage yet — but they do see a future with each other, as they think they're completely compatible.
Burnett just clapped back at a follower criticizing Davis' hair
Burnett is posting plenty of photos of her with Davis to Instagram. Unfortunately, not all of her followers are supportive. On March 13, Burnett added a photo of her with Davis at an event hosted by Bachelor host Chris Harrison. And some followers couldn't get over Davis' pink hair.
"Your boyfriend has pink hair. Wtf r u doing lol," one follower commented.
To that, Burnett answered, "loving myself and loving him."
Many others stood by Burnett, too.
One follower echoed, "a true queen's answer. love to see you loving.
Another wrote, "there's nothing wrong with a guy having pink hair. What matters the most is that Demi is happy."
It looks like Burnett is certainly happy with her relationship so far. And we love that she's willing to go out on a limb to defend herself and Davis. We can't wait to see how their relationship progresses!
Check out Showbiz Cheat Sheet on Facebook!