'Bachelor' Star Tayshia Adams Doesn't Have Romance on Her Mind Right Now
Tayshia Adams of 'Bachelor' fame tried her luck at love twice via reality TV. Now, she's focusing on something entirely different. This is what she said.
There's a lot going on in Peter Weber's Bachelor season. While some fans love the women who are trying to win his heart, many others can't stand all the drama. And there are plenty of others who wish Weber's season was similar to Colton Underwood's season, as they believe Underwood's contestants were much more genuine.
Tayshia Adams got her start on Underwood's Bachelor season, and she then went on Bachelor in Paradise for a second chance at love. After striking out on both shows, it seems she's changing up her priorities. Here's what she told her Instagram followers about what she's focusing on now — and it has nothing to do with romantic love.
Tayshia Adams attempted to find love through 'The Bachelor' and 'Bachelor in Paradise'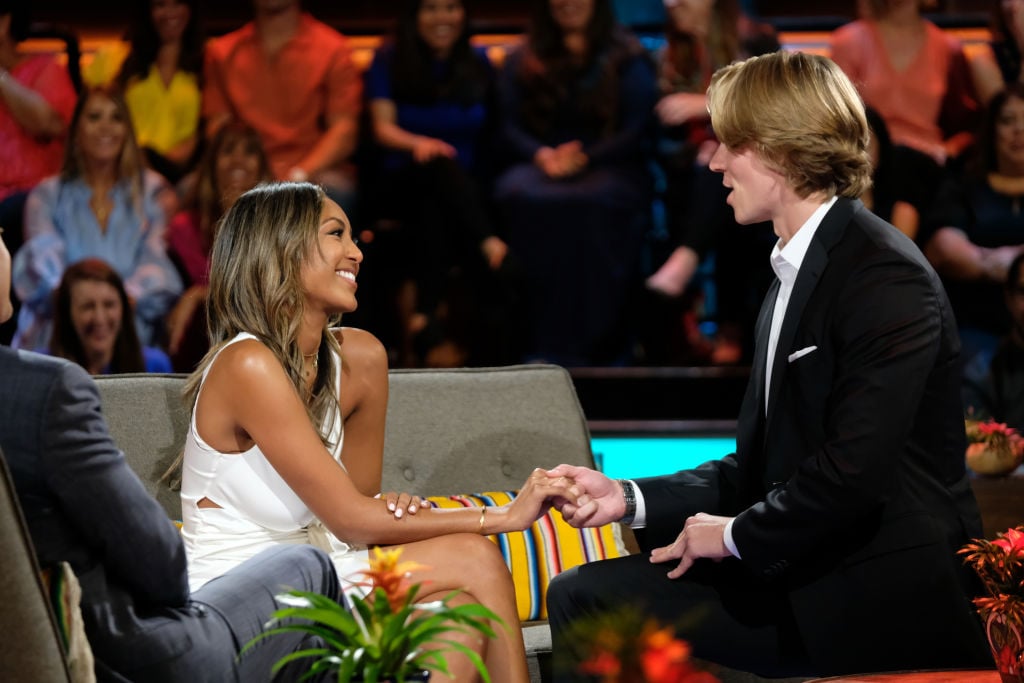 Finding love isn't easy, and that's especially true for those on reality TV. While Underwood really liked Adams and took her all the way to the final three, it was Cassie Randolph who stole his heart. And after that, Adams fell for John Paul Jones on Bachelor in Paradise — but we know they didn't have a happy ending, either.
Jones and Adams were an odd pairing from the beginning. But post-Paradise, they got together and took their relationship quite seriously. Jones even reportedly moved from his home state of Maryland to California, which put him in the same state as Adams. But it seems Jones' maturity level may not have been at the level that Adams needed.
"I told him, I'm like honestly, 'I just want you to experience a little more life. I feel like you just need to live a little bit and learn a little bit because I feel like I can only do so much,'" Adams told the Bachelor Party podcast.
She told her Instagram followers she's prioritizing her family
Now, it seems Adams is living her best single life. She frequently creates Instagram posts showing off her partnership with boohoo clothing, and her life as a social media influencer is giving her many connections and travel opportunities she never had before. While many think Adams could (and should) find love again, she told her Instagram followers via her Story on Feb. 13 that family is taking precedence over all else.
The day before Valentine's Day, Adams showed her with her little brother eating lunch together. And she then showed her and her brother with many others playing a friendly game of volleyball. After that, while sitting in her car, Adams explained that she's putting her family first instead of romance.
"So, one of my goals for this year is to really be there for my family," Adams told the camera. "So that's why I'm kind of like, trying to make an effort to go see my brother a little bit more. … He's gonna graduate eighth grade soon and he's gonna be a really cool teenager and he's gonna be too cool for me." Adams also mentioned that she currently lives just 15 minutes away from her family, which may change in the future.
Many wish Adams would be 'The Bachelorette'
Adams may be making her family a priority currently, but her fans would love for her to be the star of The Bachelorette.
"Petition for Tayshia to be the next bachelorette," one Instagram follower commented on Adams' post on Feb. 13.
Another wrote, "the bachelorette we deserve!!"
Yet another added, "Begging you to be the next bachelorette."
We're not sure who the next Bachelorette will actually be. While many want to see Hannah Brown get her chance at love once again, we're wondering if one of the women from Weber's season will snag the chance. Whatever happens, it seems Adams isn't too concerned, as her focus isn't on reality TV or love at the moment.
Check out Showbiz Cheat Sheet on Facebook!