'The Bachelorette': Ben Smith Opens Up About His Connection With Tayshia Adams
'The Bachelorette' Season 16 cast member Ben Smith shares details about his relationship with Tayshia Adams and why it took him so long to open up.
As The Bachelorette Season 16 moves forward with Tayshia Adams' journey, Bachelor Nation fans are starting to see frontrunners emerge, such as 30-year-old Ben Smith. Throughout the season, the contestant has received a solid but subtle edit. Now, viewers are finally seeing why. In the Dec. 1 episode, Ben let his guard down and opened up to the lead. Then in a recent interview, Ben hinted his connection with Adams will continue to grow stronger on The Bachelorette. 
Ben Smith reveals why it was difficult to open up to Tayshia Adams on 'The Bachelorette'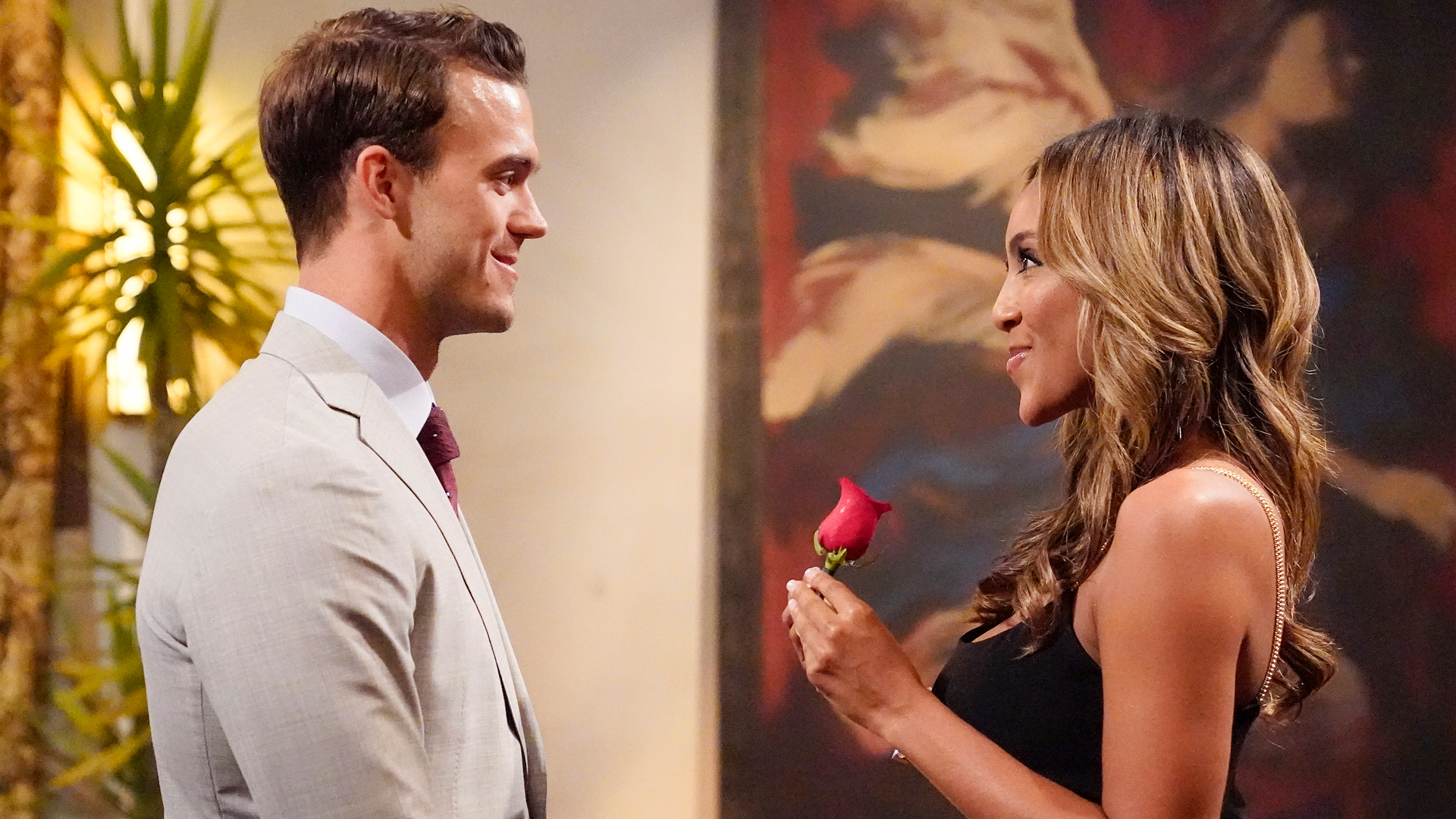 In the Dec. 2 episode of the Bachelor Happy Hour podcast with Rachel Lindsay and Becca Kufrin, Ben delved into his Bachelorette experience and relationship with Adams. Ben admitted he was uncomfortable sharing his feelings with Adams because he felt a real connection with her right off the bat. 
"Unlike the first experience with Clare, there was an incredible, immediate attraction to Tayshia. I felt it, I know she felt it. It was something that was important for me to pursue," Ben said. "It's not hard for me to be open and vulnerable in a platonic relationship. … It's when I get into a romantic situation and I have to be vulnerable around someone that could potentially leave me and leave me hurting, that's when I wall off. So it was incredibly challenging."
Meanwhile, Ben revealed Adams was the one to initiate their conversation at the start of their journey. "We started off with me walled up and not ready to share," he said. "So I think the theme of our relationship — at least early on — was more like an interview-style, where it's Tayshia asking questions."
Ben Smith teases his relationship with Tayshia Adams on 'The Bachelorette'
There's no question Ben's one-on-one time with Adams in The Bachelorette Week 8 allowed him to truly open up. In the episode, Ben bared it all when he stripped down for the lead. He told Adams he'd let his guard down. That evening, Ben revealed he had an eating disorder for 15 years. Then when speaking with Lindsay and Kufrin on Bachelor Happy Hour, the contestant revealed that was the moment he truly let go.
"That night was a nice gateway, like a breaking of this frame for me to be like, holy sh*t. I'm just going to tell you a bunch of stuff, and if it comes off weird, I don't know. It's authentic. So here it is," Ben said. "I shared some stuff that's vulnerable to me and I think it gives me an opportunity moving forward to feel comfortable being open and vulnerable."
He continued, "You see throughout the course of the show, it's very gradual. Yeah, me getting naked is a big thing. But for me, that's not a big thing. That's a way for me to express something small. It's stuff I said to her that's far more meaningful."
Ben also teased where his romance with Adams is headed next. "I think that just moving forward throughout the process — however long it goes — every time I'm with her, I'm able to divulge more, be more vulnerable, and ultimately deepen the connection that we share," he said.
Meanwhile, it seems Adams feels the same way about Ben. In an interview with Insider from Dec. 8, the bachelorette revealed Ben felt like a "completely different person" after he opened up in week 8. 
"I think there were a lot of men that grew before my eyes and grew before their own," Adams said. "But Ben was someone that really surprised me."
Now, The Bachelorette fans will watch Ben and Adams' romance blossom as the 16th season continues. So get ready. New episodes air on Mondays and Tuesdays starting Dec. 14 on ABC.
Check out Showbiz Cheat Sheet on Facebook!