'The Bachelorette': Blake Moynes Addresses Katie Thurston and John Hersey's New Relationship: 'I Feel Stupid and Foolish'
'The Bachelorette' contestant Blake Moynes explained why he felt 'foolish' after Katie Thurston and John Hersey's relationship news.
While Bachelor Nation fans are still processing Katie Thurston and John Hersey's new relationship, Blake Moynes hasn't fully grasped the news either. On The Bachelorette Season 17, Katie and Blake fell head over heels for each other. Shortly after filming the season finale, the two announced their engagement. However, their arrangement was short-lived, with the couple calling it off three months later. Now that Katie is dating John, a former contestant on the show, Blake revealed that he feels "stupid" and "foolish" for not seeing their connection sooner.
'Bachelorette' contestant Blake Moynes opens up about Katie and John's new relationship
In the latest episode of the Talking It Out with Bachelor Nation podcast, Blake Moynes discussed his ex-fiancée Katie Thurston's relationship announcement. A few weeks after their split, Thurston announced her relationship with former Bachelorette contestant John Hersey. While Moynes was unaware of their relationship prior to the announcement, he revealed he feels "stupid" and "foolish" for not seeing the signs sooner. 
"Everyone is asking me questions like I have the answers, but I don't," he said. "When everyone heard [the news], I heard the exact same thing. I really thought there was no way, just based on the timeline. I'm trying to ask myself all the questions to try and figure out myself, and I don't know how."
Moynes went on to say that he didn't think there was any physical cheating. "I know [Katie and John] spent a lot of time together and stuff, but I never had an inkling," he added. "I really don't think there was any physical cheating there, but there [was] clearly emotional for it to transition as quickly as it did. I feel stupid and foolish for allowing it to happen. And, I don't know if it was partially me too."
Katie Thurston announced the couple's split on social media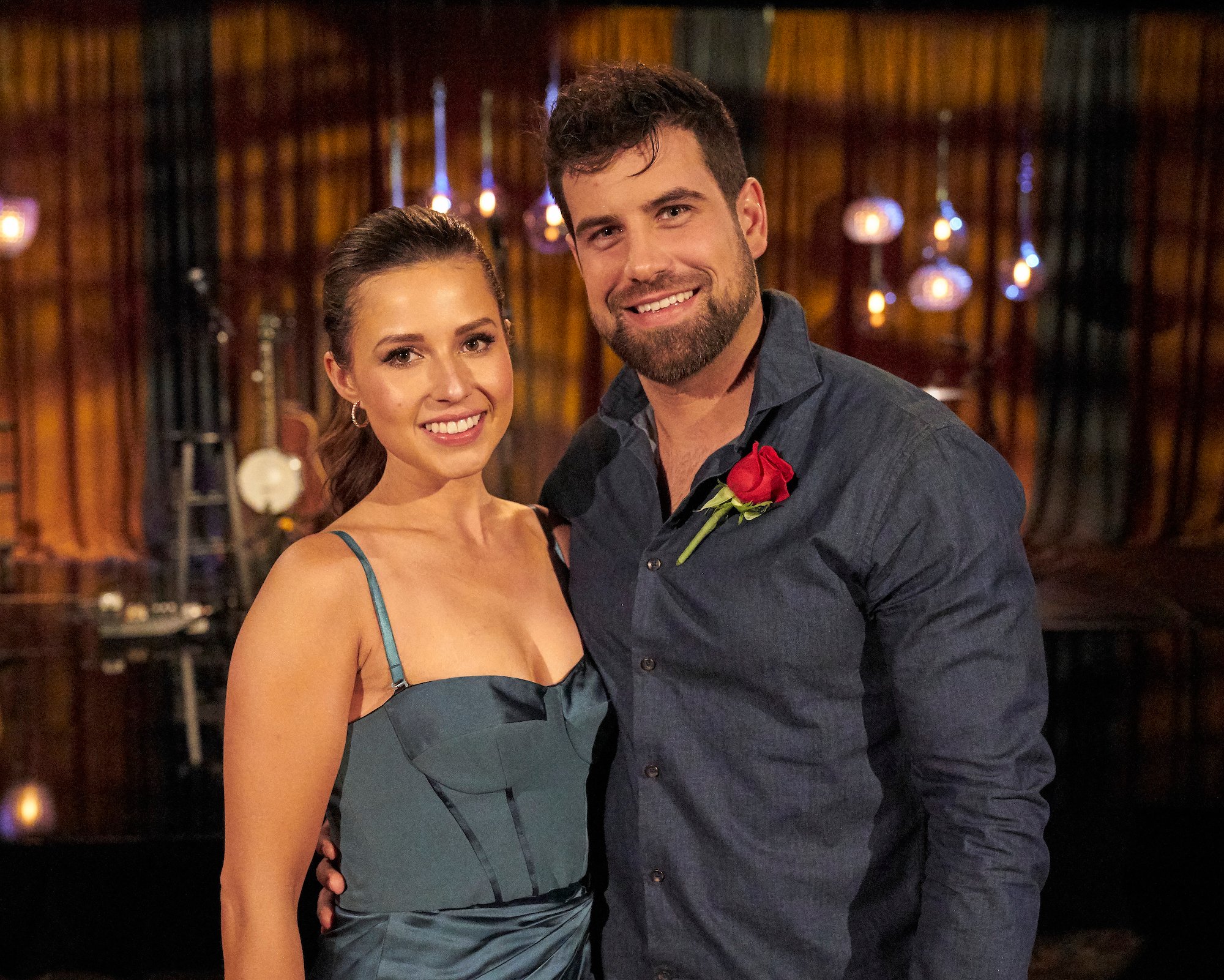 In October 2021, the former Bachelorette announced the couple's breakup on Instagram. "It is with mutual love and respect that we have decided to go our separate ways," Thurston wrote in the caption of the now-deleted post. "We are so grateful for the moments we shared together and the entire journey that has unfolded this year, but we ultimately have concluded that we are not compatible as life partners, and it is the most caring choice for both of us to move forward independently."
She concluded the post by saying, "We ask for kindness and privacy as we both navigate this transition. Both of us will forever want the best for one another and ask you to please support us in our decision." Meanwhile, Moynes shared the same statement in a separate Instagram post.
Shortly after the announcement, Thurston and former suitor John Hersey made their red carpet debut at Stephen Lovegrove's First Noelle Ball, held at Mavericks Beach Club in San Diego, California. The two shared a kiss at the event, cementing their new relationship.
The former 'Bachelorette' revealed the breakup was 'mutual'
​​https://www.instagram.com/tv/CVrdLZdFdvQ/?utm_medium=copy_link
In an Instagram video, Thurston addressed her split from Blake Moynes. Although she didn't give an explanation behind the split, they both agreed to "part our ways." 
"I think a lot of people are like, 'Well, what really happened? What's the big thing that happened with Katie and Blake?'" she explained. "We were together for six months. Blake and I are very levelheaded and mature, and we communicate very well on our thoughts. We just both knew if this is how our first six months were as a couple, going forward, it was not going to be in our best interest for our happiness to stay together. And so we, as mentioned, mutually decided to part our ways."
Thurston added that they still "keep in touch" and continue to "support each other" in their future endeavors.
The Bachelorette airs on ABC.