'The Bachelorette': Blake Moynes and Katie Thurston Update Fans on Their Engagement on Instagram
The Bachelorette Season 17 finale ended in one surprising engagement when Katie Thurston picked Blake Moynes. Now, many viewers are checking in on the couple to make sure they're still together and engaged. Luckily, Blake and Katie updated their Instagram followers on their engagement soon after the big proposal aired on ABC — here's everything the couple has to say about their relationship.
[Spoiler alert: This article contains spoilers from The Bachelorette Season 17 finale.]
Blake Moynes and Katie Thurston got engaged in 'The Bachelorette' 2021 finale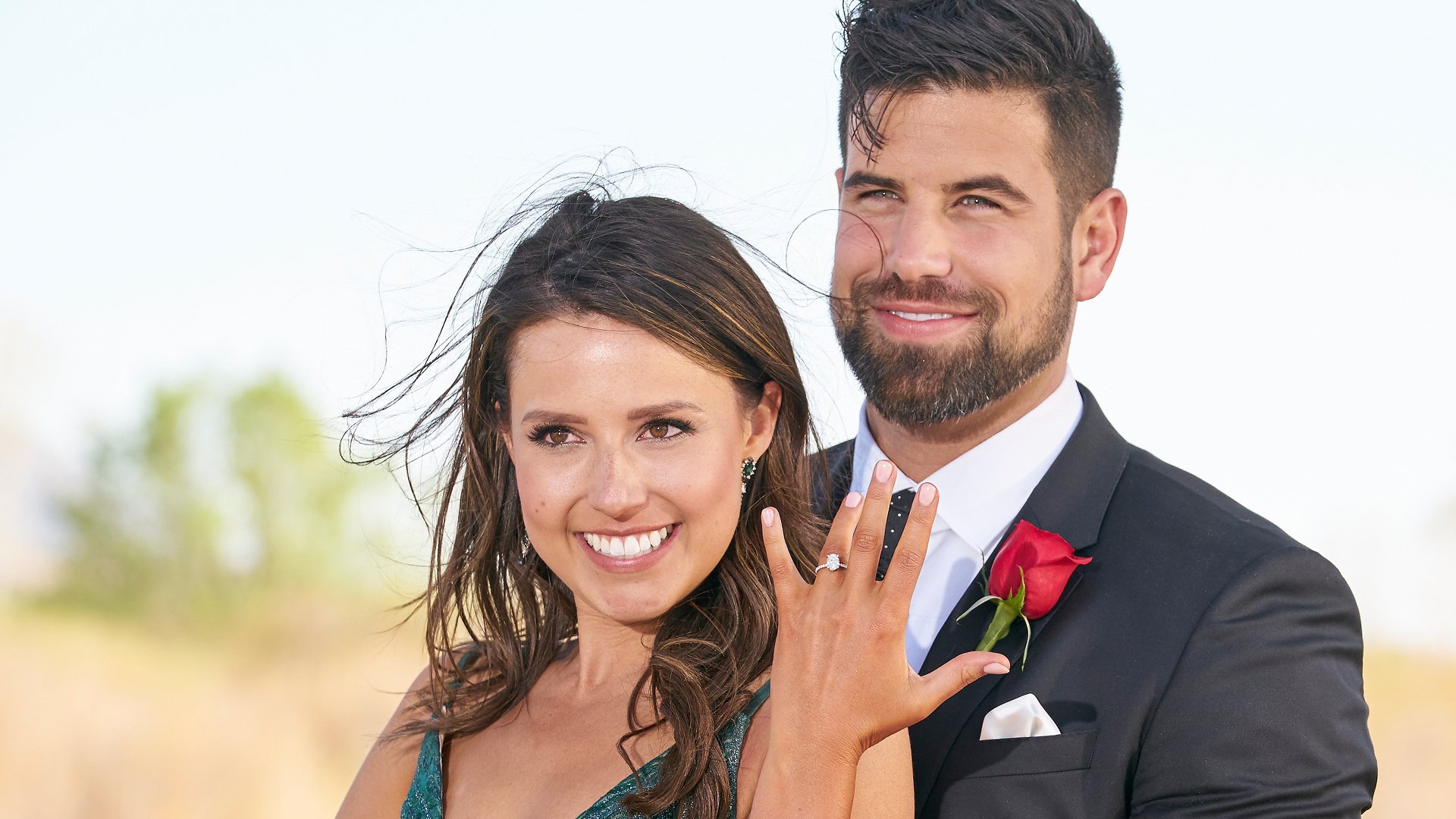 Katie chose Blake and gave him her final rose in The Bachelorette Season 17 finale. 
"I always thought you showed up late," Katie said. "But if there's anything I learned during our journey together, it's that love shows up when it wants, regardless of time, tradition, expectations. And that's why we're standing right here in this very moment. You showed up exactly when you were meant to show up. I'll forever be thankful that you fought to be here."
She continued, "The night that you said that you loved me changed my life forever because I knew in that moment, I wanted to love you for the rest of my life, you and only you. You have made me the happiest woman alive. In a world of change, I want to be your constant. I love you today, tomorrow, and forever. I can't wait for our adventure to begin."
Meanwhile, Blake gave Bachelor Nation fans quite the scare. But the contestant ended his speech with a proposal.
"I can't give you what you came here for… because you deserve a lot more than that. You deserve the world," Blake said. "I'm excited to support and be there for you every day moving forward. So that being said, Katie Lane Thurston, will you marry me?"
Then Katie accepted Blake's proposal. "Yes!" she said.
Katie Thurston and Blake Moynes confirm they're still together and engaged on Instagram
Following The Bachelorette season 17 finale, Katie and Blake went on Instagram to update fans on their engagement. Blake posted a picture of himself kissing his fiancée in the hug-jump (huju) position. Katie also showed off her stunning Neil Lane engagement ring. Blake wrote on Instagram:
"Cheers to last rose & last huju. Poppin bottles to new beginnings with @thekatiethurston! So excited to start our best f—ing life! You're a rock. My rock. A mature, nurturing, supportive & loving partner who continues to impress me everyday. We have an adventure called life ahead of us and I hope you know I'll do everything I can to help, push and encourage you to make the most of every little bit of it! I love you buggy."
The Bachelorette contestant also confirmed Katie's nickname is "Buggy." Meanwhile, Katie celebrated her new engagement as well as her fiancé's birthday, which is on Aug. 9. On Instagram, Katie wrote:
"Happy f—ing birthday honey bear! What a wild couple of months it has been. I couldn't have done this without you. I'm so ready to leave these bubbles and start living our life! I couldn't ask for a better partner. You are kind, patient, understanding, and your advocacy for the planet and animals is remarkable. I'm so lucky to call you my fiancé. My best friend. My confidant. We are just two weirdos laughing our way through life together. Cheers to the upcoming adventures!"
Blake Moynes and Katie Thurston open up about their engagement after 'The Bachelorette'
In Katie's Instagram post, The Bachelorette lead teased what's next for her relationship with Blake. The 30-year-old revealed that their "next stop" was Canada. Then Blake explained their living situation right now.
"She's going to come up to Canada first right away, and we're gonna travel around a little bit in Canada," Blake told People. "I know she's looking to potentially move to California. So we're gonna check out California and San Diego."
He continued, "From there we'll maybe have two spots. I may still hold onto my place in Canada while we potentially have a place in San Diego. So we're playing around with options. We want to really enjoy things, and I think that's choosing one."
Then when speaking on the Bachelor Happy Hour podcast, Katie revealed that she just got a place in San Diego. Then Blake suggested that he might have to just drive across the country with his animals in his truck. But whatever the couple decides, it seems Blake and Katie are just ready to enjoy their time together. 
"We gotta figure out our living situation and how that incorporates into our lives," Katie said. "Once that gets settled, we just kind of take it day by day. We know we want to get married. We're just no in a rush right now."
Bachelor in Paradise Season 7 starts Aug. 16. The Bachelorette Season 18 with Michelle Young premieres Oct. 19.