'The Bachelorette' Teased Dale Moss and Clare Crawley's Romance, Including the Moment They Met
The Bachelorette just gave fans something to talk about with the latest promo featuring Clare Crawley and Dale Moss. The ABC reality series returns with all-new episodes starting Tuesday, Oct. 13. But are Crawley and Moss a couple to root for? Everyone will have to see for themselves.
'The Bachelorette' Season 16 promo highlights the first time Dale Moss and Clare Crawley meet
On Oct. 12, The Bachelorette dropped a teaser of Crawley and Moss from night one. The moment Moss steps out of the limo, Crawley is all-smiles and romantic music starts playing in the background. 
"I'm a hugger," Moss tells Crawley. "I've got a big hug for you."
Moss goes in for the biggest bear hug. Meanwhile, Crawley, who postponed filming for four months when the coronavirus (COVID-19) pandemic shut down production, gushes over the gesture.
"I needed this. I needed this so bad," Crawley says. "You have no idea."
Then Moss gives a short but sweet introduction. "My name's Dale," he says. "I really do feel like this is gonna be special. I can't wait to see you inside."
Crawley winks at Moss and agrees with her contestant. "Thank you for the great hug. That was amazing," she says. "You're a great hugger."
The moment Moss steps away, it's clear Crawley is smitten. "I definitely felt like I just met my husband," she says. "I'm shaking."
Crawley covers her hands with her eyes. But fans can see a big smile spread across her face. 
[Spoiler alert: The Bachelorette Season 16.]
Do Clare Crawley and Dale Moss end up together after 'The Bachelorette' Season 16?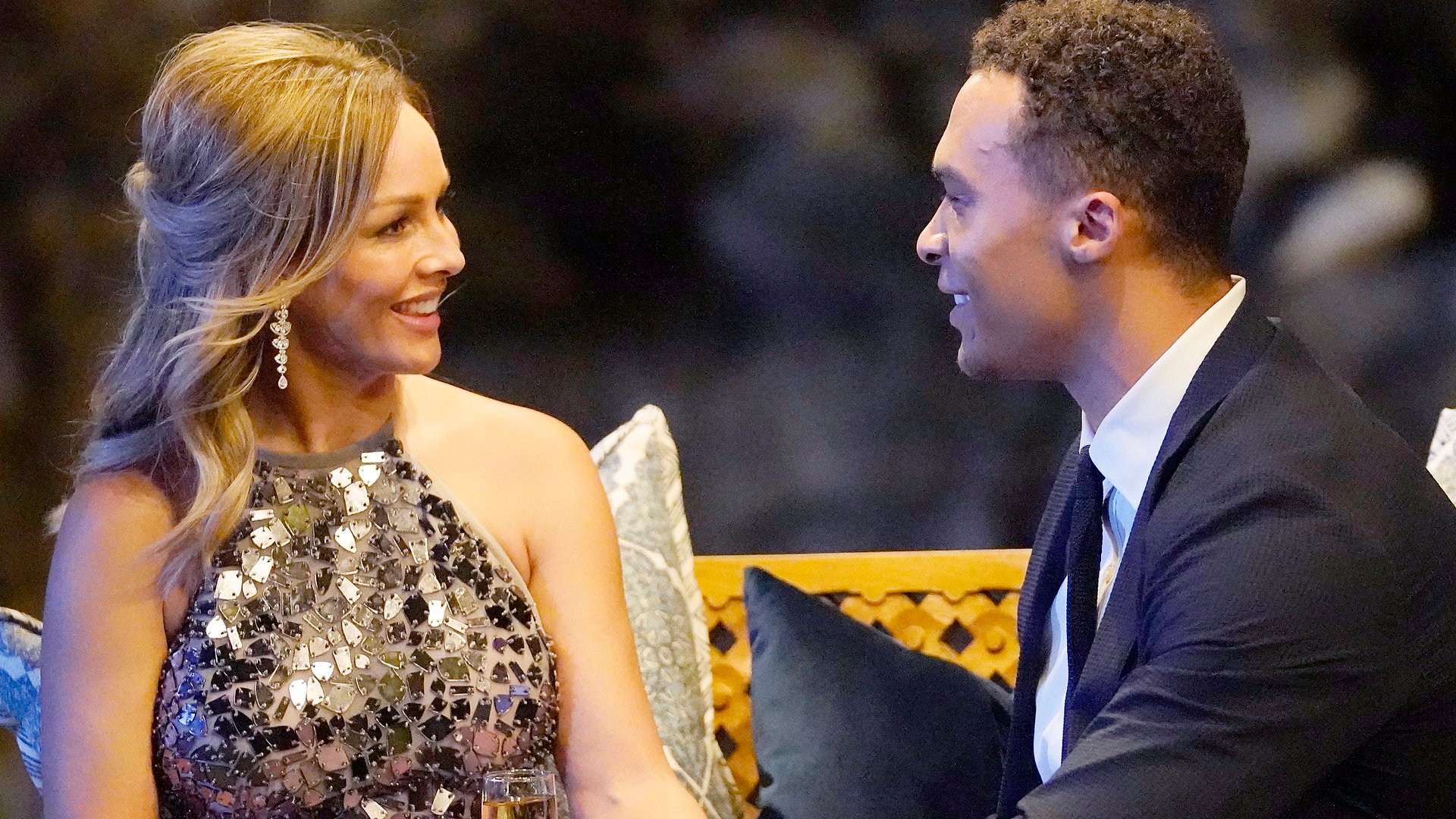 In August 2020, Crawley reportedly left The Bachelorette after falling in love with one of her contestants two weeks into filming. Then Tayshia Adams from Bachelor in Paradise Season 6 allegedly replaced Crawley as the lead. 
"The producers have told her that the season will still lead with Clare and her short-lived journey, and will show Clare falling in love with one of her suitors," a source told E! News. "Clare will then conclude her journey and announce that Tayshia is the lead."
Meanwhile, Life & Style Magazine reported Crawley fell in love with Moss and The Bachelorette stars are now engaged. Bachelor Nation spoiler king Reality Steve also claimed Crawley picked Moss. But the blogger was unable to confirm whether or not there was an engagement. 
Nevertheless, Chris Harrison has been teasing The Bachelorette Season 16 premiere for the past few weeks, and the host doesn't think spoiled fans truly know what to expect. 
"There are a lot of rumors flying around," Harrison said when he introduced The Bachelorette fans to Crawley's cast. "I just want to say right now… you may think you know everything. But you don't. It is a season you have to see to believe. And I can't wait for the season premiere."
Then more clues about Moss and Crawley were revealed when The Bachelorette released another promo during the Oct. 12 episode of Dancing with the Stars. Amidst the chaos, one contestant calls out Moss.
"It's only a matter of time before Clare realizes the truth, that Dale's maybe not who Clare thinks he is," the cast member says offscreen.
The suitors also seem to indicate that Crawley's Bachelorette journey ends sooner than expected. "I just don't know how you can be so sure so quick," a contestant says. Then a man proposes that his fellow castmates should walk out. Later, another contestant wonders whether there will be a new bachelorette involved. 
For now, Bachelor Nation fans will just have to wait and see whether Crawley and Moss end up together on the show. But whatever happens when The Bachelorette Season 16 airs on ABC, it certainly looks like it's going to be a bumpy ride. So stay tuned. New episodes kick off on Tuesday, Oct. 13.
Check out Showbiz Cheat Sheet on Facebook!