'The Bachelorette': Jason Tartick Struck by a Car While Walking His Dog
Former Bachelorette star Jason Tartick was struck by a car while walking his dog. The reality star, who recently put a ring on it with Kaitlyn Bristowe, was in a crosswalk walking one of the couple's golden retrievers when the incident occurred. He shared his story in an Instagram video posted to his official page.
What season did Jason Tartick appear on 'The Bachelorette'?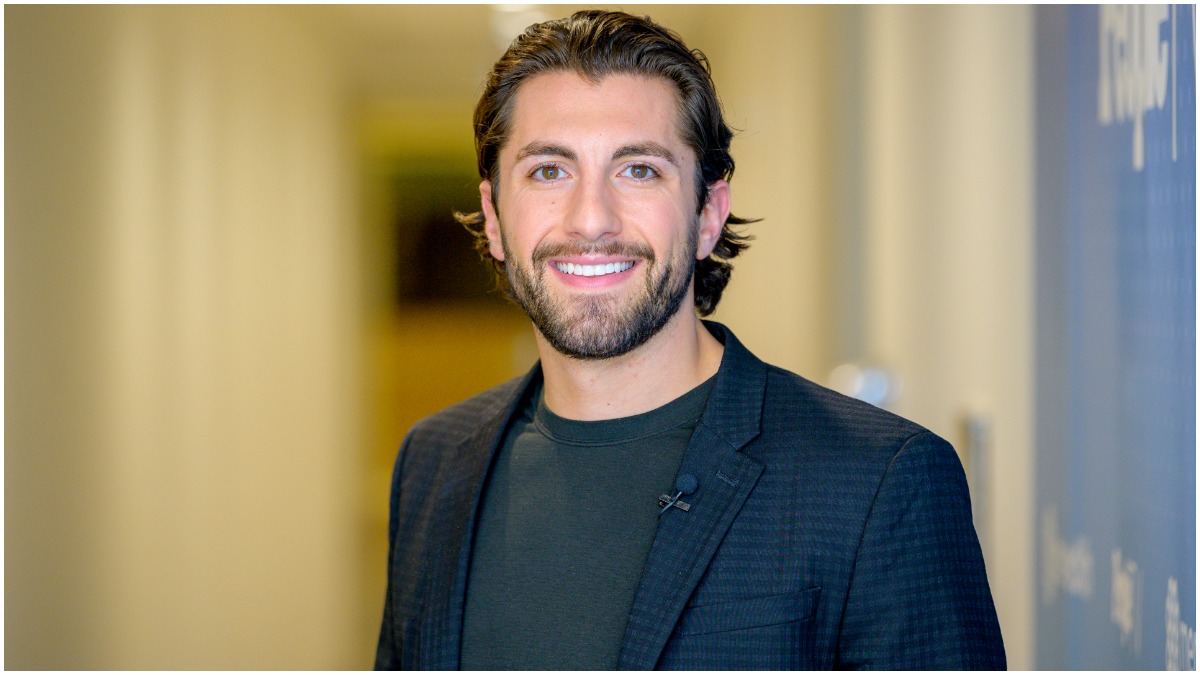 Tartick appeared on the 14th season of The Bachelorette where he attempted to find love with Becca Kufrin. He was eliminated in week 9 of the competition. Kufrin would go on to solidify her love for Garrett Yrigoyen with a ring at the end of her season.
Tartick would go on to meet when Kaitlyn Bristowe Jason appeared as a guest on her podcast, Off the Vine in January of 2019. He summoned up the courage to ask her out on a date during the taping. Tartick would go on to say of Bristowe to Entertainment Tonight, "She is a down-to-earth, beautiful woman who has a great sense of humor. She seems very strong and knows what she wants and empowers women."
The couple would seal their love with an engagement ring on May 11, 2021.
What was Jason Tartick doing when he was struck?
RELATED: Successful Couples From 'The Bachelor' Franchise Who Met Outside the Show
Tartick was visiting Bristowe on location in Minnesota where she is filming Michelle Young's season of The Bachelorette. Bristowe and Tayshia Adams are the current hosts of the reality dating series and have been in Minnesota filming since July. 
In the video, Tartick said that he was walking one of the couple's two Golden Retrievers when he was hit by a car. Bristowe was not far from her fiance, just one crosswalk ahead when the accident occurred.
The light turned red and Tartick walked across the street with Pinot. "We go to walk, and boom. The car comes flying in hot," he explained. "I don't know what angel was looking over us. I don't know, like, who was watching our backs."
Jason Tartick acted quickly to save his dog
RELATED: The Most Uncomfortable Dates in 'Bachelor' Franchise History
Tartick's quick actions saved Pinot, whom the couple rescued from a kill shelter in December of 2019. The former Bachelorette star said that he pulled Pinot back with his hand and turned his body so his backside hit the hood of the minivan that struck him.
"Fortunately, if you think about minivans, the grill is super low, lower than an actual car. And the hood kind of comes down. So, I dented the hood," Tartick said. "I'm so fortunate I was just bruised. My right leg is bruised, and my right butt is sore, but that's it," he added.
He then shared his thanks that nothing happened to Pinot. "Thank God nothing happened to this cutie. And thank God all that happened to me was a little bruise. We are lucky boys," he revealed.
Jason Tartick shared some important advice after the scary incident
The former reality star shared some important advice to anyone out and about, walking their dog or not when they are in the street.
"If you're a car driving in a city, stop at a red light. Stop. You will kill someone," he pleaded.
"If you're on a crosswalk, even if it says 'go,' keep your head on the swivel. Like, if I was texting, I'd probably be dead right now," Tartick stated. "Just because you're in a crosswalk, doesn't mean you're safe."
Tartick claimed that he did file a police report but walked away from the scene of the incident.