'The Bachelorette': Are Kaitlyn Bristowe and Jason Tartick Married or Engaged?
Kaitlyn Bristowe may not have met Jason Tartick on The Bachelorette, but the Bachelor Nation alums still managed to find their way to each other. The couple got together in early 2019 and have been inseparable ever since. But are Bristowe and Tartick engaged or married now? The reality stars have had quite the romantic journey — and it doesn't end here.
How did Kaitlyn Bristowe and Jason Tartick meet and get together?
Bristowe met Tartick in October 2018. Then a year after they connected, the former bachelorette opened up about her first impressions of Tartick. In an Instagram post, Bristowe revealed she met her current beau when she visited Seattle. She brought Tartick on her podcast, Off the Vine, along with Olivia Caridi.
"On this day last year…. I walked into a studio in Seattle to podcast with Jason and Olivia," Bristowe wrote on Oct. 13, 2019. "I almost canceled because I had been bawling my eyes out in an Uber, going through some crap, and I was crying on FaceTime to my dad when he came in. We had never met, but he hugged me, and told me he had just cried too at a charity event he came from."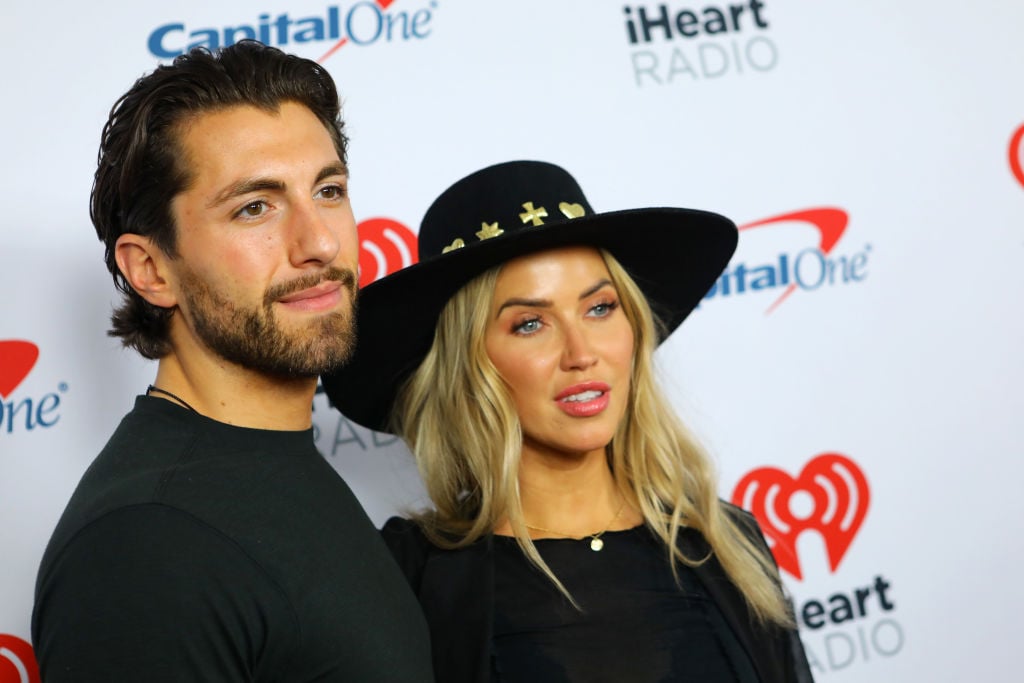 Bristowe also shared Tartick was able to lift her spirits. "If you spend two seconds with Jason you realize his energy is electric and you can't help but be in a good mood. My day had changed," Bristowe wrote. "I didn't know what was going to happen."
But even so, Bristowe admitted she only thought of Tartick as a friend at the time. She also wanted him to become the next bachelor, which ended up going to Colton Underwood. "He actually helped me through a hard time," Bristowe wrote. "I just wanted him to be happy."
Meanwhile, in a 9 to Wine episode detailing the timeline of their relationship, Tartick instantly felt like there were sparks. The former banker reminisced about calling his friend after meeting Bristowe. Tartick also told his friend he thought he just met his wife. 
"I think I'm in love," Tartick said. "I don't know what's going on, but something going on there."
When did Kaitlyn Bristowe and Jason Tartick start dating?
In the same 9 to Wine episode, Bristowe and Tartick also shared how they started dating. After recording the podcast together, they continued staying in contact. However, Tartick lived in Seattle and Bristowe resided in Nashville. 
Even so, both parties realized they would be sad if they dated anyone else. Then in January 2019, the couple decided to give their relationship a shot.
"It kind of snowballed from there," Bristowe said. "And then we were both going to be in Denver at the same time in January. So we said, 'Let's go on a date then.'"
Six months after their first date in Denver, Bristowe and Tartick realized they couldn't do long distance anymore. So Tartick left Seattle to be with Bristowe in Nashville.
"We just started our life together," Bristowe said. "We started doing renovations around the house, we rescued two dogs that are the joys of our lives."
When will Kaitlyn Bristowe and Jason Tartick get married or engaged?
Now, Bristowe and Tartick are neither married nor engaged. However, they've been discussing their future together for some time now. Back when Bristowe and Tartick moved in together in July 2019, the couple agreed they wanted to get engaged soon. 
"I just think on the path that we're on, it would make sense that this is the next step," Bristowe told E! News at the time. "And moving in, we have the confidence in our relationship. We just rescued a dog together so that just feels like the next step in our relationship."
Then in January 2020, Tartick told Us Weekly he has discussed marriage with Bristowe. "The next sequence for us is that step, so it's exciting times," he said, adding "there could be" an engagement within the year. 
Nevertheless, the world had a few other plans. As you know, the coronavirus (COVID-19) pandemic continues to impact our world. Meanwhile, in an interview with Bristowe published in May 2020, the Bachelor Nation alum shared she doesn't want to get engaged during the quarantine.
"I told him I don't want to [have a] quarantine engagement," Bristowe told Us Weekly. "[I want] a little more romance than just at the house."
So how will Tartick propose to Bristowe? Some fans have been wondering whether the couple will get engaged on The Bachelor: The Greatest Seasons — Ever! But when Bristowe hopped on The Speidi Podcast, she confirmed there was no proposal when they virtually reunited with host Chris Harrison. 
"I thought he was proposing last night," Bristowe said. "We were doing that interview with Harrison and Harrison told me something really funny and exciting … And I look over at Jason and I'm like, 'Are you proposing?'"
Then Bristowe checked if there was an engagement ring in her boyfriend's pocket. But no dice. "We're in that place, where I'm like, 'Any day,'" Bristowe said. 
Check out Showbiz Cheat Sheet on Facebook!