'The Bachelorette': Katie Thurston Wants Andrew Spencer to Be the Next Bachelor
The Bachelorette Season 17 is coming to an end, which means many fans are wondering who will be the next bachelor for 2022. Then recently, Katie Thurston hinted that she wants to see Andrew Spencer as The Bachelor Season 26 lead — here's what she said.
What happened to Andrew Spencer and Katie Thurston in 'The Bachelorette' 2021?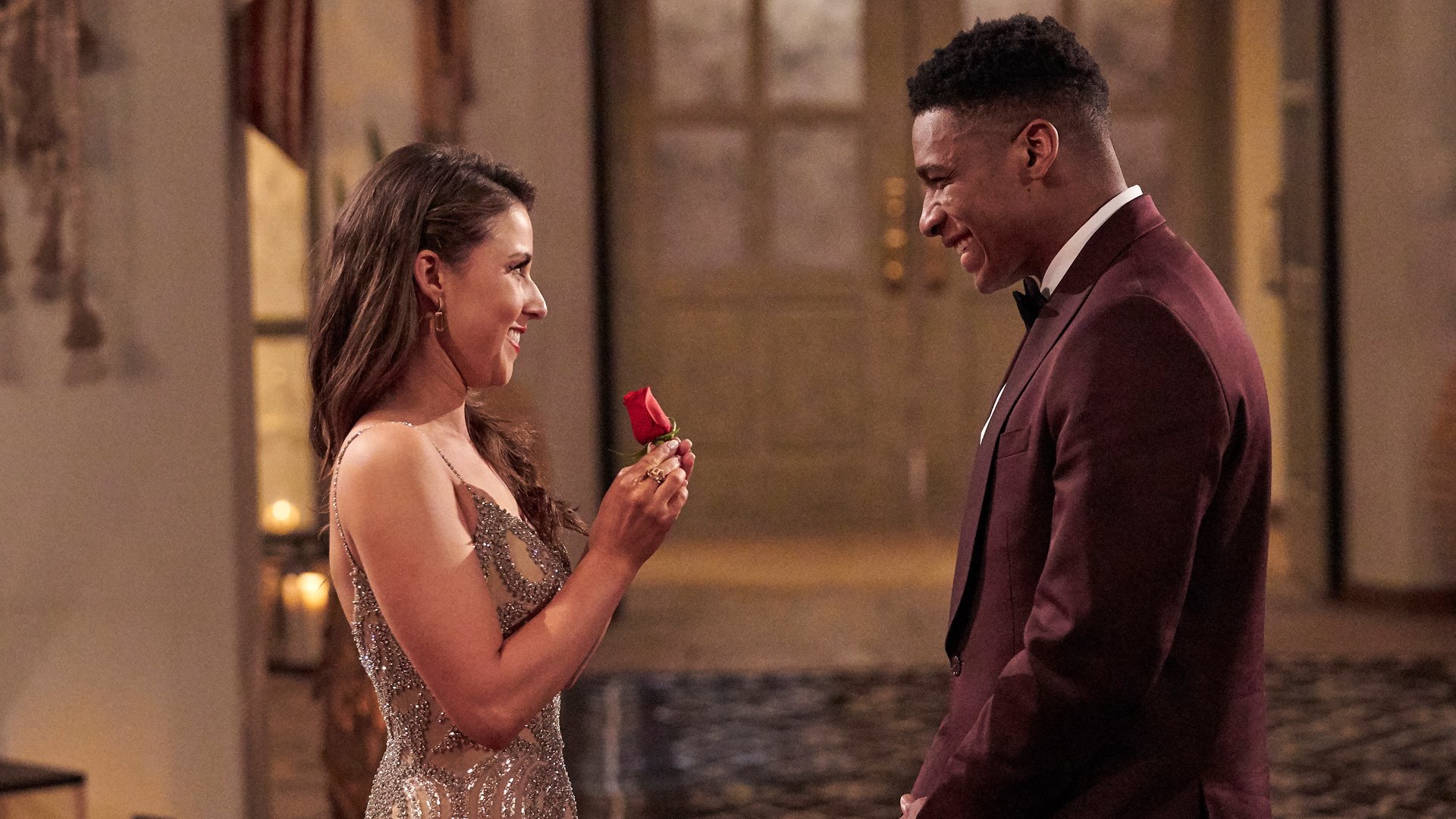 RELATED: 'The Bachelorette': Katie Thurston Says 'Men Tell All' Gave Her 'Closure' Before the End of Her Journey
Andrew and Katie hit it off in The Bachelorette Season 17. The 26-year-old pro football player quickly charmed his way into Bachelor Nation's heart. However, it wasn't meant to be.
In week 7 of The Bachelorette, Katie decided to eliminate Andrew during the final four rose ceremony. That said, some viewers were hoping Katie and Andrew would get back together after the lead chased after the contestant. However, Andrew turned her down, and the couple said goodbye.
"I want my future wife to choose me, and you know, I wasn't chosen. So I had to say no," Andrew said. "I don't want to go through this with her again. I don't wanna be standing at a rose ceremony waiting for her to not choose me again."
Katie Thurston says Andrew Spencer has her 'vote' to become the next bachelor
RELATED: 'The Bachelorette': Will Greg Grippo Become the Next Villain of Katie Thurston's Season?
Following Andrew's exit from The Bachelorette Season 17, Bachelor Nation had a few mixed feelings. Many viewers wanted to see Andrew as the next bachelor. But many fans were also concerned about the contestant's problematic tweets, which have yet to be addressed.
Meanwhile, Katie went on Off the Vine and opened up about her thoughts on Andrew as the next Bachelor lead for 2022. But ultimately, it seems she's hoping he'll get the role.
"It was no surprise that once he did get sent home, that Twitter and Bachelor Nation blew up rooting for him to become the next bachelor," Katie said of Andrew. "I don't know who the next bachelor is yet. I don't think the show knows. He does have my vote. I am rooting for him for sure."
She continued, "But I think it's just such a huge statement for him to be like, 'I will give up my dream to pursue my other dream, which is starting a family, settling down, finding my wife.'"
What Andrew Spencer said about Katie Thurston at 'The Bachelorette: Men Tell All'
RELATED: 'The Bachelorette' Season 18 Premiere: Michelle Young's Next Adventure Starts in 2021
Whether Andrew is in the running to become the new bachelor lead for 2022, it seems the reality star still has Katie on his mind. When speaking with Good Morning America after the "Men Tell All," Andrew revealed that he'd be "chatting [Katie] up" if he didn't think she was engaged. He also noted that the bachelorette was "glowing" during the cast reunion.
"She's glowing right now. I'm a little jealous," Andrew said. "I'm like, 'What's making you glow so much?' So you know, it's tough to see. But I'm super happy for her."
That said, it seems Andrew got some closure during The Bachelorette Season 17 "Men Tell All."
"I definitely feel like I got the closure I needed," Andrew said. "But it doesn't mean it's going to get any better. I think once you go across that one point, it's forever in your head. It's forever a thought."
The Bachelorette Season 17 airs Monday nights on ABC.