'The Bachelorette': Katie Thurston Reveals What She 'Loved' About Greg Grippo
'The Bachelorette' Season 17 star Katie Thurston opens up about Greg Grippo and why the cast member won the first impression rose. Plus, her hopes for their relationship and what's next in episode 2.
In The Bachelorette Season 17 premiere on June 7, many fans instantly saw a connection between Greg Grippo and Katie Thurston. The contestant won the impression rose and popped up multiple times in the season preview. So how does Katie really feel about Greg now that The Bachelorette is done filming? The new lead recently opened up about the relationship.
Greg Grippo won Katie Thurston's first impression rose in 'The Bachelorette' Season 17 premiere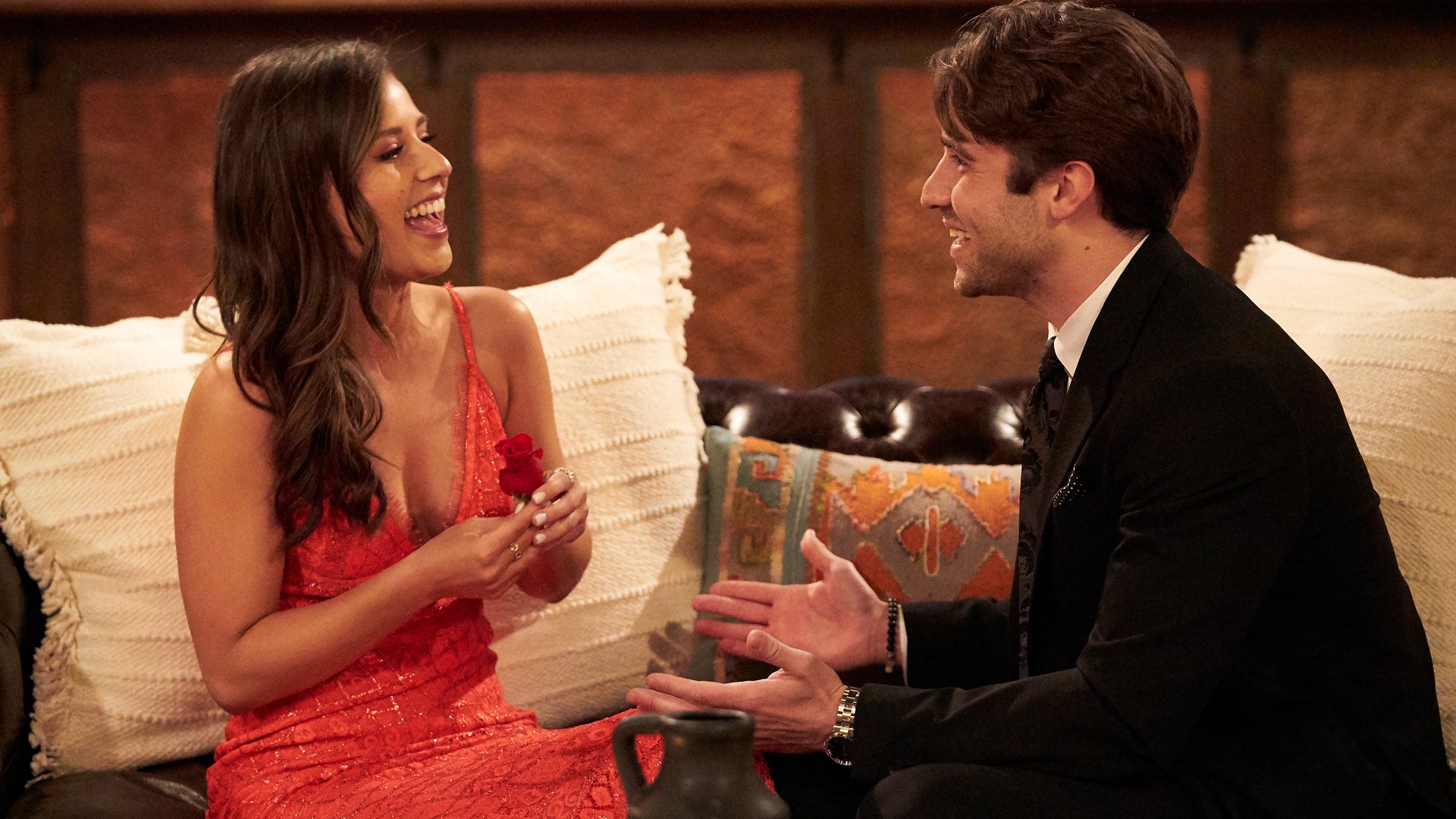 Throughout The Bachelorette Season 17 premiere, fans watched Katie connect with multiple men and it was clear the lead had more than one frontrunner. But in the end, Katie gave her first impression rose to Greg.
"I appreciate you opening up," Katie told Greg. "I know you're nervous. But I do feel there's something there. Once we can get past those nerves, I think there's a great guy under there."
Greg replied, "I really, truly feel like there's a connection between us."
Meanwhile, the contestant gushed over his big win with Bachelorette producers. 
"I can't believe I got this," Greg said and laughed. "I cannot wait to spend more time with her. I'm so in it. Oh my god. Let's do it."
Katie Thurston opens up about her connection with Greg Grippo from 'The Bachelorette' 2021
Following The Bachelorette premiere, Katie spoke with Us Weekly and opened up about Greg, revealing why he received her first impression rose on night one.
"What I loved about Greg is he was just true to himself, which was this very nervous, very uncomfortable, guy," Katie said. "He didn't try to act cool or be this guy that he's not. He was just like, 'This is me, and I'm really freaking scared.'"
She continued, "I thought it was really endearing. I could tell as long as he opened up, there was something more there. So I thought giving him the first impression would give him that validation of, 'I'm into you. Let's figure this out.'"
Then in an interview with ABC News, Katie revealed what she hopes to see from Greg as The Bachelorette continues.
"I just loved that he was being himself and owning that," Katie said. "Hopefully, I can see him let his guard down a little bit."
[Spoiler alert: This article contains spoilers from The Bachelorette Season 17 Week 2.]
What's next for Katie and Greg in 'The Bachelorette' Season 17 Episode 2?
For now, Bachelor Nation will have to wait and see what happens to Greg and Katie in The Bachelorette Season 17. But it seems the ABC reality series will give the contestant a chance to let his guard down in week 2. 
According to the synopsis for The Bachelorette Season 17 Episode 2, Katie will take a cast member on a special one-on-one camping date. Then a preview confirmed the contestant is Greg.
In the promo, Katie and Greg drive away from the resort for their date. The reality stars bond over their love for the outdoors. Then they begin to wonder what's next for their relationship.
"The exciting part about it is just knowing I see potential in you," Katie said. "I think that's why you're here. That's why not only did you get the first impression rose, you get the first one-on-one date."
Greg said Katie made him feel "special." Then the new bachelorette gushed over her early frontrunner.
"Greg is just so easy to be around," Katie said. "I feel like we're dating. I feel like I know him."
Clearly, Greg and Katie are already hitting it off on The Bachelorette. But whatever happens next, we know it's going to be one to watch. So stay tuned.
The Bachelorette Season 17 airs Monday nights on ABC.