'The Bachelorette': Katie Thurston Reveals Why She Didn't Quit the Show
Following The Bachelorette Season 17 premiere, many Bachelor Nation fans were shocked when they watched Katie Thurston trying to leave the show in a new preview. Of course, the moment could turn the lead's journey into the most dramatic season yet. But recently, Katie revealed she didn't quit The Bachelorette — here's why.
'The Bachelorette' Season 17 teasers hint Katie Thurston will want to leave the show
RELATED: The Bachelorette Katie Thurston Says Her Cast Is 'Fair Game' on 'Bachelor in Paradise' Season 7
The Bachelorette Season 17 promo trailer highlighted major moments from Katie's season. As always, the preview started with some romance. But then it ended with a whole lot of drama, including Katie's possible exit.
Midway through The Bachelorette teaser, Katie questioned her time on the ABC reality series.
"I came here to fall in love," she said in a voiceover. "Do I continue here or do I just leave now?"
Then Katie seemingly threatened to leave The Bachelorette as she walked away from the cameras in tears.
"I am done, I am done, I am done," Katie said. "Someone book my f*cking flight home."
Katie Thurston says Kaitlyn Bristowe and Tayshia Adams are the reason why she didn't quit 'The Bachelorette'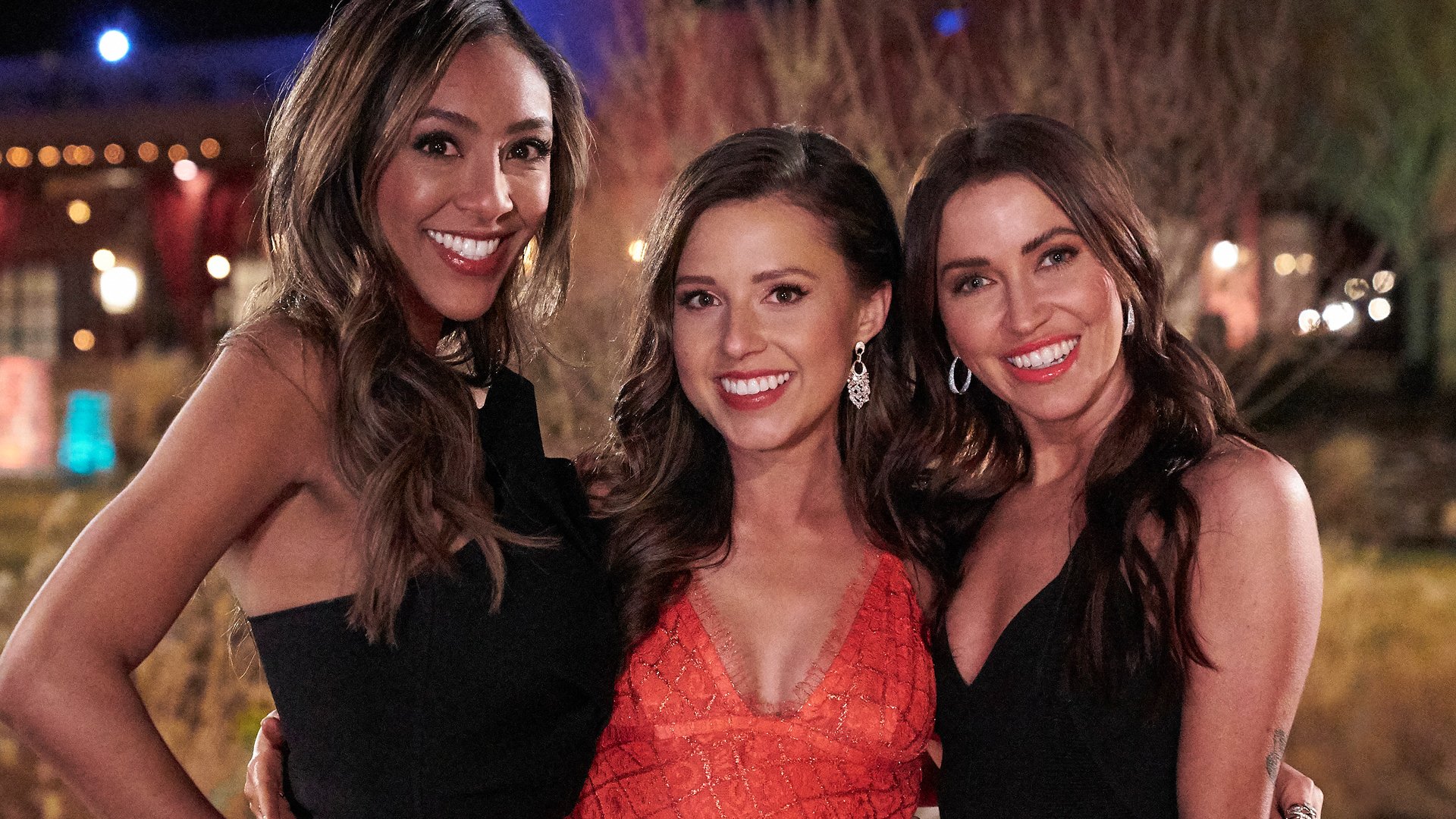 RELATED: 'The Bachelorette': Katie Thurston Reveals What She 'Loved' About Greg Grippo
When speaking to Us Weekly about The Bachelorette Season 17, Katie opened up about the moment in the preview and potentially leaving the show. 
"At that moment, I was at my lowest and really wanted to leave," Katie said.
The lead also revealed that she would have left filming if not for co-hosts Tayshia Adams and Kaitlyn Bristowe.
"If it wasn't for the amazing women who have been bachelorettes before helping me navigate that, I probably would have," Katie said. "And so, I'm so thankful for all of them."
Meanwhile, Katie shared she "couldn't have done" The Bachelorette without Tayshia and Kaitlyn in an interview with ABC10's Your California Life. Then when speaking to Variety, the current lead shared how much of an impact the former bachelorettes made on her journey.
"Having Tayshia and Kaitlyn there was so helpful because otherwise, I'm just learning as I go," Katie said. "They became like sisters throughout the whole thing."
She continued, "At my lowest lows and highest highs, they were there celebrating with me, wiping my tears, hugging me, and just really offering advice that helped me make it through to the end because it's not an easy journey when you're trying to fall in love and you have these great men there in front of you."
Tayshia Adams and Kaitlyn Bristowe react to Katie Thurston's comments
RELATED: 'The Bachelorette': Who Did Katie Thurston Pick as Her Winner? Reality Steve's 2021 Spoilers Reveal How the Journey Ends
For now, Bachelor Nation fans will have to watch Katie's dramatic journey unfold in The Bachelorette Season 17. But when speaking with former bachelorette Rachel Lindsay on Extra, Tayshia and Kaitlyn delved deeper into the advice they gave the new lead.
"I think it was just nice for her to know that we all felt that same way at some point through our seasons," Bristowe said. "It's really hard. You're drained in every way possible. We know. But we're here to support you, you're gonna have these days, ups and downs, but you gotta get through it."
She later added, "We just had to reassure her through the whole season that all of her feelings were valid."
Then Tayshia echoed her Bachelorette co-host. "I think the fact that we've both been able to say we've both been there, I think she took that to heart," she said, adding that their advice allowed Katie to "recommit" herself to the process.
While Katie might have wanted to leave The Bachelorette at some point, we're excited to see Tayshia and Kaitlyn reel her back in and continue her love story. So stay tuned.
ABC releases new episodes of The Bachelorette Season 17 on Monday nights.