'The Bachelorette' Men Tell All: Katie Thurston's Cast Reunion Will Include 'Bromance' and 'Important Conversations'
Katie Thurston's season of The Bachelorette is headed toward Hometowns, but the show's schedule is taking a brief detour for "Men Tell All" on July 26. So what can Bachelor Nation fans expect from the cast reunion in 2021? Katie, Tayshia Adams, Kaitlyn Bristowe, and Tre Cooper teased what's coming up next in The Bachelorette "Men Tell All" special episode — and basically, viewers should get ready for some major bromance and drama.
When does Katie Thurston's 'Bachelorette' Season 17 'Men Tell All' special start?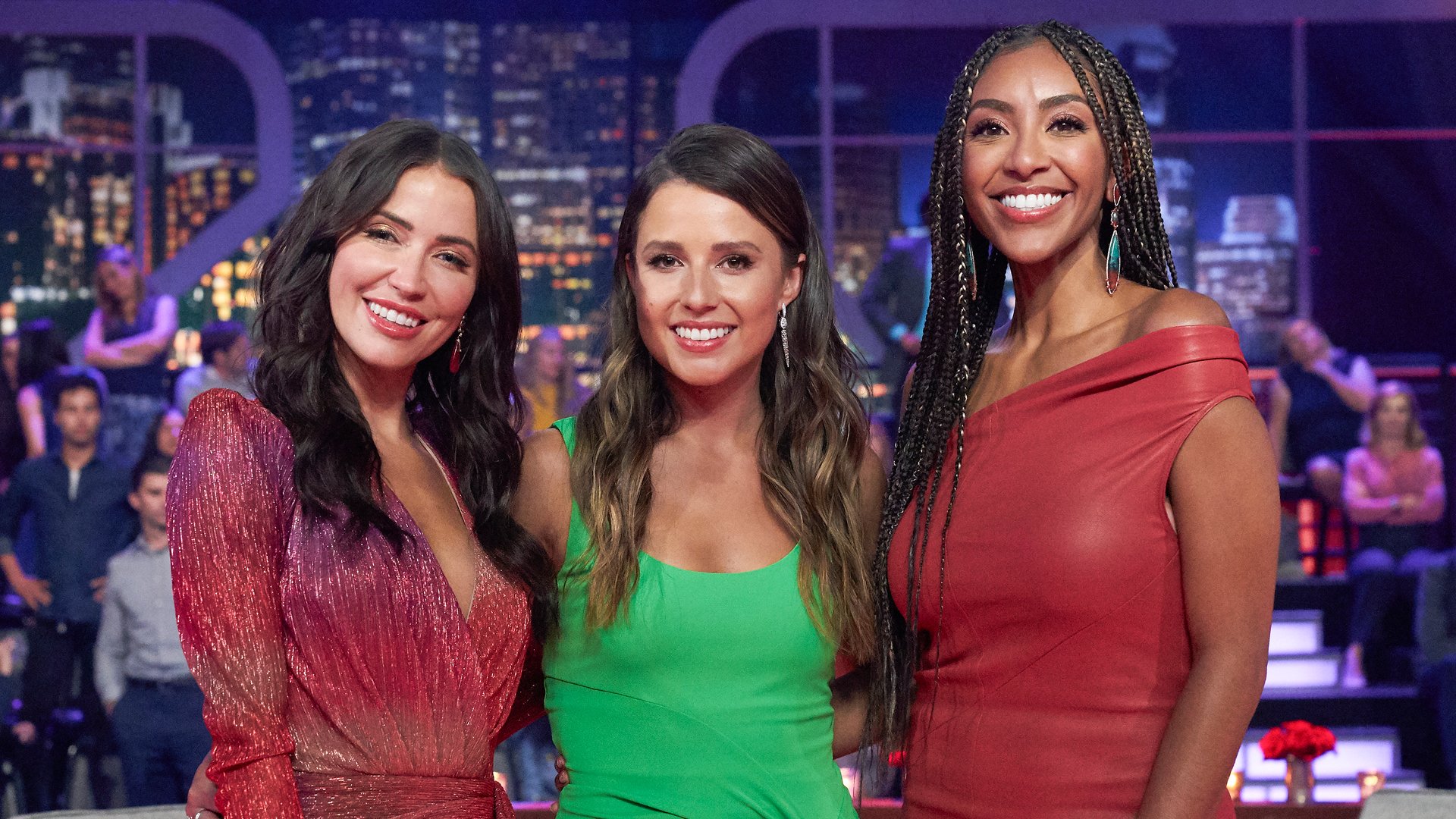 The Bachelorette Season 17 "Men Tell All" special will air on Monday, July 26, 2021. The new episode will start at 8 p.m. ET and end at 10 p.m. ET. That said, Katie's next chapter will continue with week 8 before the cast reunion begins.
According to ABC, Katie will speak to one person from her final four, which includes Michael Allio, Justin Glaze, Greg Grippo, and Blake Moynes. However, the conversation will lead "to a heartbreakingly honest with Katie." Then it seems The Bachelorette Week 8 episode will lead into the "Men Tell All" sometime after the emotional chat.
Tre Cooper on his hopes for the 'Men Tell All' episode of 'The Bachelorette' 2021
For now, Bachelorette fans will just have to watch what happens at Katie's "Men Tell All." But Tre recently teased what he expects at the reunion special when speaking on the Bachelor Happy Hour podcast. And while it's clear the cast will have some drama to hash out, Tre is hopeful friendship will prevail. 
"On one hand, you're going to have a bit of a bromance, a little bit of that 'good to see you guys again' type of vibe," Tre said. "And then you're going to have… it's been a while since some of us have had that resolution to tension. Last time some of us saw each other wasn't necessarily on great terms." 
He added, "You're also going to have, hopefully, an amicable resolution to some issues. … You're probably going to see some arguments, and you'll see some laughs. I think, overall, I hope that there'll be more laughs than anything. We love each other, and that's not a secret. So I hope that with these resolutions of these arguments, we can come to a place of friendship at the end."
Tre also wondered whether The Bachelorette cast will have the floor to speak about their eliminations, pointing out Connor Brennan's emotional exit.
"I think you're going to get some important conversations that need to be had," Tre said. "You're gonna hopefully see some guys open up a little bit more about how they felt about their exits. I know Connor B., his exit hit us hard."
Tayshia Adams, Katie Thurston, and Kaitlyn Bristowe on 'Men Tell All' 2021
Now, Tre isn't the only Bachelorette star who has teased the "Men Tell All" episode. In the above interview with Bachelor Happy Hour, Tayshia noted that there are still questions to be answered during the cast reunion.
"I'm really interested to see what goes down," Tayshia said. "There are so many conversations I feel like we still need a little bit more information on. There were some tiffs between you guys that need to be worked out a little bit."
Meanwhile, Kaitlyn and Katie discussed the "Men Tell All" on Off the Vine. Katie revealed she didn't watch the men hash out the drama while filming the reunion. However, she heard there were some "surprises" during the segment.
"A lot of surprises happened as well, both good and bad," Katie said. "So I'm very excited to watch it back."
Kaitlyn also teased the surprises at the "Men Tell All."
"I can't wait," she said. "It was really a rollercoaster. That was probably the most craziest MTA that I've ever experienced, not just because I was there. Just because of stuff that went down. I'm excited for everyone to watch. … It's going to be crazy."
The Bachelorette Season 17 airs Monday nights on ABC.