'The Bachelorette': Nayte Olukoya and Michelle Young Shared More Firsts on Night 1 Than You Think
Many Bachelorette fans weren't surprised when Nayte Olukoya won Michelle Young's first impression rose on night one. But that's not the only "first" the two shared in the premiere. So here's a breakdown of every "first" between Michelle and Nayte, including one that never aired in the first episode of The Bachelorette Season 18.
Nayte Olukoya wins Michelle Young's first impression rose in 'The Bachelorette' premiere
As mentioned, Nayte was Michelle's first impression rose winner in The Bachelorette Season 18 premiere. The two shared an instant spark, and Nayte shared that it wasn't easy for him to be vulnerable. So when the contestant was able to open up with Michelle, the lead was impressed. 
"Nayte struggles with being vulnerable, but a wall came down," Michelle said. "For me, that's all I needed to see. I feel what I came here to feel."
Nayte Olukoya was the first man out of the limo on Michelle Young's season
Technically, Joe Coleman was the first one to talk to Michelle because they exchanged a few DMs on social media, but Nayte was the first one to meet her on The Bachelorette. If you weren't paying close attention to the limo entrances, you might've missed that Nayte was actually the first one to arrive. He had a simple arrival, and he made Michelle laugh with a dad joke. 
Meanwhile, Nayte was the first of Michelle's contestants to go on Bachelor Happy Hour, and he shared that he wasn't originally going to meet the lead first. But everything sort of fell into place at the last minute. He said:
"So we're in the limo with four other guys. We came to the conclusion that this is the first limo. … It's a little nerve-wracking, but it's exciting. The way that we were sitting, I would've been third up. So I was like, 'Good, I get to watch these first two guys go. … Maybe I can calm down the nerves.' I swear, I was shaking. And then last minute, we get rearranged, and I'm like, 'Oh god. This is nerve-wracking.' So I get out, quickly adjust myself. I'm looking at Michelle, and I just remember blacking out."
Nayte Olukoya was the first one to swoop in after the drama with Ryan Fox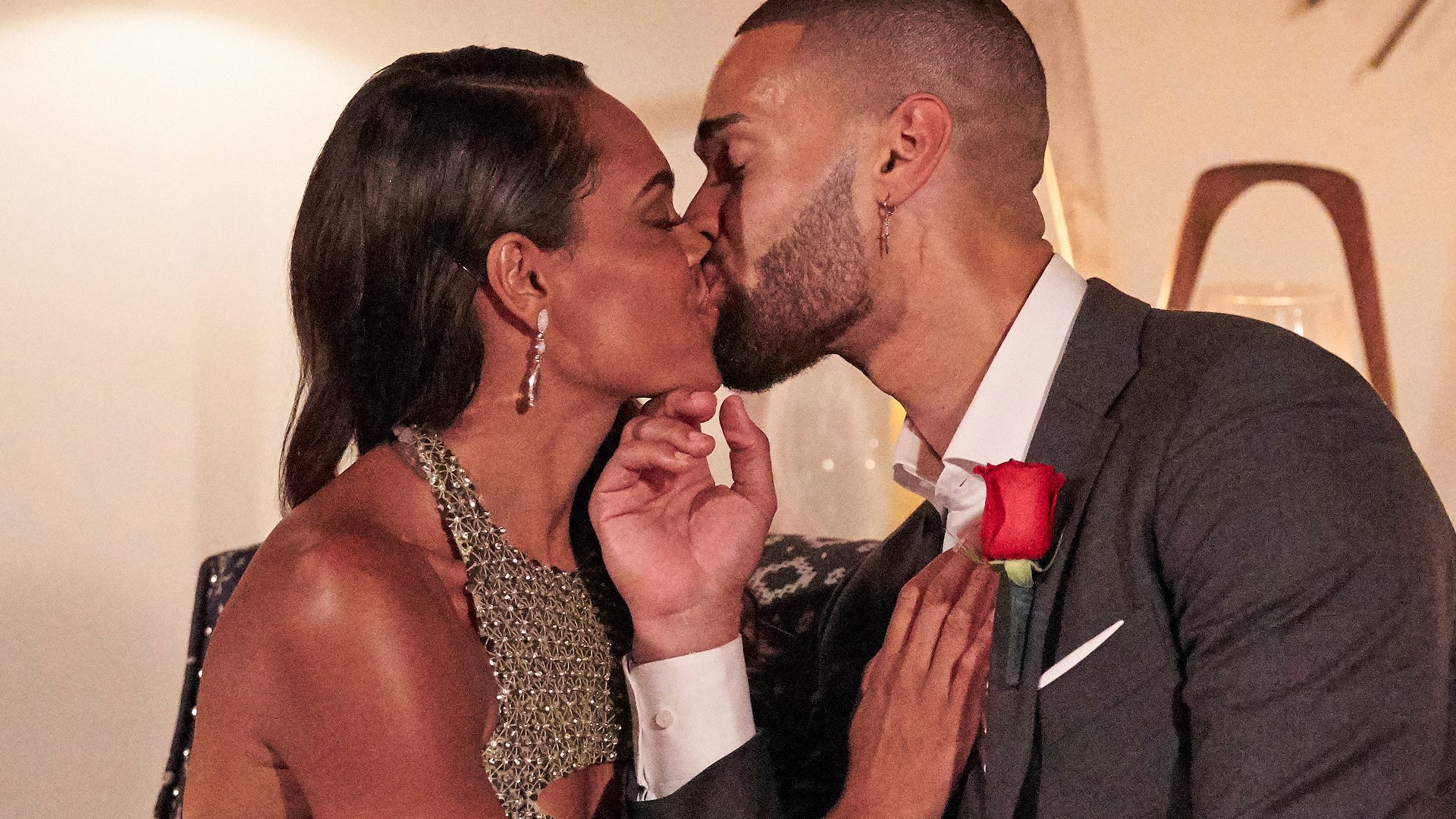 While it seems Nayte was filled with nerves when he met Michelle in The Bachelorette premiere, he definitely stepped up to the plate. Midway through the episode, Michelle found out Ryan Fox had a playbook to get through the ABC reality series. 
In the end, Michelle eliminated the contestant, but the moment brought up the fear that the cast wasn't there for the right reasons. Michelle also shared her feelings with her remaining contestants, and the bachelorette suggested that she just wanted to proceed with the evening. Then Nayte swooped in and pulled Michelle out for some alone time, and he quickly shifted the tone and brought some joy back into the episode.
Nayte Olukoya was Michelle Young's first kiss in 'The Bachelorette' 2021
When speaking on the Bachelor Happy Hour podcast, host Becca Kufrin asked Nayte whether he received Michelle's first kiss in The Bachelorette Season 18. Then Nayte coyly confirmed. "I did," he said.
Now, the scene didn't air on the ABC reality series. But Nayte shared how he felt in the moment, revealing that Michelle caught him "off guard."
"She kissed me and you see that genuine reaction," he said. "I was like, 'I was not expecting that, but boy, am I happy.' … I joked with her, like, 'You just opened up a can of worms because every time I see you now, I'm gonna wanna kiss you.'"
Although Michelle and Nayte shared a lot of firsts in night one of The Bachelorette Season 18, we don't know how their story ends on the show. But it certainly seems like the two have a solid early connection. So stay tuned. 
The Bachelorette Season 18 airs Tuesdays on ABC.