'The Bachelorette' Premiere Spoilers: Who Wins Michelle Young's First Impression Rose and More Teased By New Promos
The Bachelorette Season 18 with Michelle Young hasn't even aired yet, and ABC already teased a number of spoilers surrounding the premiere. Ahead of the new episode on Oct. 19, the network dropped multiple teasers filled with clues. So here are a few Bachelorette premiere spoilers, including who wins Michelle's first impression rose, who she talked to before the show, and who might not be going home on night one.
[Spoiler alert: This article contains potential spoilers about Michelle Young's Bachelorette premiere.]
'The Bachelorette' seemingly spoils who wins Michelle Young's first impression rose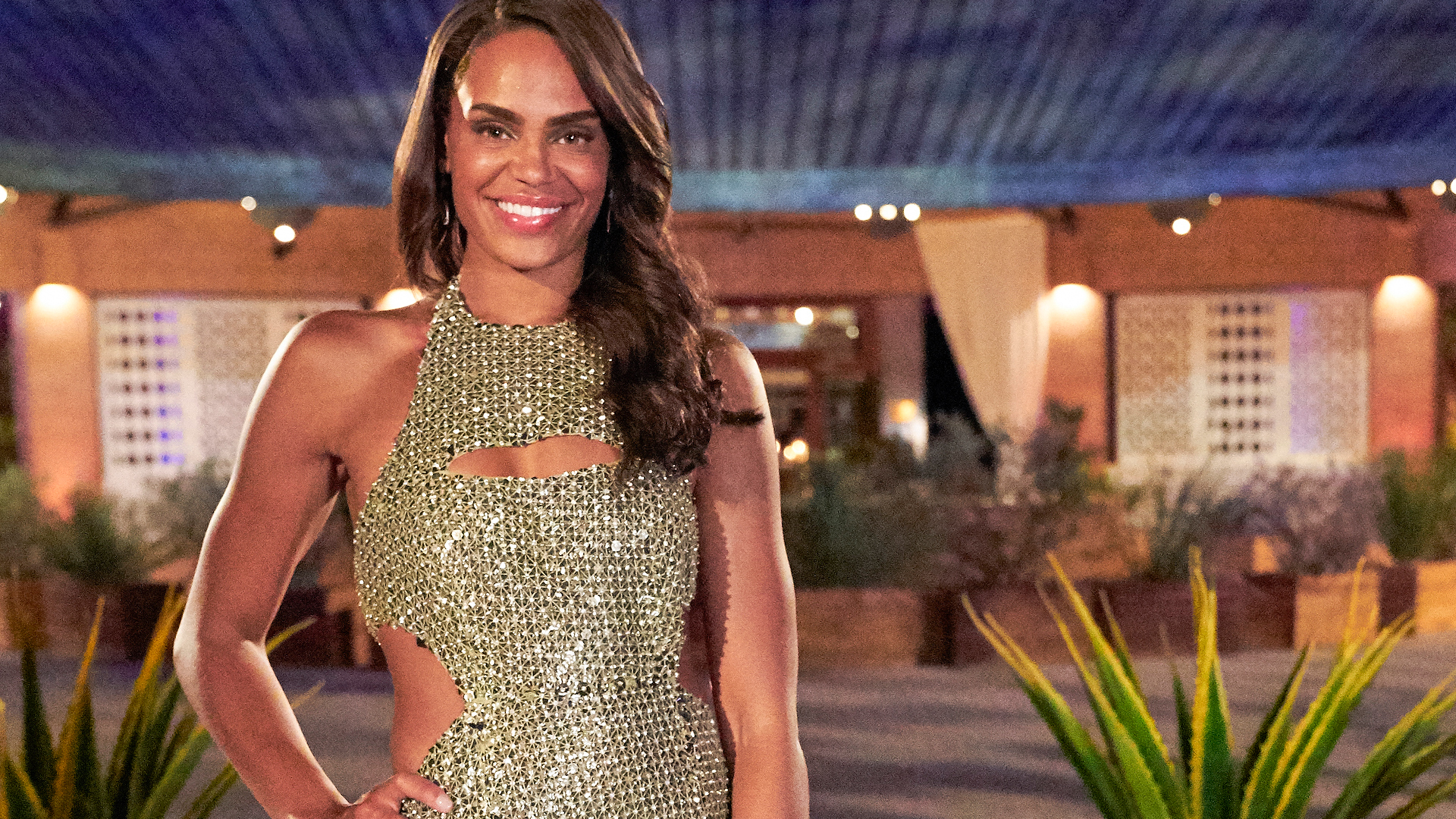 For weeks, many Bachelorette fans have been wondering who wins Michelle's first impression rose in the premiere. Then on Oct. 18, Entertainment Weekly published the first cast photo from the first night, and only one man has a rose attached to his suit jacket. So now, it seems Nayte Olukoya receives the honor of receiving Michelle's first impression rose.
Meanwhile, Bachelor Nation blogger Reality Steve commented on The Bachelorette spoiler about Nayte and Michelle on Twitter. The franchise spoiler king wrote:
For those who've asked for the last month who got Michelle's first impression rose, the group photo gives it away. Only one guy has the rose on his lapel and this photo is always taken towards the end of night 1. Thanks ABC!
'The Bachelorette' confirms Michelle Young knew Joe Coleman before the show
When ABC dropped The Bachelorette Season 18 preview, the reality series hinted that the men weren't happy about Michelle potentially connecting with a contestant before the show. Then in a new premiere clip published on Twitter, the reality series seemingly confirmed Michelle knew cast member Joe Coleman before filming.
The Bachelorette premiere teaser shows Michelle hugging Joe, and the lead says her suitor looks "really familiar." At first, the contestant notes that he's also from Minnesota. Then Michele asks him whether they've met before. The contestant doesn't respond directly, slyly telling the lead to see what happens next. But then Michelle hits the nail on the head. 
"Have I slid into your DMs?" Michelle says. "Is your last name Coleman?"
Then Joe confirms, and Michelle gasps. A true shocker, indeed.
Who doesn't go home in 'The Bachelorette' premiere
As always, Bachelor Nation fans will have to watch who goes home in Michelle's Bachelorette premiere. But a few teasers have seemingly spoiled who won't get eliminated on night one. 
In a new promo on Twitter ahead of The Bachelorette premiere, Will Urena, Peter Izzo, PJ Henderson, Romeo Alexander, Rick Leach, Olumide "Olu" Inajide, Brandon Jones, and LT Murray IV are shown together partaking in a classroom group date. Brandon J. is also seen receiving a rose from Michelle in her night one dress.
Meanwhile, Will, Peter, and Nayte are spotted later in the preview, clapping in casual clothing. It's likely they're also on another group date. Then Michelle seems to go on one-on-one dates with Clayton Echard and Rick Leach. The new bachelorette is also spotted in casual attire next to Mollique Johnson and Jamie Skaar before the promo ends.
Michelle's season of The Bachelorette will begin soon, and it looks like ABC isn't being shy about sharing clues with fans. So stay tuned for more updates. This one's going to be a fun ride.
The Bachelorette Season 18 premiere date is Tuesday, Oct. 19, 2021.