'The Bachelorette' Spoilers: New Promo Hints Jamie Skaar and Michelle Young's Date Doesn't End Well in Week 2
Many Bachelorette fans were buzzing about Jamie Skaar and Michelle Young in the season 18 premiere. Now, it looks like the contestant will receive the first one-on-one date. But the ABC reality series dropped a new promo, and it looks like Michelle and Jamie's outing together doesn't necessarily end well in The Bachelorette Season 17 Episode 2. So what can Bachelor Nation viewers expect this week? Here's what we know so far.
[Spoiler alert: This article contains spoilers about Michelle Young and Jamie Skaar in The Bachelorette Season 17 Week 2.]
What happened to Jamie Skaar and Michelle Young in 'The Bachelorette' 2021 premiere?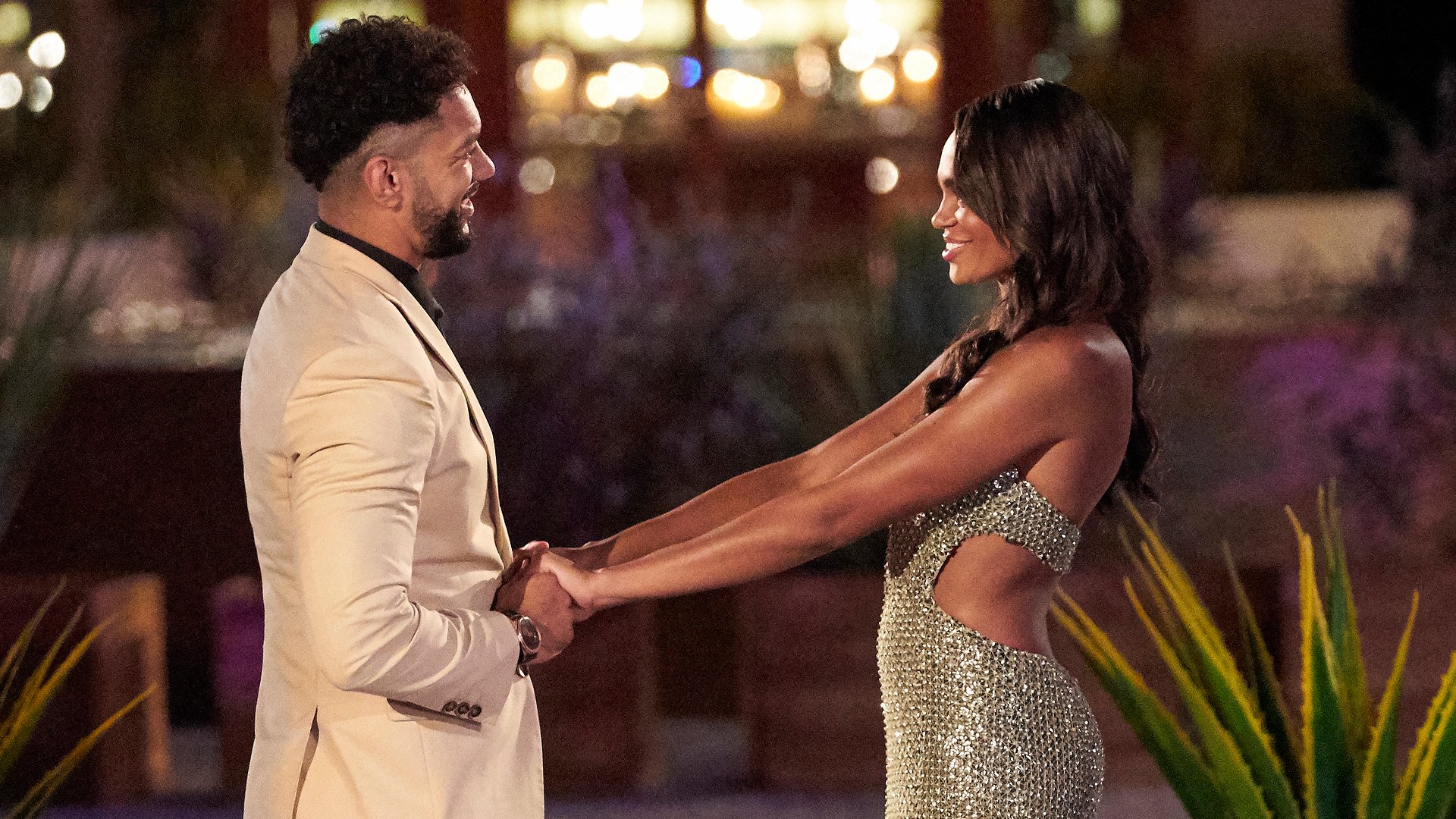 When Jamie and Michelle met in The Bachelorette premiere, the fifth-grade teacher was impressed by the contestant's "positive energy." Michelle also revealed he caught her eye on night one. 
That said, Jamie didn't receive Michelle's first impression rose, and the new lead chose Nayte Olukoya. But even so, it seems Michelle and Jamie will spend some alone time together in The Bachelorette Season 18 Episode 2.
'The Bachelorette' Season 18 Episode 2 promo suggests Jamie Skaar lies to Michelle Young
Prior to week 2 of The Bachelorette Season 18 on Oct. 26, ABC released a clip of Michelle's first one-on-one date with Jamie on Twitter. The two venture outdoors, and it seems like they hit it off, even sharing a kiss. But the narrator hints that the contestant lies to Michelle.
"Michelle's first connection drops one lie that shakes her to the core," The Bachelorette narrator says as the promo jumps to a shot of the bachelorette crying.
Meanwhile, Jamie seemingly gets a rose during his one-on-one date because he has one attached to his suit later at the rose ceremony cocktail party. Then he tells Michelle, "There's been a whole bunch of talk today…"
As a result, Michelle appears to confront her men, and she questions her cast about a rumor swirling around. "There's a rumor about me," she says. "I want you guys to ask me if you have any reservations."
Then in a new Bachelorette promo, the ABC reality series gives more context of Jamie's lie to Michelle. "Everybody else keeps feeling that maybe you might have known Joe before here," Jamie says. "Given that this entire journey is about authenticity, I think that there's people out there that are questioning that."
Michelle is visibly hurt by Jamie's statement. Then Michelle talks to her cast, and she tells them she doesn't like that she has to protect her character. Rick Leach also claims Jamie's comment was a lie to stir the pot.
What's next for Jamie Skaar and Michelle Young in 'The Bachelorette'?
For now, we're going to have to watch how Michelle and Jamie's relationship changes on The Bachelorette Season 18. But it seems unlikely Jamie will make it far,  seeing as the ABC show's Twitter page suggested that Jamie is the "real pot-stirrer" and "one lie can ruin everything."
Meanwhile, Michelle previously told Entertainment Tonight that Jamie stuck out to her as her "first one-on-one." So whether that's a good thing or not, it's bound to be quite the journey. Stay tuned.
The Bachelorette Season 18 airs Tuesday nights on ABC.