'The Bachelorette' Spoilers: Rodney Bares It All for Michelle — But Are They Still Together?
On Nov. 2, the next new episode of The Bachelorette Season 18 will highlight a fun one-on-one date between Michelle Young and Rodney Mathews. The contestant hasn't exactly been in the spotlight. Now, a new promo hints that he'll make a positive impression when he reveals all for the lead. But are Michelle and Rodney still together after The Bachelorette 2021? Here's what we know about the relationship, according to spoilers.
[Spoiler alert: This article contains spoilers about Rodney Mathews and Michelle Young in The Bachelorette Season 18.]
'The Bachelorette' Season 18 Episode 3 promo teases Rodney Mathews and Michelle Young's one-on-one date
Bachelor Nation fans haven't seen much from Rodney and Michelle. But the contestant has shared a few fun moments with the lead, from Rodney's limo entrance as an apple to his failed apple taste test. Then ahead of the Nov. 2 episode, The Bachelorette shared a clip from Michelle and Rodney's one-on-one date. 
In the promo, Michelle reveals that they will spend the day playing truth or dare, and the lead hopes to find a spark with Rodney. 
"He's showing me his goofy side," Michelle says. "I wanna use this time to explore whether this can be a romantic connection."
So naturally, a Bachelorette producer dares the two reality stars to strip down naked because "taking risks for love is important." And while Rodney seems a bit uncomfortable with the challenge, he gets naked in front of everyone for a shot at love with Michelle.
"The date has been really fun up until this point," Rodney says. "To add salt to the wound, I had my boys watching, [co-hosts Kaitlyn Bristowe and Tayshia Adams] popped their heads out. It's pretty bad when everyone sees you out in your birthday suit, and it's not even your birthday. So yeah, it's been rough."
A clue Rodney Mathews makes it far on Michelle Young's season of 'The Bachelorette'
Now, Bachelorette fans will have to watch whether Rodney wins Michelle's heart in season 18. But there are a few clues indicating that the contestant makes it far on the ABC reality series. 
In The Bachelorette Season 18 preview, Michelle is seen carrying Rodney in a wheelbarrow on a group date that hasn't happened yet. So, at the very least, we know the cast member gets a rose on his one-on-one date. 
It also seems Rodney and Michelle get another one-on-one date together later in the season. In the promo, the two are seen at an apple orchard, wearing completely different outfits from their truth or dare adventure in episode 3.
Are Rodney Mathews and Michelle Young still together after 'The Bachelorette' 2021, according to potential spoilers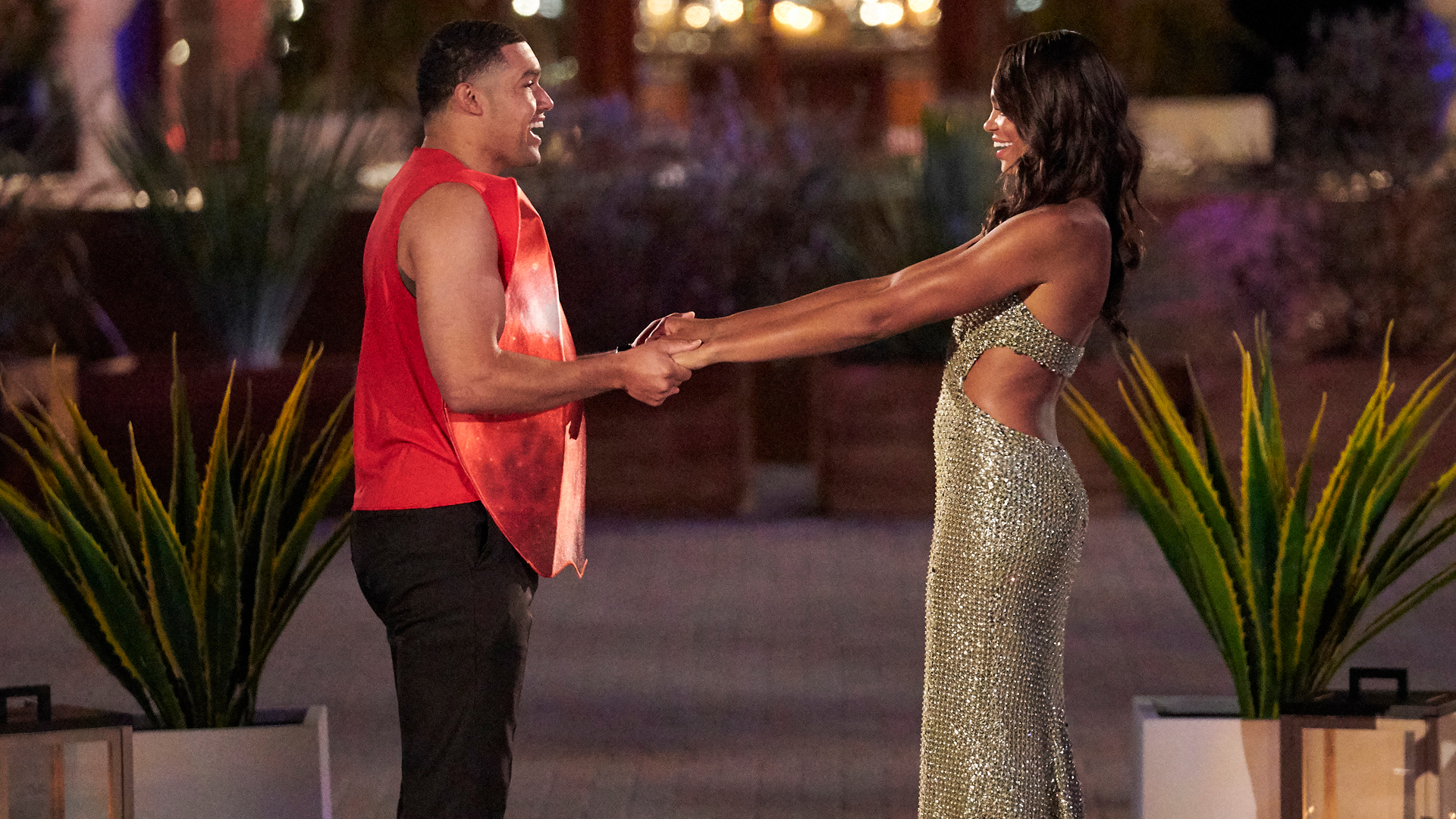 Many Bachelor Nation fans are hoping Rodney and Michelle end up together in The Bachelorette Season 18. But if you don't want to wait and see what unfolds on screen, a few spoilers from the season have been released already. 
In a Reddit post from October 2021, a user claimed that Michelle's final four men were on a flight together. The Reddit user named Rodney as one of the bachelorette's top four, alongside Nayte Olukoya, Brandon Jones, and Joe Coleman.
Meanwhile, Bachelor Nation blogger Reality Steve shared major spoilers about Michelle's final two on The Bachelorette. But it seems Rodney didn't make it through to the finale, and he is no longer dating Michelle. So what happened to the contestant after Hometowns if all the potential spoilers come true? Only time will tell at this point. Get ready.
The Bachelorette Season 18 airs Tuesday nights on ABC.