'The Bachelorette': Chris Harrison Hints Tayshia Adams' Ending Could Leave Her 'Broken-Hearted'
With The Bachelorette Season 16 finale just around the corner, Bachelor Nation fans are starting to wonder how Tayshia Adams' love story ends. The 30-year-old's journey has been a wild ride from the very beginning. Now, it seems we won't be slowing down anytime soon. Recently, host Chris Harrison teased Adams' Bachelorette ending — and it's going to be "incredibly emotional."
Chris Harrison teases Tayshia Adams' ending on 'The Bachelorette' Season 16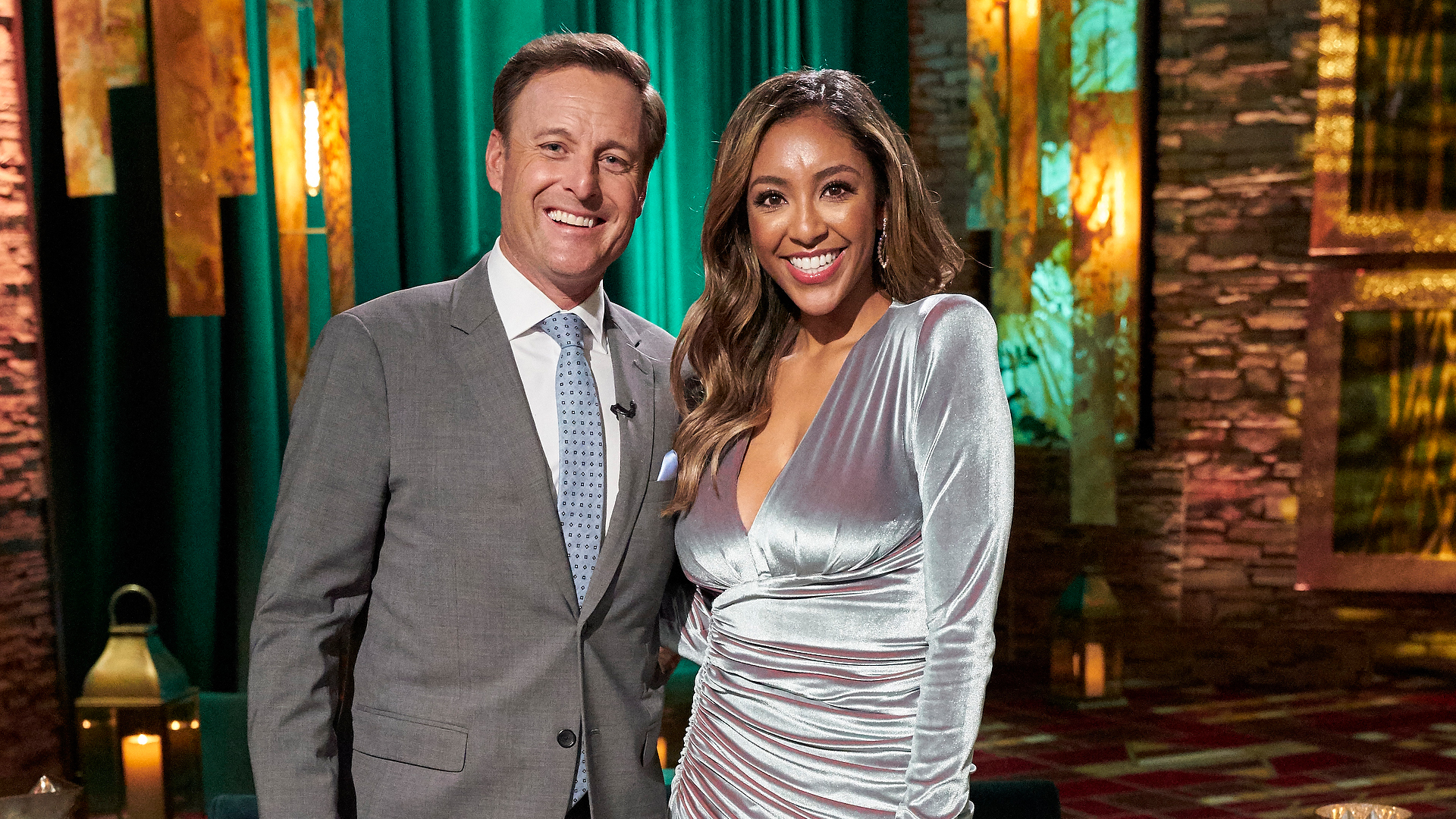 RELATED: 'The Bachelorette': Tayshia Adams Reveals Who Her Parents Would Pick for Her First Impression Rose
When speaking with Access in December 2020, Harrison was asked whether Bachelor Nation fans will be happy with Adams' ending on The Bachelorette Season 16. At first, the host revealed Adams fell in love on the show. However, he questioned whether those feelings would be reciprocated.
"Tayshia's season gets very emotional," Harrison said. "If you've watched the clips, you see her crying in the white dress and all that. These guys have gone deep, and so has Tayshia. She has fallen in love."
He continued, "Is it going to end the way she wants it to? And you may have your answer in some of these clips that you're seeing."
Then when speaking with Entertainment Tonight, Harrison echoed his remarks about Adams' conclusion on The Bachelorette. He pointed out the lead developed "unbelievably strong feelings." However, he wondered whether Adams' final pick would feel the same way.
In response, the publication asked whether Adams would experience a "proposal gone wrong." Of course, Harrison was unable to give away any major details. But he hinted Bachelor Nation fans may see Adams with a broken heart.
"It is incredibly emotional," Harrison said of Adams' Bachelorette ending. "When you see her broken-hearted and you see her at that level, it's just different. It really does hit you in a different way."
Tayshia Adams discusses how her 'Bachelorette' journey ends
RELATED: Why 'Bachelorette' Fans Think Tayshia Adams Is Engaged Now
Now, Harrison's comments about Adams' season of The Bachelorette may not come as much of a surprise. In an interview with Variety from November 2020, ABC executive Rob Mills revealed Adams' journey would include a few "heartbreaking" moments.
"Tayshia really allowed herself to fall in love with multiple guys. It's always such a roller coaster," Mills said. "At the end, there are a lot of heartbreaking, devastating moments. There's not really a villain. It's more like, "I want her to end up with him. Wait no, I want her to be with this guy!"
Meanwhile, Adams teased what kind of drama to expect when speaking with USA Today. "You see happiness, you see sadness, you see love more than anything," she said in November. "You see me really diving into relationships. It's going to be pretty juicy."
But no matter what happens on The Bachelorette Season 16, Adams recently confirmed how she's really doing now. "I'm really happy," Adams said on The Ellen DeGeneres Show in December. "I'm a happy girl, and I'm really blessed."
[Spoiler alert: What Reality Steve says about Tayshia Adams' Bachelorette finale.]
Who does Tayshia Adams pick on 'The Bachelorette' Season 16?
RELATED: 'The Bachelorette': Ben Smith Opens Up About His Connection With Tayshia Adams
According to Bachelor Nation spoiler blogger Reality Steve, Adams picked Zac Clark over runner-up Ben Smith in The Bachelorette Season 16 finale. That said, he was unable to confirm whether Adams and Zac C. are still together now.
Meanwhile, Reality Steve shared a few details about Adams' ending. Apparently, the lead originally wanted to pick Brendan Morais. However, the contestant allegedly self-eliminated before Hometowns. The blogger claimed Brendan's previous divorce was a big reason why he left.
"This is what I'm hearing: By all accounts, Brendan is who Tayshia wanted," Reality Steve wrote in November. "And when he left, she was pretty distraught but still ended up picking somebody. I was told Zac C. was the one who opened up to her the most and professed his love, whereas it was much tougher for Ben. So ultimately she picked Zac."
As always, Bachelor Nation fans will have to wait and see how Adams' journey ends on The Bachelorette. But whether the spoilers are accurate, it's still clear the current season will be the most dramatic yet.
Check out Showbiz Cheat Sheet on Facebook!