'The Bachelorette': Tayshia Adams Reveals Who Her Parents Would Pick for Her First Impression Rose
Tayshia Adams may have given her first impression rose to Spencer Robertson, but it seems the bachelorette's parents, Rosario and Desmond Adams, might've picked entirely different men. Here's who Tayshia thinks they would've chosen and why.
Tayshia Adams reveals her parents' first impression picks from 'The Bachelorette' Season 16 cast
Every week on the Click Bait with Bachelor Nation podcast, Tayshia answers a few "burning" Bachelorette questions. In the Dec. 3 episode, TikTok star Olivia Ponton asked Tayshia who Rosario and Desmond would've picked if they were to choose her first impression rose.
"I think my mom would've given it to Brendan [Morais] … because he's super sweet," Tayshia said. 
Then Ponton asked whether Tayshia's mom would've liked Brendan because he's a "momma's boy," and the bachelorette agreed. 
"How did you know that? He really is," Tayshia said. "And my mom would be obsessed with him. My mom's also obsessed with eyes, and all the men had gorgeous eyes. But I think she would have seen that."
Meanwhile, Tayshia had a difficult time figuring out who her father would've chosen on The Bachelorette. But in the end, she settled on another frontrunner, Ben Smith.
"I think my dad would have actually… shoot. My dad's a tricky one. Probably nobody. He doesn't like anybody when he first meets them," Tayshia said. "Honestly, my dad likes people that have really constructive backgrounds. A military background's a good thing. Like Ben has a military background. So maybe Ben."
Tayshia Adams' dad appears in 'The Bachelorette' Season 16 trailer
As mentioned, Tayshia picked Spencer as her first impression rose on The Bachelorette Season 16. Even so, the contestant has slipped into the background. Meanwhile, both Ben and Brendan have become frontrunners. So Bachelor Nation fans will just have to wait and see who Tayshia ends up with in the finale. 
But no matter what happens, Tayshia's dad will make an appearance on The Bachelorette Season 16. As you may have seen, Desmond has popped up in multiple promo trailers. His comments in the teasers also proved Tayshia's remarks on the Click Bait with Bachelor Nation podcast. 
"Why him? There's something wrong with this guy," Desmond said in a Bachelorette preview from November 2020. "As your father, it's my job to protect you from making possible the biggest mistake of your life."
That said, Bachelor Nation host Chris Harrison seemingly defended Desmond's future remarks on The Bachelorette.
"[Tayshia's] dad definitely was not shy about expressing his opinion on his daughter in those relationships," Harrison told Us Weekly in November. "And look, I get it. I am a father of a daughter and I will be the same way. Probably won't be on camera. But I'll be the same way with my daughter."
What Tayshia Adams says about her 'Bachelorette' journey in 2020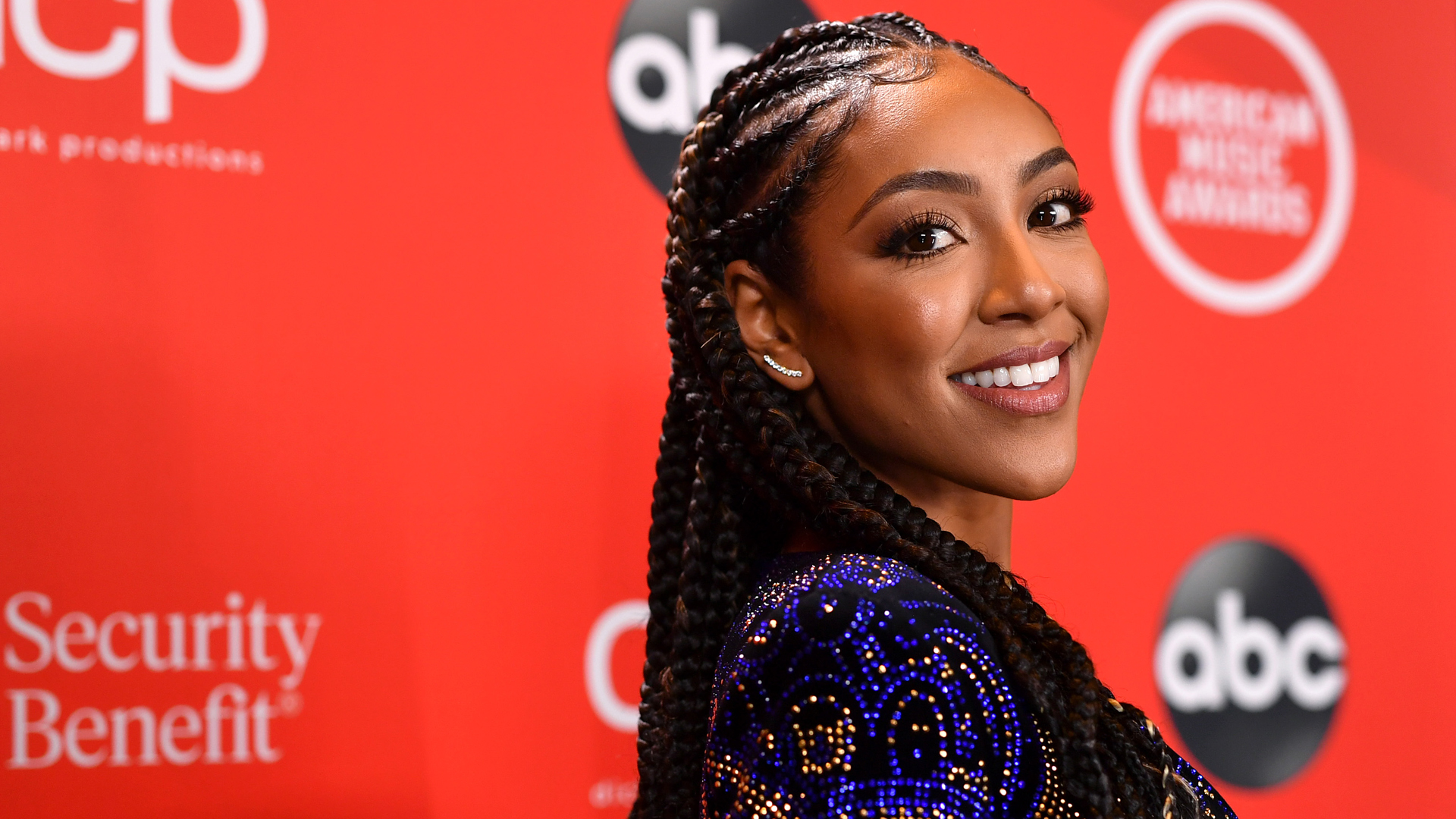 For now, Bachelor Nation fans can't wait to see who wins Tayshia's heart on The Bachelorette. But it certainly looks like there's plenty of drama before we get any sort of conclusion. In an interview with USA Today from Nov. 9, Tayshia revealed a few more "twists and turns" are coming, even after the Clare Crawley switch-up earlier this season. 
"I don't want to disappoint, so there's still some twists and turns," Tayshia said. "There's a lot of drama. You see happiness, you see sadness, you see love more than anything. You see me really diving into relationships. It's going to be pretty juicy."
Meanwhile, Tayshia revealed she fell in love with "multiple" contestants on The Bachelorette. 
"I didn't know it was possible to fall in love with multiple people," she told Entertainment Tonight. "But when you just really lean into the journey and really be vulnerable, you never know what can happen. And it happened to me."
Then in an interview with Variety, ABC executive Rob Mills suggested this may lead to more heartbreak.
"Tayshia really allowed herself to fall in love with multiple guys. It's always such a roller coaster," he said. "At the end, there are a lot of heartbreaking, devastating moments. There's not really a villain. It's more like, "I want her to end up with him. Wait no, I want her to be with this guy!"
Check out Showbiz Cheat Sheet on Facebook!