'The Bachelorette': Tayshia Adams and Zac Clark Update Fans on Their Engagement
The Bachelorette Season 16 delivered not one, but two happy engagements when Tayshia Adams picked Zac Clark in the emotional finale. Unfortunately, the last episode did not include the "After the Final Rose" special, and viewers didn't receive the closure they craved. So naturally, Bachelor Nation fans flocked to social media to find out whether the reality stars were still together. Luckily, Clark and Adams recently updated their Instagram followers on their engagement — here's what they said.
Zac Clark and Tayshia Adams got engaged on 'The Bachelorette' Season 16 finale
RELATED: 'The Bachelorette': Dale Moss and Clare Crawley Update Fans on Their Engagement
Bachelor Nation fans watched as Clark and Adams' love story unfolded on The Bachelorette Season 16. Clark was one of the lead's early frontrunners. But he had some serious competition, as viewers also fell in love with contestants like Ivan Hall, Ben Smith, and Brendan Morais. That said, Adams ultimately picked Clark as her final rose — and he chose her back.
"I know that I told you that I love you. But it's more than that," Adams said on The Bachelorette finale. "It's this wild, wild love that I have tried to come up with so many reasons to not believe. And you have truly made me believe that there doesn't need to be flaws and that I deserve love with a man that won't run away. You have truly woken up my heart." 
Then Clark proposed to Adams. "I can't picture another day, another moment without you in my life," he said. "If you let me, I'm gonna choose you right now, I'm gonna choose you tomorrow morning, I'm gonna choose you next week, and next year. I'm gonna choose you forever because I love you. Marry me."
And of course, Adams accepted the proposal. "Yes a thousand times," she said.
Tayshia Adams and Zac Clark confirmed their engagement with Bachelor Nation fans on Instagram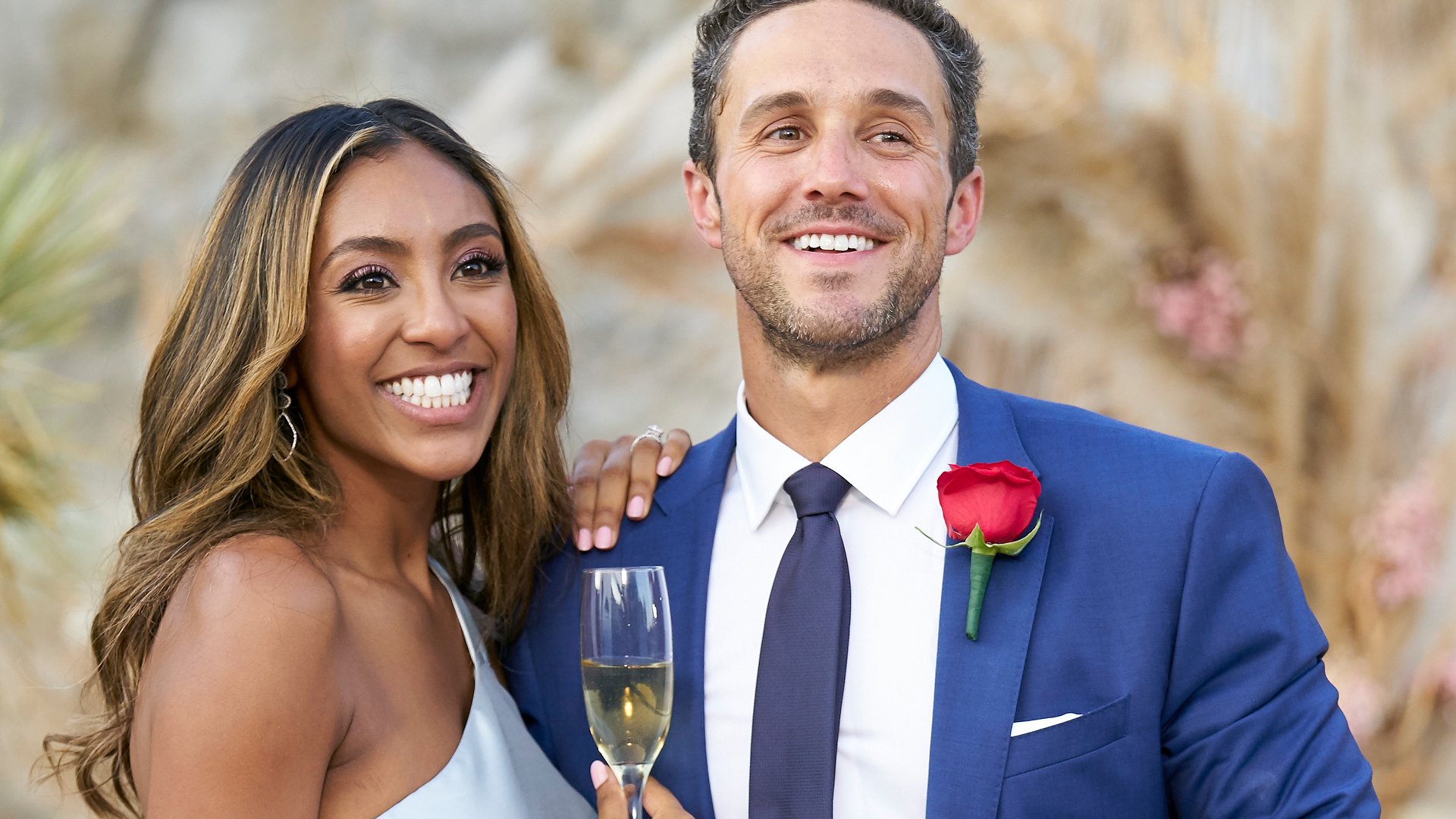 RELATED: 'The Bachelorette': Tayshia Adams Says Zac Clark Is 'Future Husband Material'
Following The Bachelorette Season 16 finale, Bachelor Nation fans waited for news on Adams and Clark's engagement. As mentioned, the final episode did not include the "After the Final Rose" special. On Twitter, host Chris Harrison hinted viewers may receive an official update when The Bachelor returns in 2021.
"Due to being pushed into the holidays and the difficulty of bringing people safely together during this time it just wasn't possible," Harrison wrote. "But hopefully we'll be back for #TheBachelor."
Regardless, The Bachelorette finale left viewers wondering whether Clark and Adams are still happily engaged today. Then the couple shared the happy news on Instagram Stories after the episode aired on the West Coast.
In the post, Clark and Adams shared a video together and flashed the Neil Lane engagement ring. "2021 We ready for you baby," Adams wrote.
The following day, both Adams and Clark shared photos on their Instagram feeds. "My ride or die. I love you, Tayshia!" Clark captioned a photo of himself kissing his now-fianccée.
Then Adams shared a photo of her engagement to Clark. "Clarky & The Queen," she titled the pic.
Adams also revealed she would be spending the Christmas holiday with Clark. "Christmas together: Merry Christmas," Adams wrote on Dec. 25. "This is the first time in a year & a half my entire family is together! And in addition to that we have my brothers Fiancé Samantha & my Fiancé Zachary! MY HEART IS SO FULL!"
Tayshia Adams and Zac Clark opened up about life after 'The Bachelorette' 2020
RELATED: 'The Bachelorette': Ivan Hall Reveals How He Really Felt About Tayshia Adams When They Met
Now that Clark and Adams have confirmed they're still together after The Bachelorette Season 16, Bachelor Nation fans are looking toward the future. When speaking with Rachel Lindsay and Becca Kufrin on the Bachelor Happy Hour podcast, the couple revealed they will try to make a bicoastal relationship work. Adams currently lives in Orange County, and Clark resides in New York City.
"I'm gonna be bicoastal," Adams said. "I'm gonna keep my place here, but we're moving in together."
Clark also revealed Adams bought a one-way ticket to New York City. But ultimately, the former reality stars just want to enjoy their time together before jumping into any marriage or wedding plans.
"Christmas, New Year's, that whole deal, we're gonna be East. We're gonna give her a little East Coast holiday season. No return flight yet," Clark said. "But we're gonna play it by ear. I'm excited to date her and take her out and so some things that you would typically do if this were a normal relationship. "
That said, it seems likely Adams and Clark might tie the knot sometime in 2022.
"In 2021, we're gonna focus on building off of this special foundation that we've already created, just learning more about each other, having some fun, and traveling a little bit when we're able to," Clark told E! News in December 2020. "I think everyone's asking about a wedding, and we're going to have a big *ss party in 2022."
Adams added, "We're just getting started."
Check out Showbiz Cheat Sheet on Facebook!